'Bridgerton': What's up With Daphne's Bangs?
Everyone is obsessed with Bridgerton. The characters, the storylines, the romance, the steamy scenes, what more could you want? Though fans seemed to like Daphne Bridgerton as a character, there was one common gripe with the Diamond of the Season that kept showing up on social media…her bangs. Fans couldn't understand why Daphne had to have such an unfortunate haircut.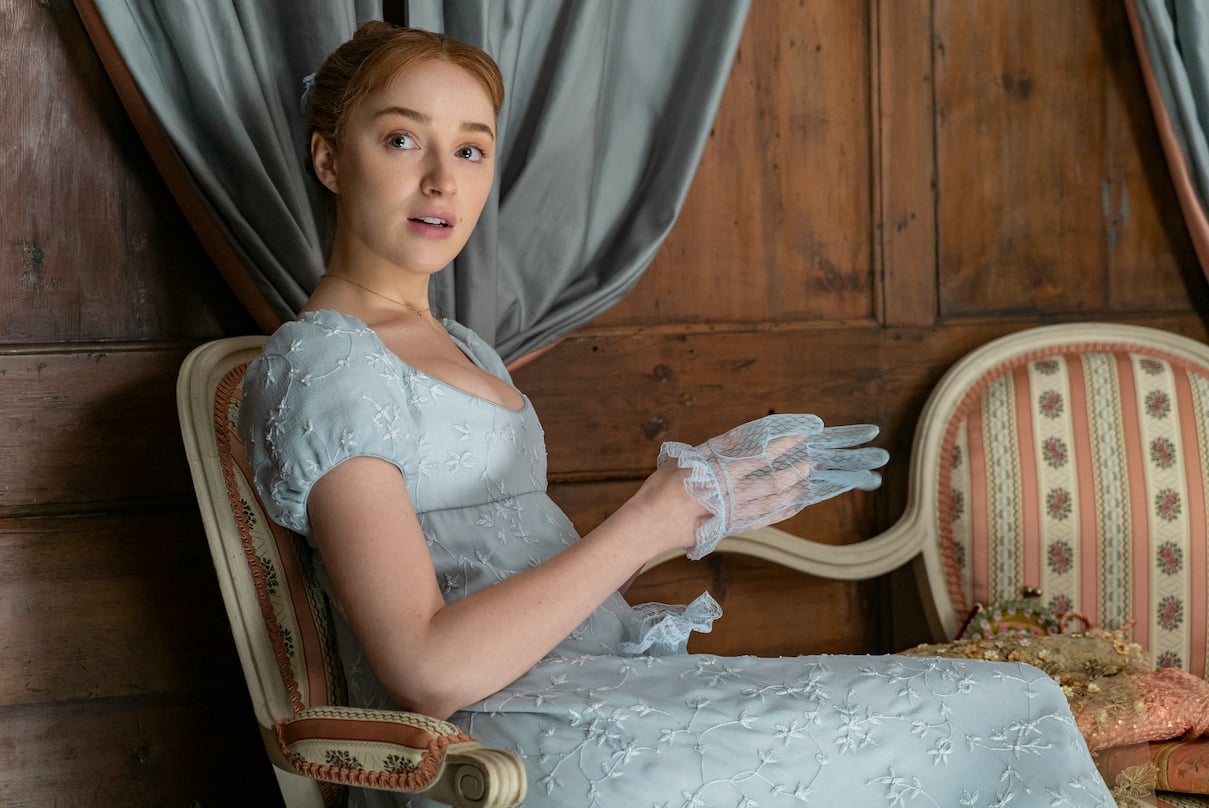 What is 'Bridgerton' about?
If you haven't seen Bridgerton yet and are wondering what it's about, think Pride and Prejudice mixed with Rodgers and Hammerstein's Cinderella. The show is based on an eight-book series by Julia Quinn. Season 1 followed the first book, The Duke and I, which introduced audiences to the Bridgerton family just as Daphne made her debut onto the social scene. After Daphne's brother Anthony scared off all of her desirable suitors, Daphne struck a deal with the Duke of Hastings, Simon Basset. The two pretended to date in order to make Daphne more desirable to the men in London and make Simon seem unavailable.
Why did Daphne have such short bangs?
Throughout season 1, Daphne's beauty is mentioned time and time again. The other women in the Ton even say that they have no chance at a man if Daphne decides she wants him. And while Phoebe Dynevor, who plays Daphne, is certainly beautiful, Daphne's short bangs definitely distract from her appearance. But apparently, the hairstyle was intentional.
"She was based on Audrey Hepburn in War and Peace. If you look at the images for that film, obviously, it was made in the 1950s, even though, again, it was a Regency period film," Bridgerton's head hair and makeup designer, Marc Pilcher told Harper's Bazaar. "Initially, it was just a sort of small, straight bang that went all the way across. But then as we progressed, Chris wanted it to feel softer rather than a full bang. So that's why it sort of got split just to sort of sweep out the way to show more of her face. And then in later episodes, we cut more sort of feathery bits just to sort of loosen it up even more, because he wanted to see a progression of the softness of her as we went through—that's how they came about. Everyone's talking about the bangs."
Everyone's hair was purposeful on 'Bridgerton'
Daphne wasn't the only one whose hair was supposed to make a statement. A lot of thought went into the queen's hair as well.
"When we started filming, I actually had a conversation with Chris [Van Dusen], the showrunner," Pilcher said. "And he basically was like, '[The queen], she's got nothing left in her life. Her husband is a lunatic, and she's basically waiting for him to die. She's got nothing else to do but try clothes on and go to parties and balls.' So I said, 'Well, why don't we give her a different wig every time she goes to a ball and it would match her outfit?'"
Pilcher also wanted the wigs to highlight the queen's background.
"What I also wanted to do was show her African descent, because when you look at portraits at the time, there were very few portraits of women of African descent with those looks," she said.