British Headline Comparisons Between Meghan Markle and Kate Middleton Explain Why Meghan Quit the Royal Family
It's hard for some people in the United States to grasp just how differently Meghan, Duchess of Sussex is treated compared to the Duchess of Cambridge. That's because the media here is vastly different than it is in the United Kingdom. British tabloids are a far cry from the kind you'll find in your local U.S.-based grocery store checkout line. And one thing they all have in common? They were ruthless in their criticism of Meghan.
While Catherine, Duchess of Cambridge received glowing reviews for every move she made, Meghan was criticized and questioned for the exact same actions. Buzzfeed News put together a comparison of newspaper headlines about the same topics to prove how badly Meghan was treated by the press.
The results are hard to argue with.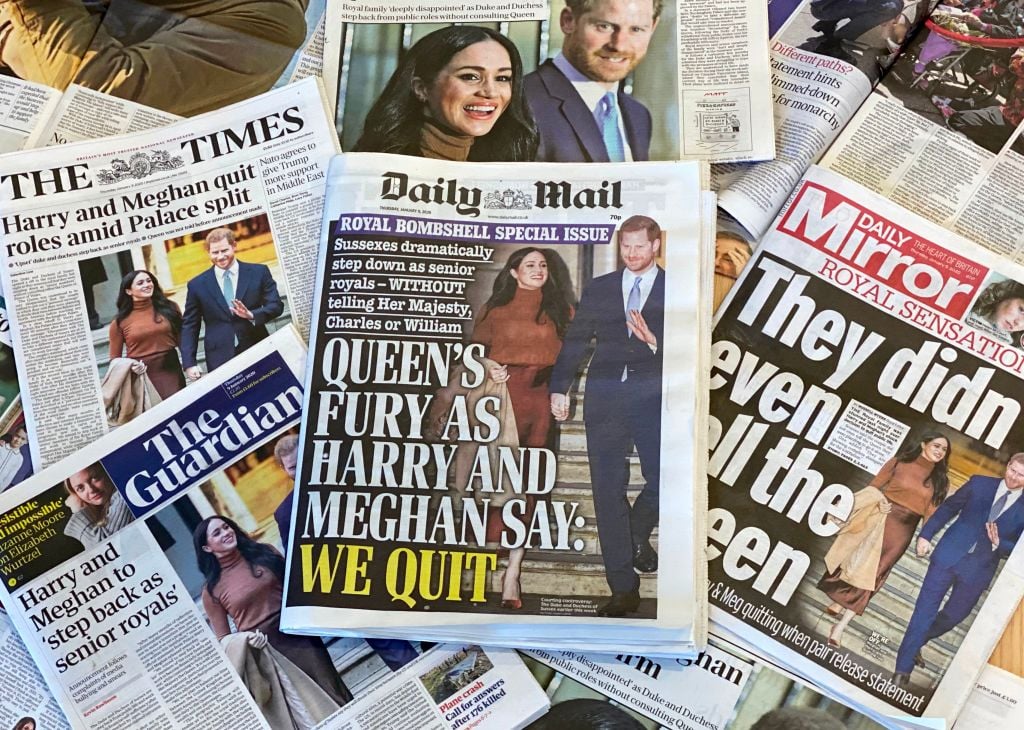 These headlines prove that Meghan Markle was treated differently than Kate Middleton
There are dozens of examples of headlines that could be seen as unfair to Meghan. But one of the worst was two unique spins on the two women when they were pregnant.
Both articles included photos of Meghan and Kate cradling their baby bumps. But the one about Kate was much more favorable compared to the one about Meghan.
From Daily Mail:
March 2018: "Not long to go! Pregnant Kate tenderly cradles her baby bump while wrapping up her royal duties ahead of maternity leave — and William confirms she's due 'any day now'"
Jan. 2019: "Why can't Meghan Markle keep her hands off her bump? Experts tackle the question that has got the nation talking: Is it pride, vanity, acting — or a new age bonding technique?"
Even Meghan's love of produce didn't escape criticism. But when Kate ate avocados, no one cared one bit.
From Express:
2017: "Kate's morning sickness cure? Prince William gifted with an avocado for pregnant Duchess"
2019: "Meghan Markle beloved avocado linked to human rights abuse and drought, millennial shame"
Over and over again, the two women were judged differently for allegedly doing the same thing.
From The Sun:
April 2017: "Prince William blasts monarchy's 'stiff upper lip' tradition and backs Harry's admission of his mental anguish after death of mother Diana"
Oct. 2019: "Prince Harry and Meghan ditched British stiff upper lip — is this a good thing? Sun parents and kids are torn"
These are only a few examples of 20 that Buzzfeed News compiled to prove that it wasn't in their imagination — Prince Harry and Meghan really were being treated unfairly.
Prince Harry and Meghan Markle insist they were treated unfairly by the press
Most American news outlets have been overly kind to Meghan — after all, she's an American citizen and beloved actress. But things in the U.K. were different from day one and finally Prince Harry decided to do something about it.
First, the couple announced they'd be suing two publications for specific incidents that they claimed broke the law. But even beyond that, the coverage of Meghan was almost always derogatory and insulting even if it technically wasn't breaking any laws. A comparison of headlines about Kate and Meghan proves that point definitively.
Harry and Meghan ditched the royal rota
One key facet of Prince Harry and Meghan's exit as senior members of the royal family is no longer participating in the royal rota, which gives certain publications prime access to the royals. Those publications include the Daily Express, the Daily Mail, the Daily Mirror, the Evening Standard, the Telegraph, the Times, and the Sun.
Seeing these headlines and the image they project makes it obvious why the Duke and Duchess of Sussex would choose to walk away, even if it was a shocking move to make.