Inside the Royal Family Net Worth — Plus How the Monarchy Makes and Splits Its Fortune
It comes as no surprise that the British royal family practically swims in money. After all, there are more than 1,000 years of power that lined their pockets.
Just how rich they are, however, might be a surprise. In a world where monarchies are less powerful and leaders don't get paid like CEOs, the British family only got richer as their power went to the parliamentary government. Learn more about the royal family net worth, how they make their money, and more.
The royal family is a business
Forbes notes how Monarchy PLC, referred to as "the Firm," acts like a cross between a PR firm, a government entity, and the Vatican. There is a cool $28 billion spread throughout the Firm's umbrella.
The Firm doesn't just handle the incoming finances given to the royals. It ensures that everything the royals do makes them money and operates within traditions. According to Forbes, the Firm helped Prince Harry and Meghan, Duchess of Sussex's royal wedding bring $1.5 billion to the British economy. 
Every time Harry, Prince William, Prince Charles, or Queen Elizabeth go on a tour, the tour helps raise money for the bigger machine overall. As such, when discussing the royal family's finances, it's hard to separate the family itself from the Firm.
What assets does the royal family control?
According to Town & Country, there's a blurred line between the royal family's private property and government land set aside for their role. This estate consists of 263,000 acres of farmland, 12 miles of seaside property, and more castles, mansions, and summer homes than most could ever dream of. These holdings are worth around $17 billion in U.S. dollars. 
This agreement goes back hundreds of years when George III traded a typical salary for land that could be sold for more than any income. Now, the royals hold less power than ever. But they still collect over $100 million from taxpayers every year to go alongside other perks and state-owned properties. 
Add to that over a thousand years of souvenirs — from crown jewels to priceless art and artifacts — and it's safe to say the family is one of the most lucrative government subsidies in history.
How much is the royal family worth?
According to Town & Country, the royal family is a $55 billion industry, with much of that going to the family itself. Pinpointing the royals' exact worth, however, is a large task.
As of 2018, Queen Elizabeth is said to be worth $530 million alone. Prince Charles has a cool $400 million. Prince Harry and Prince William both reportedly have a net worth around $40 million thanks to trust funds Princess Diana set up for them, inheritances, and their military salaries.
What does the royal family do to make money?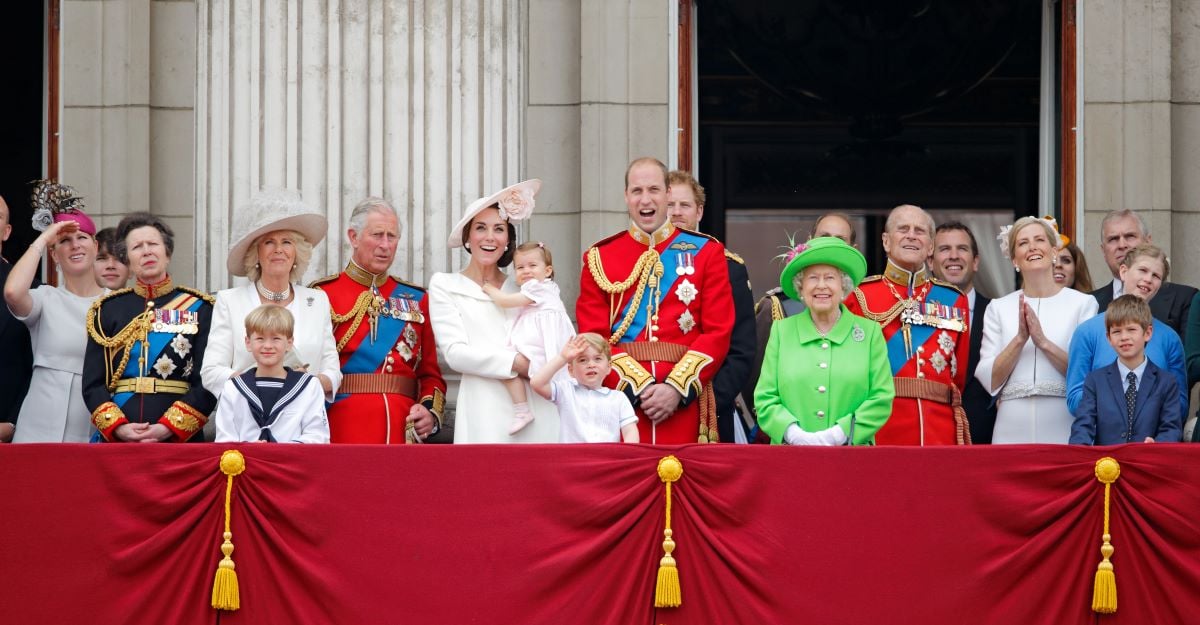 Members of the royal family appear at over 2,000 official engagements every year. They could be called state-sanctioned philanthropists. Many of their roles are about keeping the people of England happy and spotlighting causes. And their annual "salary" from taxpayers helps to fund that.
When it comes to the senior members of the royal family, that's where all the real money is. They're the ones who draw that salary for their engagements. According to Harper's Bazaar, a definition of senior royal family member is hard to come by. However, historian Marlene Koenig notes it's a blanket statement to label the sovereign, their consort, and their direct children, grandchildren, and the spouses of their immediate family. More succinctly, a senior royal is a family member who carries out duties on behalf of the crown. 
Prince William and Catherine, Duchess of Cambridge are senior working royals, along with Prince Charles and Camilla, Duchess of Cornwall. And of course, Harry and Meghan made waves when they stepped back as senior working royals in 2020.