Britney Spears: 2 Fan Videos Surface Proving She Performed With a Fever and a Rash
Along with Britney Spears' heartbreaking testimony about her conservatorship, two new videos surfaced. Each video, taken by an avid fan in 2018, prove that Britney Spears' conservatorship team, along with her father, James "Jamie" Parnell Spears, forced her to perform on stage while sick. In the disturbing videos below, fans hear the pop icon say she is sick with a fever, and she continues to scratch the rash on her chest while dancing. In the 39-year-old's court hearing on June 23, she reiterated that the conservatorship team forces her to perform and go to therapy sessions while sick.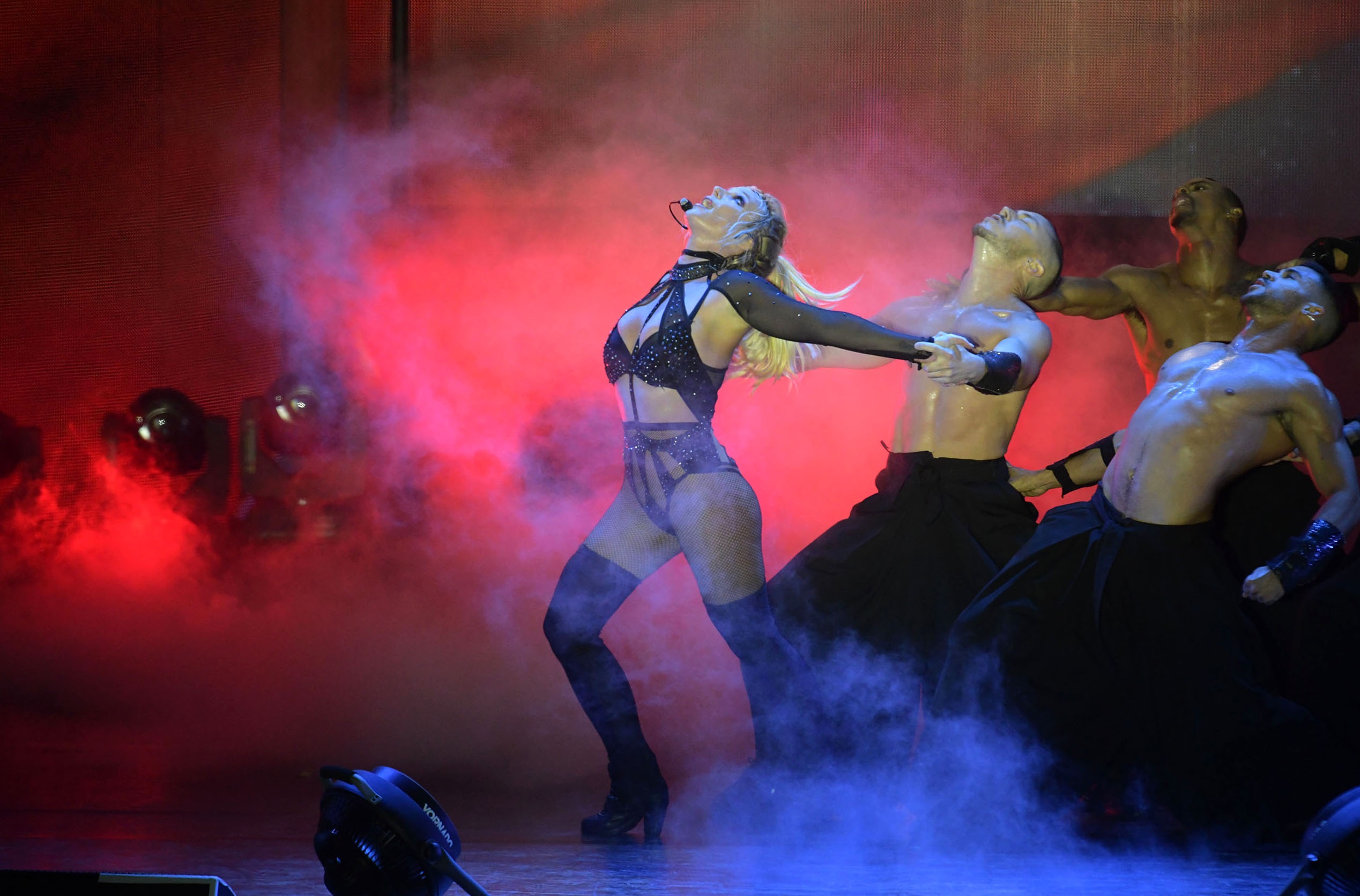 Britney Spears forced to perform with a fever: video
During Britney Spears' Piece of Me Tour, in Atlantic City, New Jersey, on July 19, 2018, the pop star was forced to perform while visibly sick.
"It's going to be really, really hot up here. I'm warning you," Spears explained to the audience at the Borgata Event Center. "I'm about to pass out, and I'm sick. I have actually a 102 fever right now."
RELATED: Will Britney Spears Get Out of Her Conservatorship? Results of Court Hearing
At the time, Zachary Gordon, who shared the video, thought Britney Spears was a dedicated performer. That's why she went on stage while sick. However, looking back on the experience, after hearing that Spears' team made her perform while ill, his feelings changed.
"Now I can see with clear eyes that this was a dig at the people controlling you, making you go onstage, performing under high-powered lights, all while you had a high-grade fever," Gordon tweeted.
Britney Spears video surfaces of her dancing with a rash
On the same night that Spears danced and performed with a 102-degree fever, she had a severe rash. In the following video, shared by the same Twitter fan, Britney Spears takes moments to scratch the rash she has on her chest. The pop star performed "Circus," and anytime her dance move included movement near her chest; she took the opportunity to scratch her rash.
"She kept uncontrollably scratching her chest while continuing to push through and put on a full-length concert for her fans," Gordon tweeted with the video.
RELATED: Britney Spears Ex-Boyfriend Justin Timberlake Calls for an end to Conservatorship
Spears told the probate court in 2019 that she was forced to perform while sick
During the Piece of Me Tour in 2018, Spears' Instagram account portrayed a happy-go-lucky woman. However, behind the scenes, things were very different. In a New York Times report, fans found out that Spears was quietly fighting her conservatorship. In a closed-door hearing in May 2019, she read a lengthy statement disclosing what was happening.
The transcript revealed that the singer-songwriter was forced to perform on stage while sick with a "104-degree fever, calling it one of the scariest moments of her life."
Luckily, an avid fan captured the proof of Britney Spears' terrifying evening on video. Although it might have happened more than once, Spears was sick on stage in Atlantic City in 2018. Hopefully, the judge helps enact change after Spears' recent court hearing on June 23, 2021. 
RELATED: Britney Spears IUD Story Will Bring You to Tears, 'I Need Your Help' She Begged the Judge