Britney Spears Explains Her Peculiar Instagram Content 'Exposing Her Body'
Britney Spears posted another topless photo on Instagram, and the reaction was immediate — something she predicted in the same post. Amid her conservatorship case, she took the opportunity to explain to fans why she 'exposes' her body. 
This isn't Britney Spears' first topless Instagram photo 
On August 17th, the pop star posted a full-body topless photo. In it, she wears white string bikini bottoms, red boots, and several necklaces. It wasn't her first topless Instagram post, nor would it be her last. On July 23rd, she posted a topless image of herself wearing only jean cutoffs. On July 7th, she posted a topless photo of her back, standing near a full bathtub. 
Since August 17th, Spears has continued a flurry of similar posts. She posted another cutoff shorts photo on August 18th and another with red boots — this time holding red roses between her breasts — on August 19th. 
The pop star wants fans to 'understand' why she 'exposes' her skin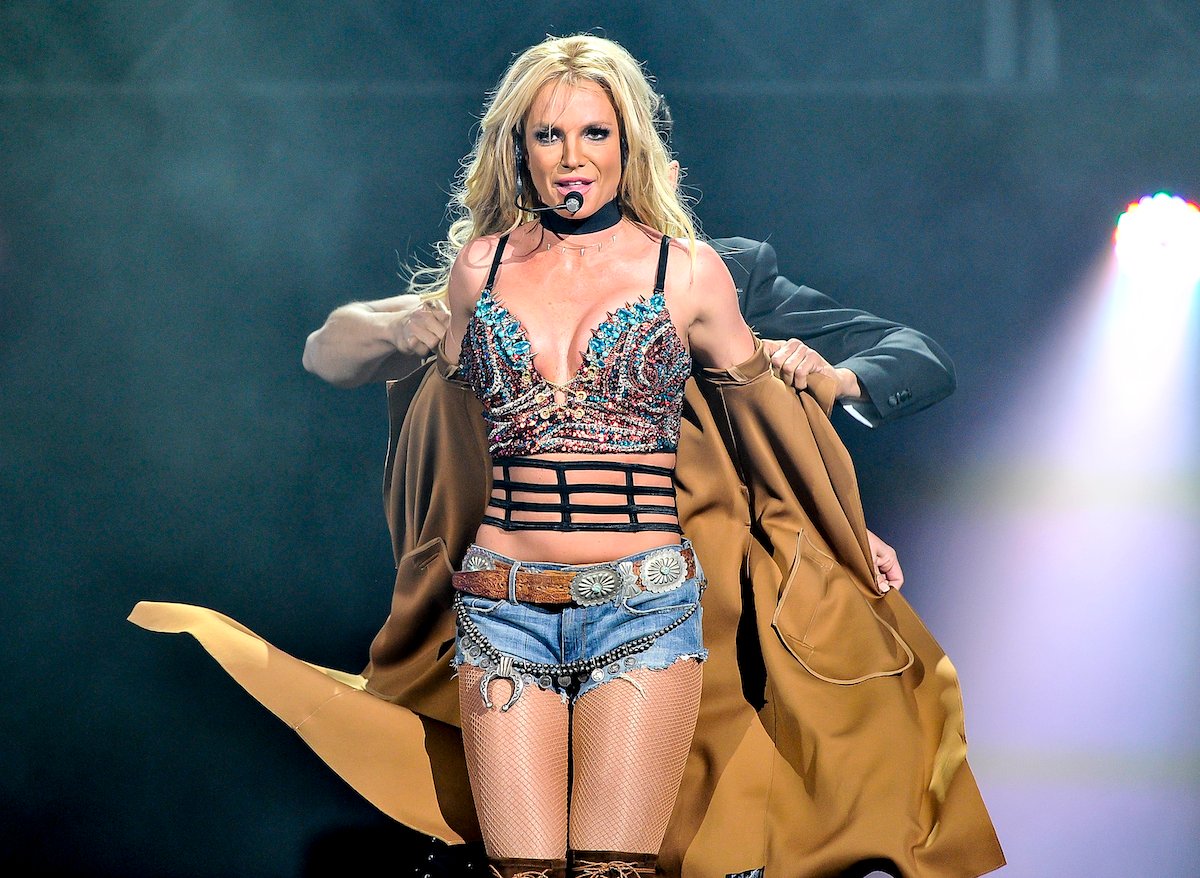 Alongside her Instagram post, Spears wrote an explanation for why she repeatedly shares semi-nude selfies via social media. For her, it's about comfort. 
"Before I show you more pics of my body… I want you to understand my thoughts on exposing my skin!!!!" she wrote via Instagram. "In my opinion, it's quite twisted the immediate response of when any woman is hot and they want to shed a layer … no … I'm not talking in a strip club or a performance … just on a practical scale of being in your car and realizing you're wearing a stupid long sleeve shirt in the summer!!!!" 
The Toxic singer went on to say that feeling better translates to confidence. 
"The immediate reaction to any woman who does this after shedding a layer is DAMN I FEEL BETTER … therefore you think you look better!!!" she explained. After reflecting on how performing affected her body image, Spears continued explaining why she was posting topless photos at this particular time. 
"Anyways I bet you're wondering why I'd expose my body NOW … well it's because I was born into this world naked and I honestly feel like the weight of the world has been on my shoulders and it's made me view myself that way !!!!" she wrote. "I wanted to see myself in a lighter way … naked … like the way I was born and to me looking back at my pictures when I shoot it's insane the psychology in seeing myself in my purest form gives evidence that pain … hurt … tears … and heavy burdens aren't who I am." 
Britney Spears is currently embroiled in her conservatorship case
Spears is currently facing some 'heavy burdens' as her conservatorship court case continues to escalate. Most recently, her father, Jamie Spears, agreed to eventually step down from control over her estate in a filing on August 12th. But he didn't do so without some parting shots at Britney's mental health and her mom, Lynne's, intentions regarding Britney. 
For their part, Britney Spears' legal team continues to stand behind her. 
"We are pleased that Mr. Spears and his lawyer have today conceded in a filing that he must be removed," said a statement by attorney Mathew Rosengart. "It is vindication for Britney."