Britney Spears' Fame Benefits Everyone Around Her — Here's How Their Net Worths All Compare
Britney Spears' net worth in 2021 is $70 million; however, fans following her conservatorship news want to know the net worth of those around the pop icon. Did the "Toxic" singer's father, James "Jamie" Parnell Spears, gain a massive net worth as her conservator over the last 13 years? What about the singer-songwriter's sister, Jamie Lynn Spears, and mother, Lynne Spears? Do they benefit from Spears' conservatorship, and what is their net worth in 2021? This article also covers the net worth of Britney Spears' boyfriend, Sam Asghari, and her ex-husband, Kevin Federline, and how they benefit from the star's fame and fortune.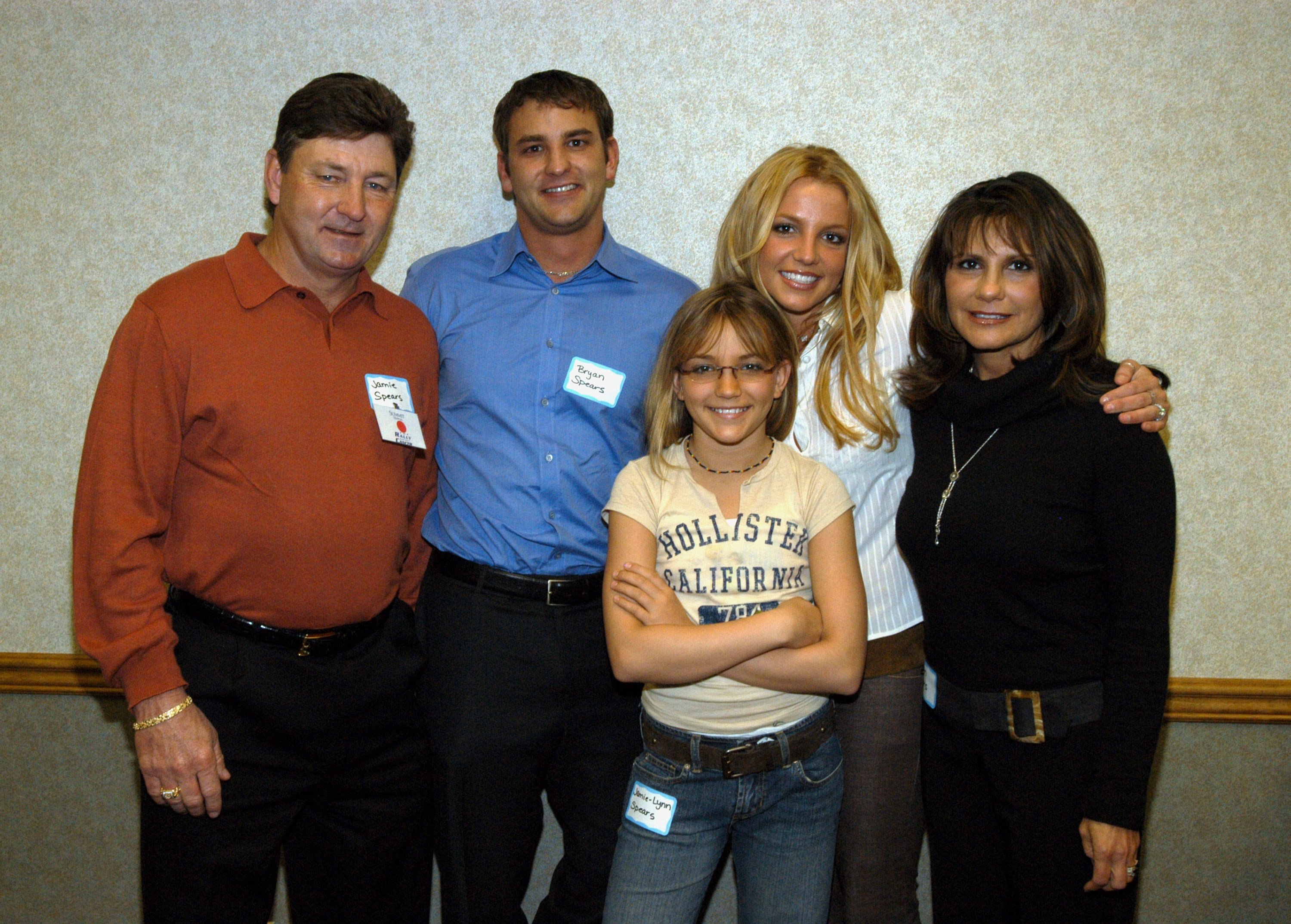 James Parnell Spears net worth
Since becoming Britney Spears' conservator in 2008, James Parnell Spears amassed quite a small fortune. Before his daughter soared to fame in the late '90s, Jamie and his wife, Lynne Spears, filed bankruptcy. However, in 2008, Jamie began making $16,000 monthly as conservator over Britney's fortune. In addition to his monthly salary, Jamie receives direct profits from her performances and a $2,000 stipend for office space.
Forbes estimates that James Parnell Spears' net worth in 2021 is approximately $5 million. The money exclusively came from his role as conservator over Britney Spears. His monthly salary alone, over 12 years, totals $2.4 million. Add in the various revenue streams from Britney's tours since 2008, and her father quickly hits that $5 million mark.
Jamie Lynn Spears net worth
RELATED: Jamie Lynn Spears Instagram Full Statement on Sister Britney's Conservatorship
While James Parnell Spears' net worth comes solely from Britney, Jamie Lynn Spears' accumulated her net worth on her own. As the little sister to the pop icon, Jamie Lynn appeared in Britney's movie, Crossroads, in 2002. Then the young girl's acting career took off when she began a Nickelodeon TV show of her own, Zoey 101, in 2005. Since then, she also pursued a country music career and secured a series regular spot in the Netflix series, Sweet Magnolias, for season 2.
According to Celebrity Net Worth, Jamie Lynn Spears' net worth in 2021 is around $6 million. Although she is a trustee of Britney's estate, the 30-year-old earned her net worth entirely from her own ventures. Of course, having one of the world's best-selling music artists of all time as her big sister has its perks.
Lynne Spears net worth
Before her daughter soared to fame in the 1990s, Lynne Spears ran a daycare center and later became a teacher in Kentwood, Louisiana. She eventually quit her job to accompany Britney on tour and manage her fan club. However, in 2021, Lynne Spears does not make anything from Britney's conservatorship.
Lynne Spears' net worth in 2021 is unknown, but whatever her fortune is, it likely came from her career as an author. Lynne co-wrote two books with Britney — Heart to Heart (2000) and A Mother's Gift (2001). The latter became a TV movie, Brave New Girl. The last book Lynne released was in 2008, her memoir, Through the Storm: A Real Story of Fame and Family in a Tabloid World. Although Lynne doesn't directly accumulate money from Britney's conservatorship or estate, her books revolve around her daughter's life.
What is Britney's boyfriend, Sam Asghari worth
RELATED: Britney Spears IUD Story Will Bring You to Tears, 'I Need Your Help' She Begged the Judge
Britney Spears' boyfriend, Sam Asghari, amassed his net worth independent from his girlfriend. He is a personal trainer and the owner and founder of Asghari Fitness. He runs the members-only program that helps clients manage their diet and workout plans. Although he doesn't benefit from Spears' conservatorship, his career hasn't suffered by being linked to the pop icon. Since meeting Spears, the fitness trainer appeared in several TV shows, including NCIS, Black Monday, and HBO's Hacks. According to BioWikis, Asghari is worth close to $1 million in 2021.
What is Britney Spear's ex-husband, Kevin Federline's fortune?
Britney Spears' ex-husband, Kevin Federline, was a backup dancer when he met the pop icon. After the two married, he began an acting career, guest-starring in CSI and producing a reality TV series with Spears, Britney & Kevin: Chaotic.
According to TMZ, Spears paid K-Fed $1.3 million and spousal support several years after the divorce. That money makes up the bulk of Kevin Federline's net worth in 2021. According to Celebrity Net Worth, the dancer, rapper, actor, and DJ amassed a net fortune of $1.5 million since his divorce from the pop icon. So, he also benefited greatly from being linked to Spears.
Although the people who surround Spears don't all receive a salary like her father, James Parnell Spears, they benefit somehow from her fame.