Britney Spears and Madonna Recreated Their Infamous Kiss at Britney's Wedding
Britney Spears and Madonna made headlines in 2003 with their infamous kiss at the MTV VMAs. Nearly two decades later, the two recreated their kiss at Spears' weddinin 2022.
Britney Spears and Madonna are regarded as two of the greatest pop artists in history, and they made history themselves in 2003 with their infamous on-stage kiss at the MTV Video Music Awards. Nearly two decades later, the two pop icons reunited and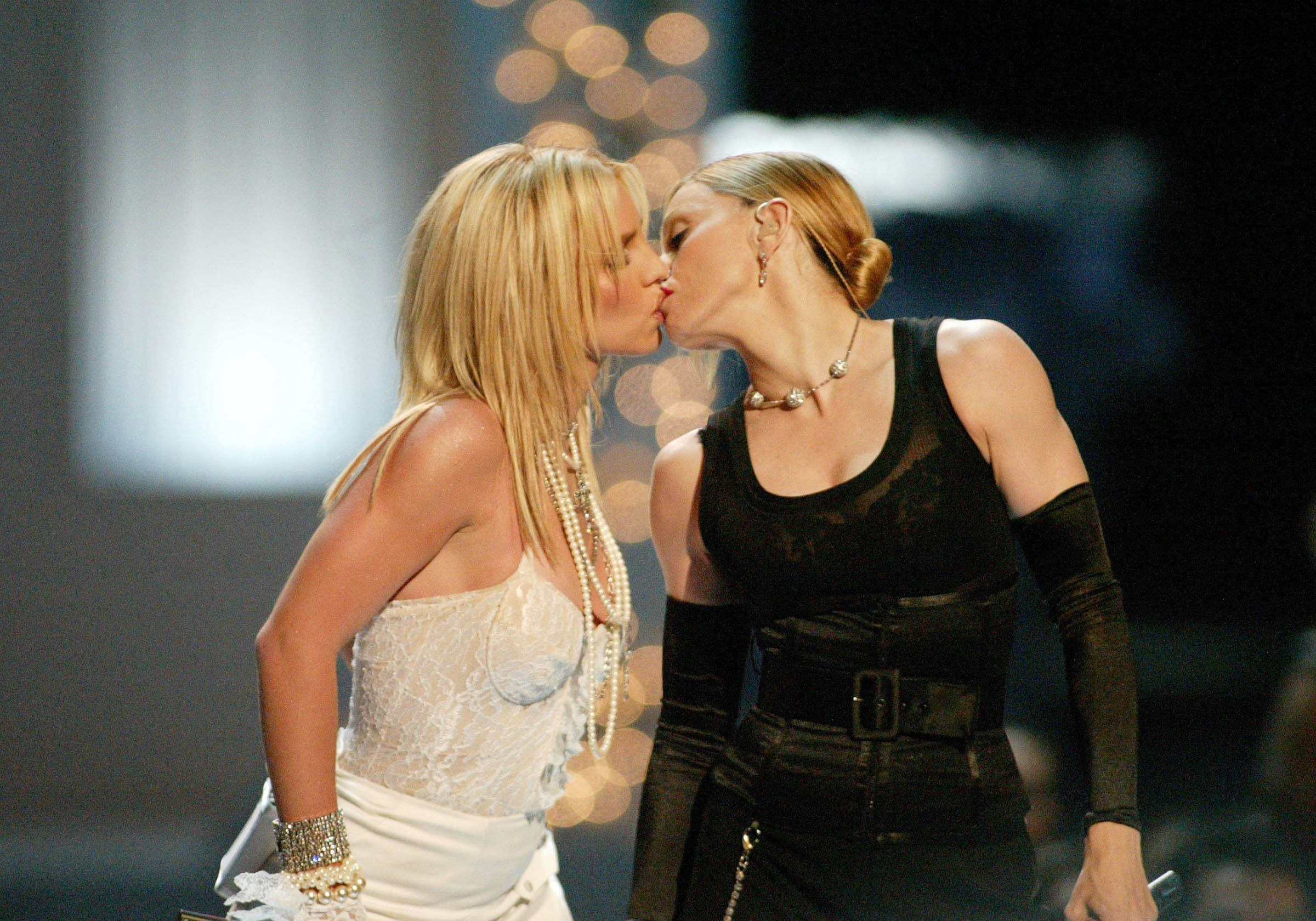 Britney Spears and Madonna shared a kiss at the 2003 VMAs
In 2003, Britney Spears and Christina Aguilera were two global pop stars who rose to stardom after co-starring in The All-New Mickey Mouse Club together a decade earlier.
When Madonna took the stage to perform at the 2003 MTV Video Music Awards, Spears and Aguilera made a surprise appearance and joined her for performances of her songs "Like a Virgin" and "Hollywood."
At the end of their performance, Madonna turned to Aguilera and kissed her, then turned to Spears and did the same. The camera infamously panned to Justin Timberlake, who had broken up with Spears the year prior.
Britney Spears and Madonna recreated their kiss at Britney's wedding
In late 2021, Spears was freed from her nearly 14-year conservatorship that she was first placed under in 2008. In the midst of her conservatorship battle, she got engaged to her longtime boyfriend Sam Asghari. In early 2022, the couple announced that they were expecting their first child together, but sadly lost the baby a few weeks later.
In June 2022, Spears and Asghari tied the knot in a star-studded exclusive ceremony. Among the celebs in attendance were Madonna, Paris Hilton, Drew Barrymore, and Selena Gomez.
Madonna and Spears are seen kissing in one photo from the event in an homage to their infamous stunt 19 years prior.
Madonna helped Britney get out of her conservatorship
Madonna first spoke about reenacting the kiss in an Instagram Live in January 2022. A fan asked Madge if she wanted to do another world tour one day, and said she and Spears should go on tour together. "[It] would be really cool," she said. "We could reenact the original [kiss]."
In the year leading up to Spears' marriage, Madonna has helped Spears get her life back into her own control. Following Spears' explosive testimony in a Los Angeles court in June 2022, Madonna sprung into action.
According to Page Six, Madonna was "in touch with Britney Spears multiple times" in the months leading up to the dissolution of Spears' conservatorship in November 2021. Spears soon hired a lawyer once hired by Madonna herself; he eventually helped Spears get out of the conservatorship.
"Madonna has always had a soft spot for Britney and couldn't sit idly by when she felt that there were clear injustices going on," a source close to Spears said. 
"Madonna is waging war," the source added. "She is hellbent on righting the wrongs that Britney had to endure. She has offered to help in any way that she can and is not afraid to speak up or intervene if needed."