Britney Spears and Miley Cyrus' Friendship History and How Cyrus Feels About the Free Britney Movement
Britney Spears and Miley Cyrus both grew up in front of the camera and on stage. But their lives turned out very differently. How close are the two musicians? And what is Cyrus' opinion of Spears' battle against her conservatorship?
Miley Cyrus is a massive Britney Spears fan
Like many Millennials, Cyrus grew up watching Spears perform. When "…Baby One More Time" dropped, the future Hannah Montana star was a kid with show business dreams. But years later, she was afforded opportunities beyond that of most Spears fans.
"if u told me I'd be front row & center on @britneyspears opening night 10 years ago I wouldve never believed you," she tweeted in December 2013, as Spears began her Piece of Me Vegas Residency. "Happy birthday to my Queeeeeen! @britneyspears your biggest fan 4evr," Cyrus wrote in 2017.
She supported the Free Britney movement in 2021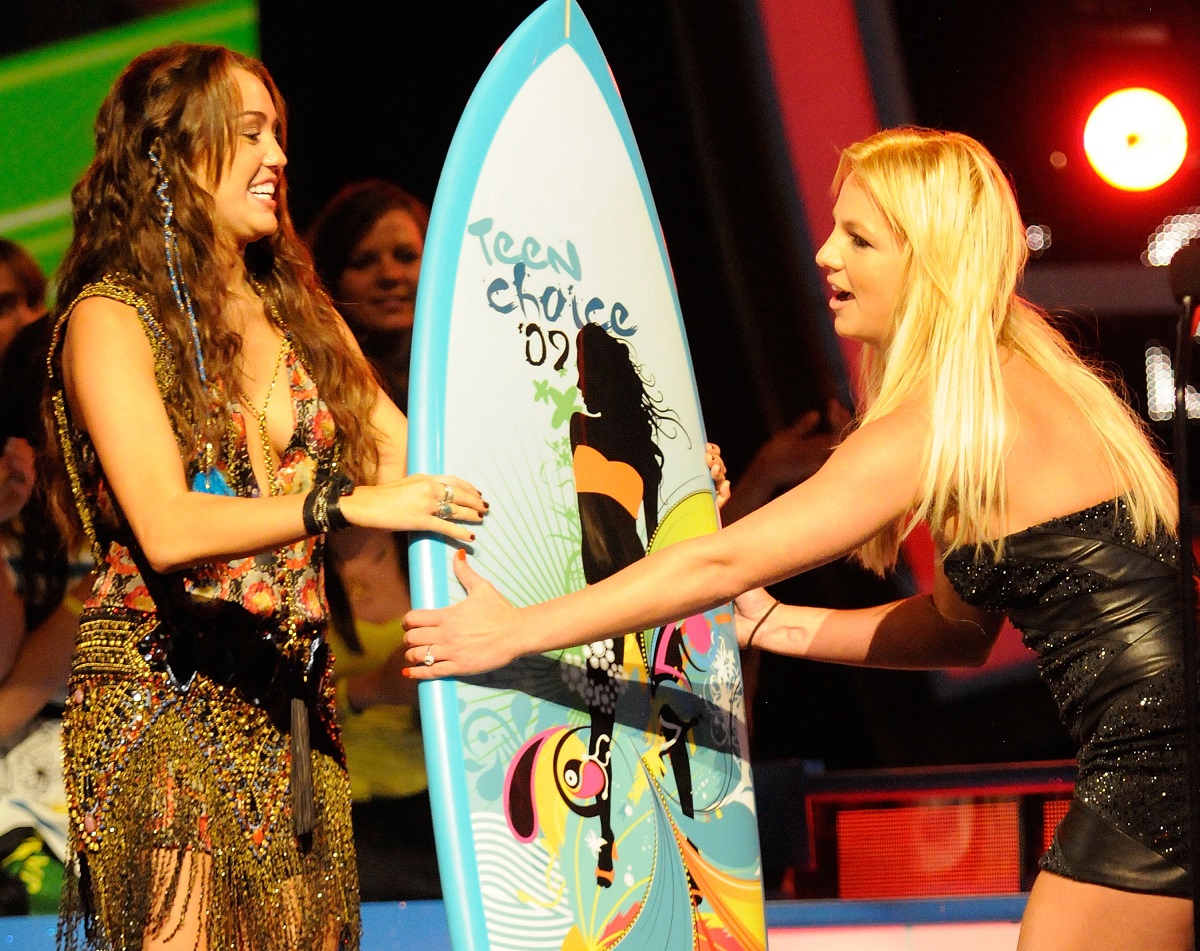 Cyrus' steadfast love of the pop star has remained throughout both of their evolving careers. But over the last few years, proponents of the Free Britney movement have brought to light the dark realities behind her conservatorship. Among those speaking out? Cyrus, naturally.
During a July 4, 2021, performance, just days after Spears' in-court statement, Cyrus performed her song "Party in the USA." The hit famously references Spears. But this time, she changed the lyrics. "Free Britney!" Cyrus shouted (via Billboard). "We've got to free this b—. It's stressing me the f— out," she added.
Interestingly, Spears mentioned Cyrus in her statement. She said the two singers received different treatment from their once-shared management team. "Their cruel tactics working for Miley Cyrus as she smokes on joints onstage at the VMAs — nothing is ever done to this generation for doing wrong things," she said (via Variety).
Cyrus and Spears have interacted on several occasions
Cyrus' love for Spears isn't a one-way street. The two have appeared together on a handful of occasions in addition to the Piece of Me opening night, from the 2009 Teen Choice Awards to the 2013 iHeartRadio Music Festival. But what fans really cherish is their online interactions.
After Cyrus released the video for her hit, "We Can't Stop," Spears heaped on the praise. "Loving your new video for #WeCantStop @MileyCyrus! Maybe you can teach me how to twerk sometime." Cyrus responded, "we could twerk it out in exchange for u teaching me da moves 2′ slave for you' (I've been practicing for the past 10 years)."
Cyrus' 'Black Mirror' episode reflects her life — and Spears'
The Black Mirror episode "Rachel, Jack and Ashley Too" premiered in 2019. It starred Cyrus as Ashley O, a pop star whose early career resembled her own a bit. "There were some obvious similarities through the character that I've played before that actually really became my life, like her wanting to explore rock' n' roll and change genres," Cyrus told Variety.
But unlike Ashley, Cyrus maintains control of her life. "Without my parents I bet my life would've been more similar to the Ashley O story. The thing that really makes me different than Ashley are my parents and the team that my parents put around me," she explains. Many noted that for Spears, her parents — specifically her dad, Jamie Spears — are a lot more like Ashley's aunt than Cyrus' folks.