Has Britney Spears Performed in the Super Bowl Halftime Show?
Britney Spears shot to pop stardom in the late '90s. And in the early 2000s, she was dominating the charts, releasing a string of number-one singles. However, she was no stranger to controversy either, with many parents of young girls worried about her scantily clad image and sexualized song lyrics.
During the height of her popularity, Spears performed on one of the world's hottest stages: the Super Bowl Halftime Show. Although she didn't headline the show, she was a guest on a stage filled with heavy-hitting musical artists. It turns out she had hoped to be invited back someday to lead a halftime show of her own.
Britney Spears: The early years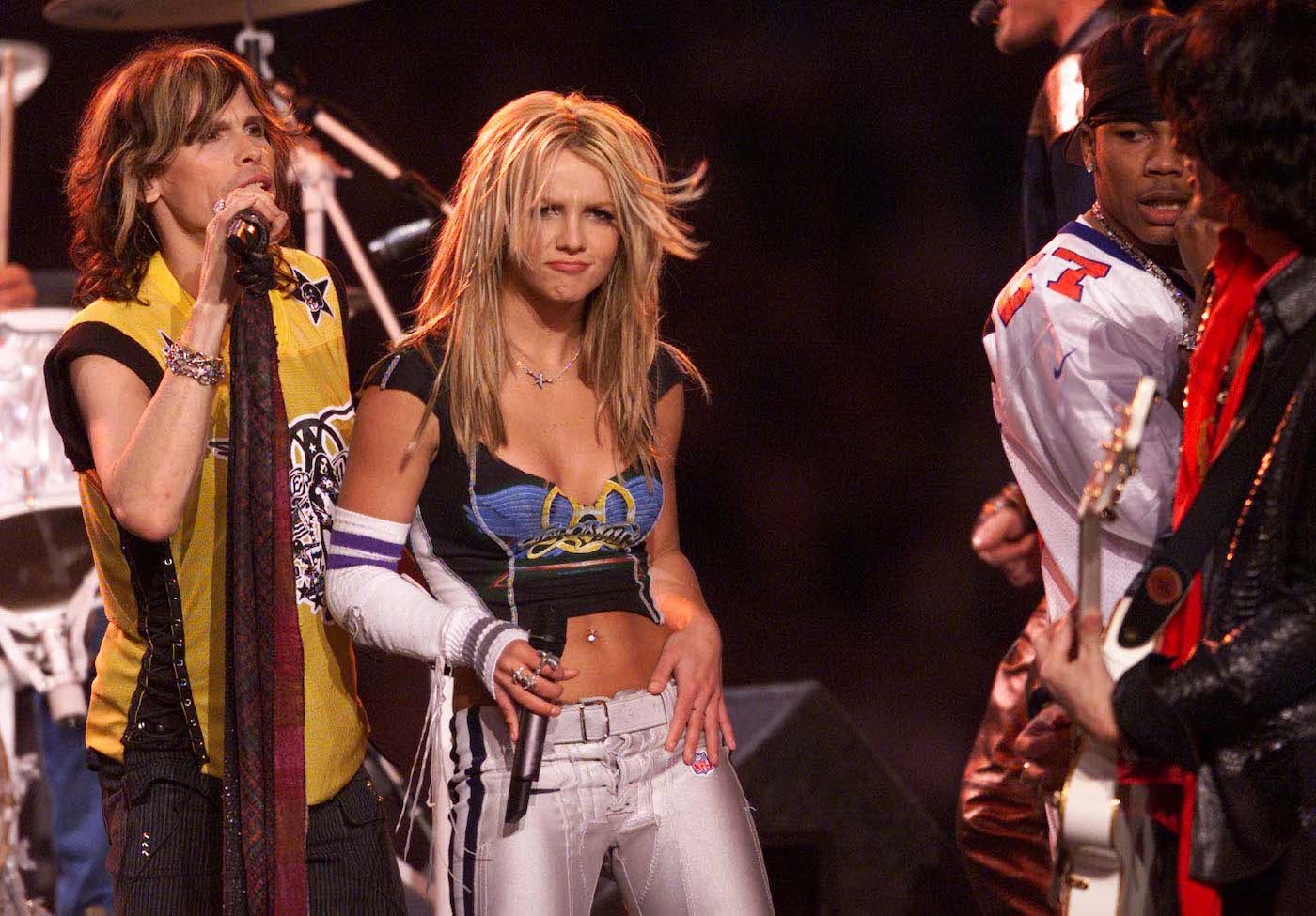 Spears was born in Mississippi and raised in Louisiana. She was the middle child of her family and always had a bubbly, outgoing personality, Biography reports. Spears also had a passion for entertaining right from the start. She began singing and dancing at only 2 years old and soon took her talents to the competitive stage.
Spears had her sights set on something bigger and auditioned for The All New Mickey Mouse Club when she was 8. Unfortunately, the team thought she was too young, and she didn't make it onto the show. Producers suggested she get an agent, and the budding star began spending her summers in New York City.
She expanded her skills at the Professional Performing Arts School and spent her time in New York making commercials and working on-stage. Then, when she was 11, she returned to audition for The All New Mickey Mouse Club.
This time, she succeeded and joined other up-and-coming stars, including Justin Timberlake and Christina Aguilera. Spears was a member of the variety show until Disney canceled it in 1995.
By then, the young star knew the entertainment industry was the place for her, and she embarked on what would become an awe-inspiring career.
Britney Spears: The 'Princess of Pop'
Spears was 15 years old when she made the demo tape that would launch her music career. She signed a contract with Jive Records and went on to release her first single, "…Baby One More Time." According to Britannica, the song lyrics and the music video received harsh criticism. Parents of young fans were concerned about the sexual nature of the song and Spears' skimpy schoolgirl outfit.
But the controversy surrounding the song didn't seem to have any negative effects on the star. Instead, it may have even helped draw more attention her way. The following year, Spears' first album topped the charts and sold 25 million copies worldwide. As a result, her first appearance at the Billboard Music Awards was memorable: She took home four trophies, including Best New Artist and Female Artist of the Year.
Spears released her second album, Oops!…I Did It Again, in 2000. The album was another smash hit, breaking records and selling over a million copies in the first week. Her third and fourth albums — Britney and In the Zone — also performed well, although they didn't sell quite as fast as her first two. During this time, Spears also became a spokesperson for Pepsi after signing a multimillion-dollar deal with the soft drink giant.
Her Super Bowl Halftime Show performance
The Super Bowl Halftime Show is one of the biggest stages in the world. Musical artists of all genres dream of an invitation to the big event, and that stage has seen some of the most memorable performances in music history.
In January 2001, Britney Spears joined some big names during a star-studded halftime show for Super Bowl XXXV at Raymond James Stadium in Tampa. The show ranks fourth on Vulture's list of 29 halftime shows. That year's headliner was Aerosmith, which also performed with 'N Sync for a mind-blowing melding of rock and pop. Britney Spears, Mary J. Blige, and Nelly surprised the crowd by joining the rest of the performers for a halftime show that many viewers will never forget.
So, will Britney ever appear on the halftime stage again or perhaps headline the show? There were rumors of a reappearance before Super Bowl LII when her associates were reportedly "in talks" with NFL execs, Bleacher Report reported.
Spears made it clear she would love the opportunity to return to the Super Bowl stage. But it seems the plan never panned out. Her old beau Justin Timberlake took the stage that year in a tribute to the legendary Prince.
RELATED: Britney Spears Was Not Madonna's First Choice for 2003 MTV VMAs Kiss