Britney Spears Reflects on Weight Loss, Says She Was Happier When She 'Looked Heavier'
Amid Britney Spears' ongoing conservatorship battle, she took to social media to reflect on her recent weight loss efforts. The singer wrote how extra weight was considered "more attractive" in the past and what her weight generally says about her disposition. 
Britney Spears is in the middle of a controversial conservatorship case 
Anything Spears says to her 33.3 million Instagram followers at this point will be viewed through the lens of her current court battle. Her father, Jamie Spears, recently announced his intention to step back from control over her estate — something the iconic pop star has been demanding for months. 
In a post published after that announcement, Britney detailed her recent weight loss alongside two close-up photos of her face. 
"It's really weird whenever I try to slim down it usually starts with my legs first … then my stomach … then my face … and that's when I know I've actually lost weight !!!!" she wrote via Instagram. 
"When you swipe to the second pic you can actually really see how slim my face is but I'm not so sure I like it."
Britney's physical appearance has been scrutinized for years
Britney's weight has been the subject of an inordinate amount of scrutiny over the years. A recent documentary, Framing Britney Spears, explored the impact of the hyper-focus on Spears' appearance and intensified a growing movement of support surrounding Spears and her conservatorship case. 
It's been speculated that Spears' early oversexualization in what was in retrospect a fantastically misogynistic era contributed to her complicated situation now. 
"I do think that the misogyny that we showcased in the documentary is connected to where she is today," Framing Britney Spears director Samantha Stark recently told The Hollywood Reporter. "It has been easy for people to make fun of Britney, and that made it easy for there to be this silence around the conservatorship. At our first meeting together, we agreed we would never make fun of Britney Spears, and we all took that to heart. It's been incredible that it feels like now the world is also taking that to heart." 
In her post, Britney also reflected on how women's weight and appearance has been interpreted differently over the centuries. 
"In the old days when women were heavier they were considered more attractive to men because it was a sign of wealth !!!!" she exclaimed. 
Britney Spears apologized for 'shallow' talk of weight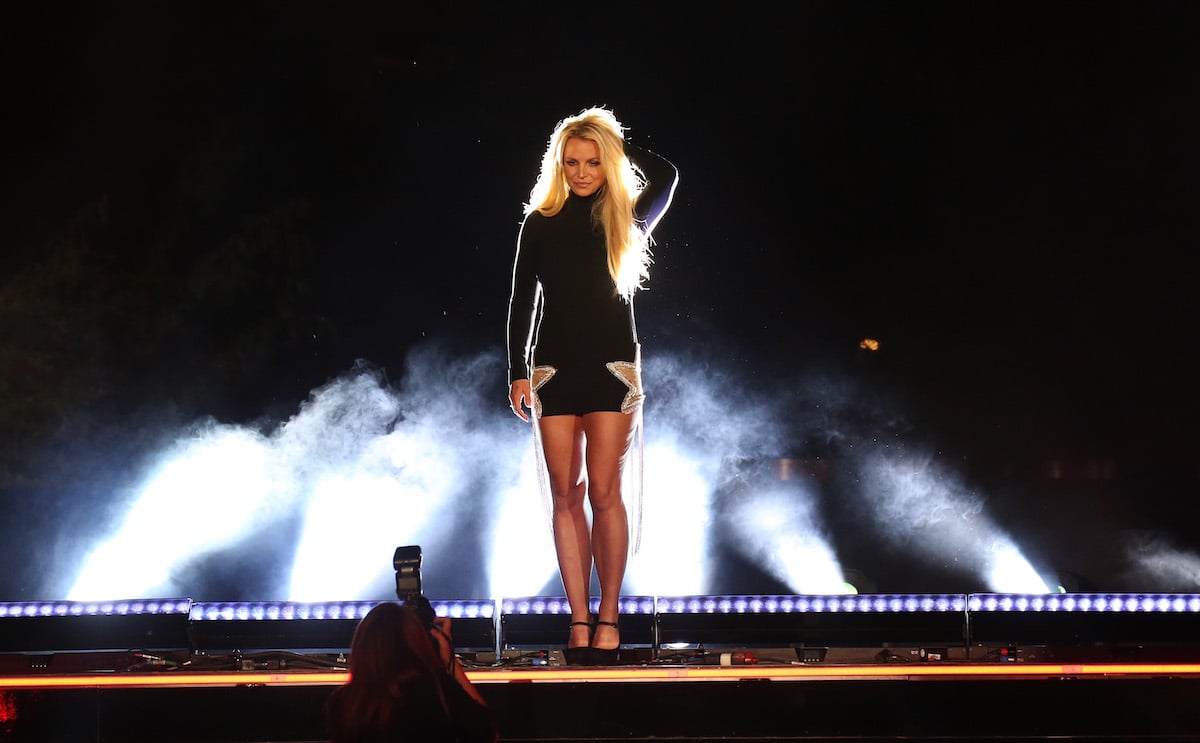 In her final remarks of her Instagram post, Spears said she may have been "happier" in throwback videos in which she says she "looked heavier."
"I have a couple of throwback dances from this summer where I looked heavier but it's weird cause I think I was happier !!!!" she wrote. "Oh well … sorry for my shallow talk of weight … but it is what it is you know !!!! GOD BLESS YOU ALL !!!!!" 
Spears punctuated the post with emojis of dancers, suns, and laughing faces. She certainly has reason to dance since the most recent development in her conservatorship case.