Britney Spears Revealed Her 'Crossroads' Kissing Scene With Anson Mount Was 'Disgusting': 'I Could Have Killed Him'
Co-star Taryn Manning also weighed in on Mount's kissing-scene prank.
Much is made of the girlfriend relationships that make up the plot of Britney Spears' Crossroads. But the singer did have a couple of seriously romantic scenes in the 2002 movie. And according to several sources, her romantic interest in the film, Anson Mount, pulled a dirty trick on Spears. Here's what they each said about the encounter. 
Anson Mount ate garlic before his kissing scene with Britney Spears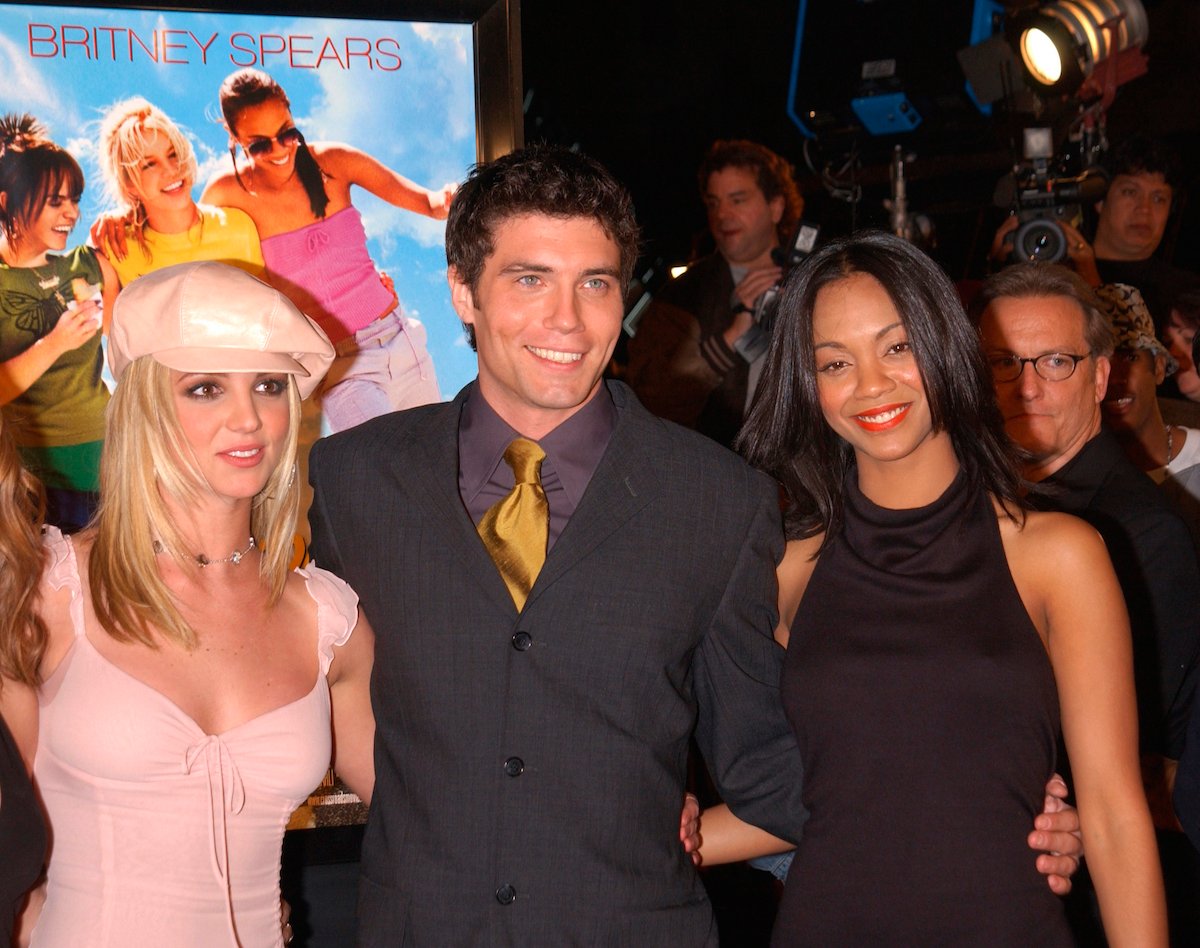 In Crossroads, Spears plays overachiever Lucy Wagner. After graduating from high school, she and her childhood friends Mimi (Taryn Manning) and Kit (Guardians of the Galaxy's Zoe Saldana) head out on an impromptu road trip to Los Angeles. 
Additionally, joining them with his convertible is rugged 'bad boy' Ben, played by Anson Mount. The two slowly fall for each other. Moreover, Lucy and Ben have an inevitable (and memorable) kissing scene while sitting at a white piano. 
In the 2002 Crossroads episode of MTV's docuseries Making the Movie, Mount admitted to pulling an on-set prank on the extremely famous Spears. "It came time for Brit and I to do our kissing scene," he says. "So I decided to play a joke on Brit." 
Taryn Manning then explains further. "I guess Anson put a bunch of garlic in his mouth, right before that scene where they kiss at the piano," she said in the documentary. 
As for Spears' perspective on the incident, she called it "disgusting." 
"So it's like this most intimate moment of the movie, and I'm sitting there, and it's like complete silence," she says in the documentary. "And I'm singing I'm Not a Girl. Then all of a sudden, I sit down, and I'm supposed to kiss him. And he's got garlic in his mouth! I could have killed him, seriously." 
Co-star Manning said Spears was in disbelief about the fragrant on-screen encounter. "When she was done, she turned and was like 'oh my god, you guys, he just'…you know?" recalling Manning. 
Spears handled the practical joke by getting through the scene, then confronting Mount. "Finally, I was like, 'please, go brush your teeth,'" she said. "This is disgusting, please!'" 
The actor said Britney Spears kept a straight face 
As for Mount's recollections, he admitted on Making the Movie that it wasn't pleasant.  "Yeah, it was pretty nasty," he said. 
In a separate account published upon the movie's release in February 2002, Entertainment Weekly reported that Mount said the kiss was "Quite nice." Furthermore, he added a questionable comment about the experience. 
"I could tell you what I told my fraternity brothers," Mount said, per EW. "But I'd get in big trouble." 
Mount, then 28 years old, explained what happened. But he also claims that Spears took it in stride, barely acknowledging the stunt. 
"After we kissed a couple times, I took a big spoonful of minced garlic and washed it around my mouth real good," he said. "When we did the scene, Brit amazingly kept a straight face. After they yelled 'Cut,' I asked her, 'Did you even taste that?' And she goes, 'Oh, sweetie, I just didn't want to hurt your feelings.'" 
'Crossroads' writer Shonda Rhimes said the ensemble cast had a great time 
In a 2016 interview with Broadly, the movie's screenwriter Shonda Rhimes (Bridgerton) said the ensemble cast had a great time together. 
"She was very cheerful, very fun," Rhimes said of Britney Spears. "I think it was so different from being on the road and doing concerts—being able to stay in one place and be with the same group of people all the time. It was the first time I think she had hung out with people her own age. When she was on the road, it was her and a team of people, but this was her, and Taryn, and Zoe, and Anson. They were all sort of the same age, and I think they had fun together."
To sum up, garlic notwithstanding, the cast appears to have had a good time while shooting Britney Spears' now 20-year-old Crossroads movie. Moreover, they were clearly close enough to feel comfortable pranking one another on-set.