Britney Spears and Sam Asghari Are Engaged — Will There Be a Prenup?
It's official — Britney Spears and Sam Asghari are engaged. The announcement came just before MTV's Video Music Awards, and the two didn't hesitate to make it social media official. With everything surrounding Spears' conservatorship over recent months, along with the fact that she's been married before, many want to know if she'll put a prenuptial agreement in place. Here's what we know.
Britney Spears had two previous marriages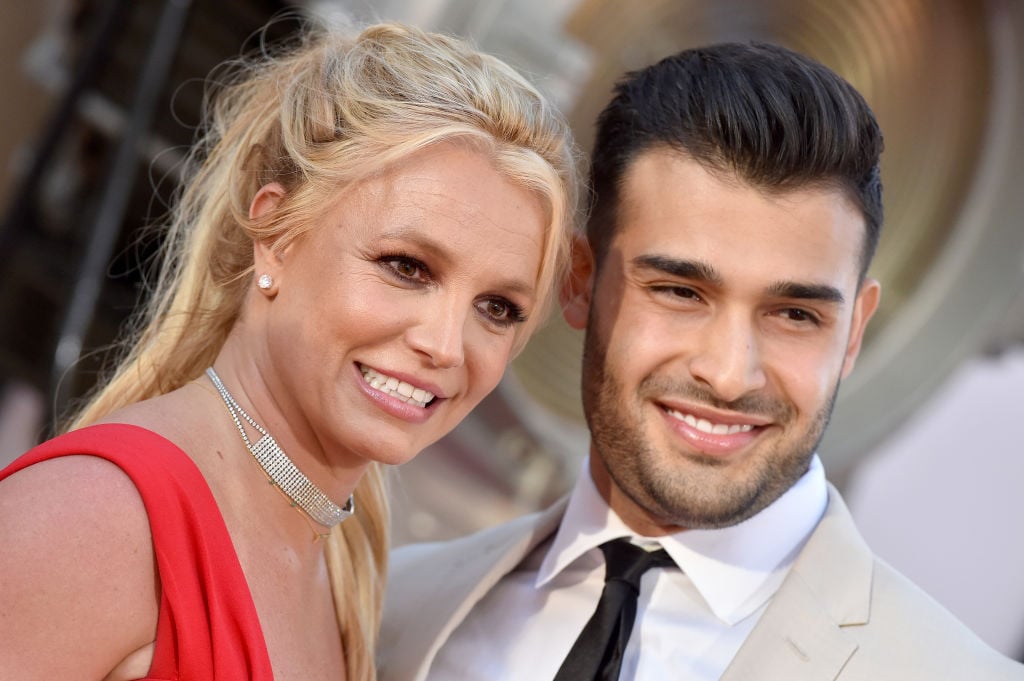 After almost five years of dating, Spears and Asghari couldn't wait to tell the world of their engagement. On Sunday, Sept. 12, the singer took to Instagram to show off her four-carat diamond ring. The stunner of a jewelry piece is engraved with Asghari's nickname for Spears, "lioness."
While Asghari has never been hitched, Spears had two very public marriages. In 2004, the Baby One More Time singer married a longtime friend, Jason Allen Alexander, but the two quickly annulled that relationship 55 hours later. The same year, Spears married backup dancer Kevin Federline. The two share two sons, Jayden James, and Sean Preston.
As many know, Spears and Federline divorced in 2007, and their contentious relationship has made headlines over the years. The former couple shares custody of their sons while Spears remains under conservatorship. Page Six previously reported that it's a 70/30 split, with Federline as the majority parental custodian.
Spears and Asghari began dating after the latter appeared in the singer's music video, "Slumber Party." As an actor and personal trainer, Ashghari is no stranger to the entertainment business.
Ashaghari's manager, Brandon Cohen, said of the engagement that the couple "made their long-standing relationship official today and are deeply touched by the support, dedication, and love expressed to them."
Will Spears enact a prenup with Sam Asghari?
Along with the many congratulations in order, fans and celebrities alike have flooded Spears and Asghari's social media platforms, suggesting that Spears should request a prenup before anything is official. She stands to lose an estimated $60 million empire should things go awry and she's not legally protected.
Asghari responded to the comments — which included star Octavia Spencer — on an Instagram story saying:
"Thank you everyone is concerned about The prenup!" Sam, 27, wrote. He added, "Of course we're getting iron clad prenup to protect my jeep and shoe collection in case she dumps me one day [crying while laughing emojis]."
While it's clear Asghari took the concerns in good fun, he's aware of Spears' net worth. The Daily Mail reported back in 2007 that Spears had an airtight prenup in place when she wed Federline, which waved any right to her future earnings. Meanwhile, Spears' quickie marriage to Alexander ended when Spears' management team and mother Lynne intervened.
"They told me if I would sign the contracts — the annulment — they would let me and Britney continue our relationship, and if we felt the same way in six months, they would give us a proper marriage," Alexander said on Toxic: The Britney Spears Story podcast. "So I had no reason to believe otherwise. I thought that's what the truth was. They were allowing Britney and I to still have phone communication."
He added that when he tried to call Spears later, the number had been disconnected. All of this comes on the heels of the Spears' conservatorship battle, where the #FreeBritney movement continues making waves. We have every right to believe Spears will not only get a prenup before exchanging vows with Asghari, but as her biggest supporter, he'll be all for it.
Spears' conservatorship update
RELATED: Britney Spears' Former Manager Recalls How 'Rigid' Madonna Acted Prior to Infamous MTV VMA Kiss
The engagement announcement comes a week after Spears' father Jamie — who's been in charge of the singer since 2008 — petitioned for an end to the conservatorship of the financial estate and Spears herself.
"If Ms. Spears wants to terminate the conservatorship and believes that she can handle her own life, Mr. Spears believes that she should get that chance," the filing said, per the New York Times.
This is a big step toward Spears regaining control of her life. The embroiled battle shone a spotlight on the inner workings of Spears after her mental health came under scrutiny.
"I shouldn't be in a conservatorship if I can work," Spears told a court in June.
We're all watching to see if the pop star will finally be free again when the next court date ensues, Sept. 29. Until then, the biggest congratulations (and a prenup, hopefully) are in order.