Britney Vs. Christina: Which '90s Pop Princess Is Worth More?
One of the longest debates in history has to do with which Mickey Mouse Club Mouskateer you side with: Britney Spears or Christina Aguilera. You can't choose both. Though each found success throughout the late '90s and early '00s, one is worth far more than the other. Read on to find out who came out on top.
Britney Spears (arguably) started the pop revolution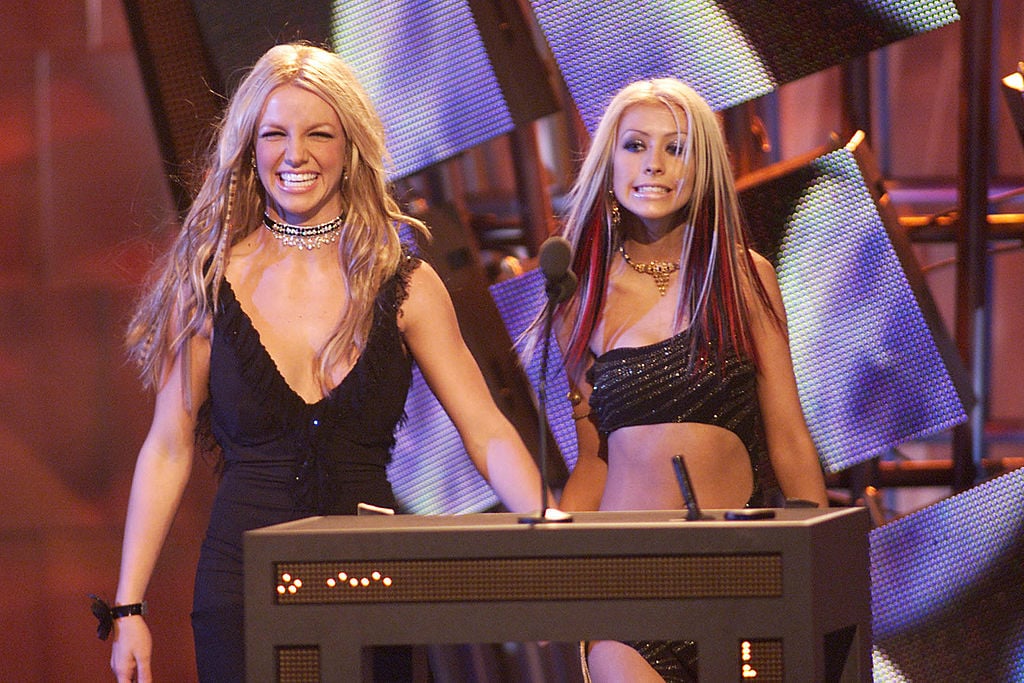 The Spears vs. Aguilera debate forges on, forever and ever. It goes back to the late '90s when Aguilera repped Coke and Spears became the frontwoman for Pepsi. The two rivals competed for the same space and the conversation never slowed down.
With albums pushed seven months apart, how could they not be pitted against one another? They're both blonde pop stars who came from the same space with similarly manufactured sounds.
Eventually, the two paths split with Spears taking the straight pop path and Aguilera bending towards R&B. Their music is no longer that similar and neither is how much either is worth.
Spears, ever the entertainer, is still remembered as the Catholic school girl in the "Baby One More Time" video, followed by Spears in that red, leather jumpsuit on another planet, then Spears dancing with a snake.
As one of the most-watched artists of the generation, Spears ultimately found herself in peril. Her personal issues and four-year hiatus left room for others to swoop in and claim her status. In fact, Aguilera's "Genie in a Bottle" came months after Spears' first hit.
Christina Aguilera burst onto the scene with pipes of steel
If you were to compare singing voices, it'd be easy to point to Aguilera's raw talent as a clear winner. She has fewer solo LPs and singles and "Billboard Hot 100" hits compared to Spears, but she maintains her fanbase all the same.
Some say Aguilera hasn't reinvented herself the way Spears has over the years, but her sound veered towards electronic and hip hop, with ballads topping her lists as the most streamed music in her later years.
As a previous judge on The Voice, Aguilera's team-up with Great Big World for their single "Say Something," boosted Aguilera's name back to the forefront.
When it comes to Aguilera's career trajectory, her songs often refer back to previously popular songs, whereas Spears sticks to recording things in a futuristic light. Who you prefer out of the two largely depends on which sound gets you the most.
If you're drawn to Spears and "Toxic," you'll likely never be that into Aguilera's "Beautiful," and vice versa. We can't explain why; it just is. Though they broke out around the same time, they've followed very different paths, and created very different music.
And don't even get us started on Aguilera's "XTina" phase.
Which pop singer is worth more?
https://www.instagram.com/britneyspears/
Aguilera's net worth is an estimated $160 million when you add her Las Vegas residency payouts. It's no shock that Aguilera is one of the highest-paid female singers in the world. For over 20 years her voice has serenaded millions and her stint on The Voice garnered a reported $15 million annually.
The Golden Globe nominee for "Best Original Song," in which she sang for the movie Mulan, may have a lot of moolah, but regardless of whether you prefer her music more, it doesn't look like she can beat Spears in this one.
Spears has an estimated total worth of $215 million, with some of that in a trust controlled by her father, Jamie Spears. She earned quite a bit performing in a Las Vegas residency where she earned upwards of $475,000 per show.
The point is, it doesn't matter which team you're on. Both Spears and Aguilera slay and they've been doing it for decades.