Brooke Mueller Is In Rehab, Where Are Her And Charlie Sheen's Kids?
Two days ago, a video emerged of Brooke Mueller using crystal meth in a dirty van. The sad footage, which was obtained by Page Six, reportedly showed the former actress trying to get high while on a trip in Washington state last year.
It's said that Mueller left one of her and Charlie Sheen's twin sons with some strangers at a hotel while she was on a bender. This past July, it was also reported that she was caught with "suitcases full of drugs" while on a trip in the Hamptons, prompting housemates to kick her out of the rented home they were sharing. Her children were staying with relatives at the time. According to People, Mueller has been in a treatment center for weeks, but everyone is wondering about her ex Charlie Sheen and their two children.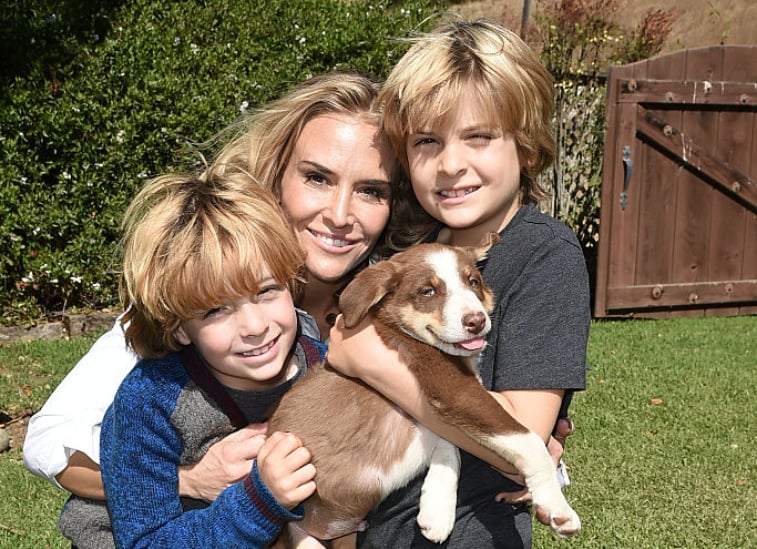 Mueller's rep issued a statement about rehab
USA Today received a statement from a spokesperson for Mueller, Steve Honig, saying that she checked herself into rehab.
"Brooke voluntarily checked herself into a trauma center on the East Coast and is working hard to get well. Like millions of people know, sobriety is a daily challenge."
Mueller has been struggling with addiction for years, and at one point, Sheen's other ex-wife, Denise Richards, temporarily had custody of their twins. At the time of the July incident, she didn't comment directly, but People reports that Mueller's family stepped up to take care of the boys and that Sheen visits the children. In general, they live with their mother.
"Both boys live with Brooke in Beverly Hills. Brooke is traveling, her mother and her mother's husband take care of the twins together in the same house."
Sheen won't seek custody but wants his ex to get better
During the past few years, Mueller has been in and out of treatment centers due to relapses—including hospitals and rehab facilities—but Sheen has also had his share of addiction problems. In January, he shared that he was celebrating one year of sobriety. However, he's upset about the current situation with Mueller and their kids, Max and Bob. While she has physical custody, he pays tens of thousands in child support.
Since word spread about the leaked video and audio footage of Mueller's quests for crystal meth, "black tar" heroin, and cocaine, Sheen spoke out. He wants to assure the public that the kids are being taken care of properly, telling The Blast:
"Brooke is currently tucked away, (yet again!) for the umpteen billionth time, seeking the help she needs. Between myself, and the boys' two amazing sets of Grandparents, we continue to seamlessly love shelter and protect Bob and Max, from the haphazard choices and unsightly behavior their mom refuses to extinguish once and for all.

These wonderful boys need their mom. and hopefully one day soon, they will finally have one. until then, on every front we got this."
Sheen and Mueller were married from 2008 to 2011 and divorced after Sheen's arrest for a domestic violence charge stemming from an altercation between the two. 41-year-old Mueller has been in several films and for a time, was a television host.