Brooklyn Decker Recalls the 'Very Shady' Way She Met Husband Andy Roddick
Many people know Brooklyn Decker as an award-winning actress and model, and they know Andy Roddick as one of the greatest professional tennis players in the world. But when you say their names together, most people know them as the parents of two adorable children, and one of the cutest couples in Hollywood.
While the two seem to be a match made in Heaven, Decker recently admitted that their relationship didn't start out on the best foot. In fact, she says that her husband pulled a "very shady" stunt when he tried to meet her. Here is the unique way that Andy Roddick got Brooklyn Decker to notice him.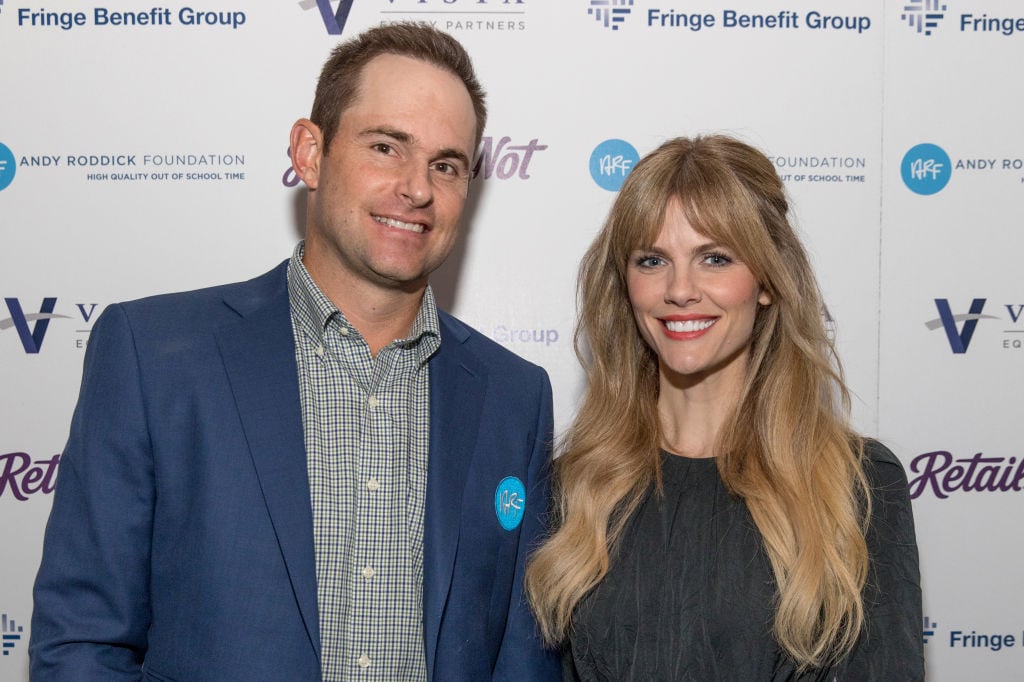 Andy Roddick and Brooklyn Decker have two very different careers
It may seem odd to some people that Decker and Roddick even know each other. Sure, they are both famous, but their career choices might lead many to think that they couldn't possibly have anything in common.
Decker got her start in the entertainment industry as a model. She appeared in the Sports Illustrated Swimsuit Edition in 2006, 2007, and 2008. She has also modeled in several different campaigns for Victoria's Secret, Gap, and Intimissimi. 
In 2006, she was bitten by the acting bug when she played an extra on the hit movie, The Devil Wears Prada. After that, she had a few small roles in other films and TV shows, including Battleship, Chuck, What to Expect When You're Expecting, and Ugly Betty. Her impressive acting skills gained her world-wide recognition in 2015 when she was chosen to play the role of Mallory Hanson in the Netflix hit series Grace and Frankie.
Roddick has also been featured on TV, but there was no acting involved. He has loved playing tennis his entire life. When he was just 17 years old, he thought about quitting tennis after facing a devastating losing streak. However, his coach convinced him to give the sport a few more months, and in that time, Roddick dedicated all of his time to perfecting his skills and ended up becoming the No.1 junior in 2000. 
Soon after that, he started gaining notoriety as being one of the most talented tennis players in the world. In 2003, he became world No. 1 after winning the 2003 US Open. To date, that has been the only US Open that Roddick has won. However, his skills on the tennis court are still admired by millions of people all around the world.
The 'very shady' way Brooklyn Decker and Andy Roddick met
As it turns out, Decker's career choice is actually what made Roddick notice her. In an interview with the Tennis Channel, Decker said that Roddick first noticed her when he saw her hosting a show for Sports Illustrated. As soon as he laid eyes on the beautiful model, he knew he had to meet her. Unfortunately, he did not go about it the right way.
According to Tennis World USA,  Decker recalled their first encounter by saying: "I was hosting a show for football for Sports Illustrated on si.com and he watched it every week and he got his attorney to call my agent at the time and I thought it was very shady. And I did not call him back for five months."
She then went on to say that her agent eventually convinced her to give him a call. After she Googled him and watched of few of his interviews, she thought that he seemed like a really funny and nice guy, so she decided to give him a chance.
How long have Brooklyn Decker and Andy Roddick been married?
Decker and Roddick got married in 2009. Today, they have two children together and seem to fall more in love with each other with each passing day. However, Decker admitted that she does feel that she and Roddick may have rushed into their marriage, but they were still able to make it work.
According to Page Six,  Decker said: "I was 22 and he was 27, we were both earnest and I think naive and optimistic and us against the world. We were like, 'We want to get married and want children and who cares,' and we just did it … I don't know that we necessarily had that base partnership that is required when you get married. We were just infatuated with each other, and fortunately we've built upon that infatuation."