'Brooklyn Nine-Nine': Which Cast Member Has the Highest Net Worth (and How Much Do They Make For the Show)?
Cop shows have been a fixture in the entertainment industry for decades. As a comedy, Brooklyn Nine-Nine is already different from most series that focus on the police. But with the nation's eye on the current system, the show could change in the future.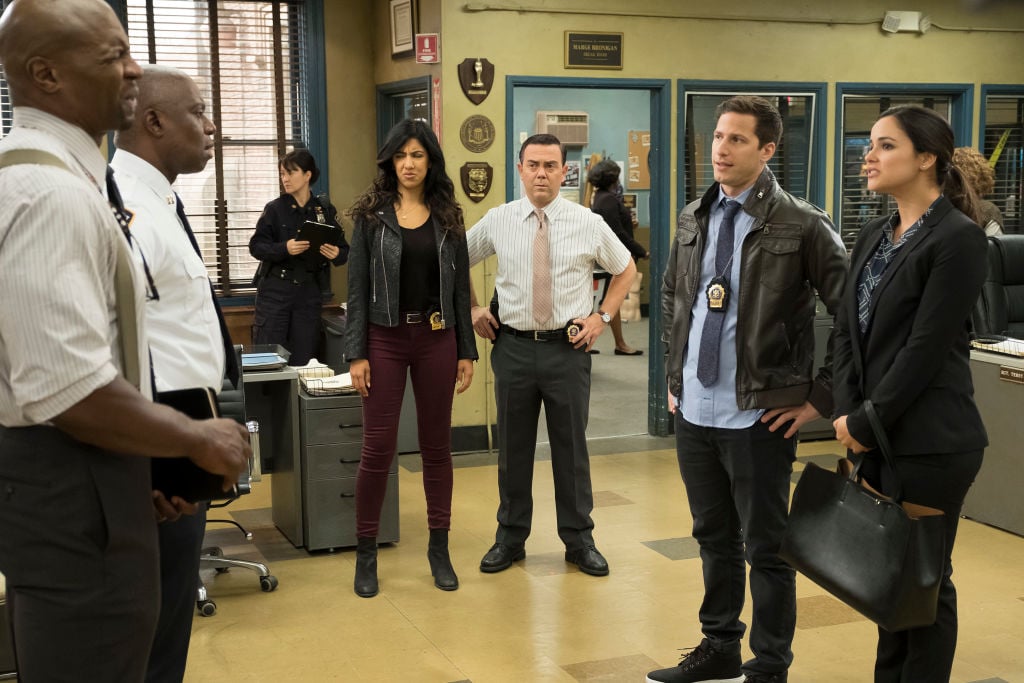 Here's a look at the net worth and salaries of the starring cast (specifically, those who have been part of the main cast since season 1).
Melissa Fumero
Actor Melissa Fumero portrays Amy Santiago, a rule-following former detective who rises up the ranks to become a sergeant. Before Brooklyn Nine-Nine, Fumero was best known for as Adriana Cramer in the soap opera One Life to Live. She also had a recurring role in Gossip Girl.
Fumero has an estimated net worth of approximately $2 million, according to Celebrity Net Worth. Her salary is unknown, but she did donate money to the National Bail Fund Network in June 2020 to support those protesting police brutality.
Stephanie Beatriz 
Actor Stephanie Beatriz portrays Rosa Diaz, a no-nonsense detective who grows close to her colleagues over the years. The year Brooklyn Nine-Nine debuted, she landed a recurring role in Modern Family. She is also known for films such as Short Term 12 and the upcoming musical In the Heights.
Like Fumero, Beatriz's net worth is thought to be around $2 million, according to Celebrity Net Worth. Her salary is also unknown. She, too, contributed to the $100,000 donation to the National Bail Fund Network.
Joe Lo Truglio 
Actor Joe Lo Truglio portrays Detective Charles Boyle, a well-meaning member of the squad with many interests outside police work. Lo Truglio is known for his roles in such films as Wet Hot American Summer and Wanderlust. He has also played a cop multiple times before, including in the Cops parody series Reno 911!
Given how long he's been active in the industry, Lo Truglio's net worth is higher than his aforementioned castmates. According to Celebrity Net Worth, he's worth an estimated $5 million. His salary is also unreported.
Andre Braugher
Actor Andre Braugher portrays Raymond Holt, the high-brow chief of the department. Before Brooklyn Nine-Nine, Braugher was best known for another cop show, having starred as a detective in the procedural Homicide: Life on the Street. He also played a detective in the Kojak TV films of the '90s.
Braugher's long career also includes roles in films such as Poseidon, Fantastic Four: Rise of the Silver Surfer, and The Mist. According to Celebrity Net Worth, he's worth approximately $8 million and makes $100,000 per episode of Brooklyn Nine-Nine.
Andy Samberg
Actor Andy Samberg portrays Detective Jake Peralta, the goofy yet passionate focus of the show. Samberg rose to prominence with his comedy trio The Lonely Island on Saturday Night Live. He's also known for such films as Popstar: Never Stop Never Stopping, and for his work as a writer and producer.
Speaking of, Samberg's work behind-the-camera puts his salary a bit higher than that of his castmates. Celebrity Net Worth estimates that he makes $125,000 per episode. His net worth is around $20 million, up from $16 million in 2018.
Terry Crews
Finally, actor Terry Crews portrays Terry Jeffords, a lieutenant who loves his family, working out, and yogurt. Crews was a football player before becoming an actor, gaining notoriety for films like White Chicks and Idiocracy, along with series such as Everybody Hates Chris and Are We There Yet?
Today, Crews is something of an action hero, starring Deadpool 2 and The Expendables franchise. So it's not surprising that, at $25 million, he has the highest net worth of the cast, according to Celebrity Net Worth. This is up from $20 million in 2019.