'Brooklyn Nine-Nine': What the Season 7 Trailer Reveals
Season 7 of Brooklyn Nine-Nine premieres on Feb. 6 on NBC. To give fans a sneak peek of the upcoming season, NBC released a new trailer of Brooklyn Nine-Nine. The trailer is a throwback and features tropes from TV shows from the '80s while also giving fans some clues about the new season.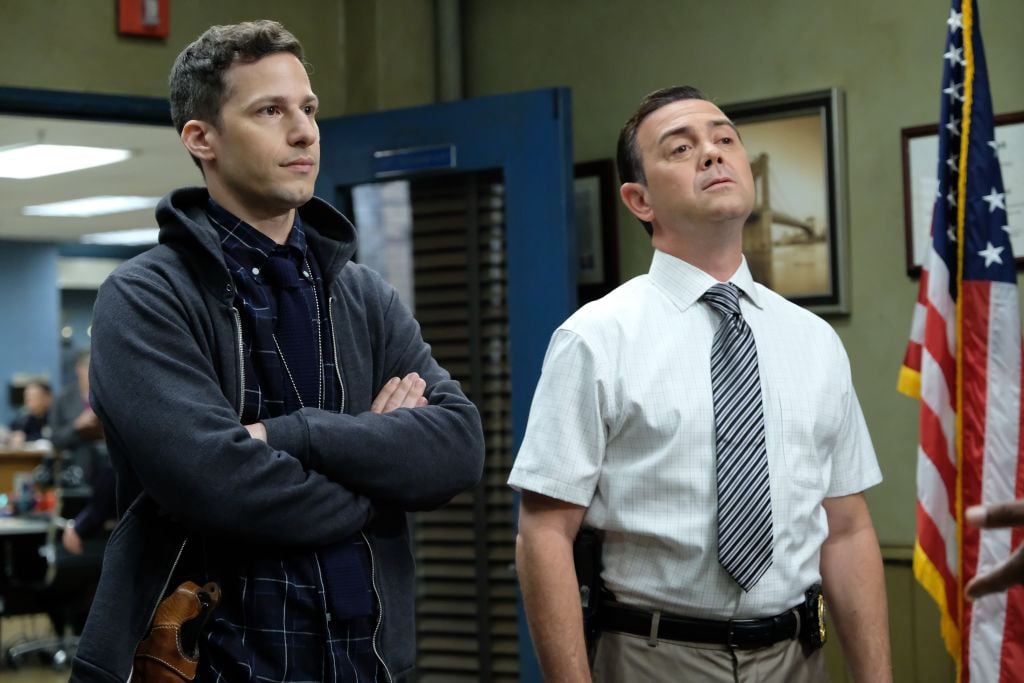 Captain Holt is still demoted in season 7 of 'Brooklyn Nine-Nine'
On Jan. 9, NBC released an '80s-style trailer for the new season of Brooklyn Nine-Nine. The trailer showed the precinct detectives bantering with their normal goofiness while taking down crime, but with grainier footage and more slapstick comedic bits.
Like most seasons, the trailer for Brooklyn Nine-Nine focuses on the relationship between Jake Peralta and Captain Holt. Except, the trailer points out that Holt is no longer a captain.
"And former Captain, Raymond Holt, who recently got demoted for failing to finish his officer training," the narrator of the trailer says.
The trailer then cuts to Holt talking to Peralta.
"Sure, I've been stripped of my accomplishments and lost the respect of everyone in my life, including my dog," he says.
"Cheddar?" Peralta asks. "No."
"Yes," Holt says. "Now he only poops for Kevin."
Jake Peralta and Holt will team up
Even though Holt has been demoted to a patrolman, the trailer shows him teaming up with Peralta and the rest of the precinct.
"Now when the city is thrown into chaos…," the narrator says over a clip of Peralta, Charles Boyle, and Adrian Pimento stuck on the side of a building. Terry Jeffords then tells the characters of Brooklyn Nine-Nine that there was an assassination attempt.
The narration continues, "These two unlikely heroes will have to team up to take down crime."
In between the narration, clips of Peralta and Holt talking over each other are shown. It seems that with Holt being demoted to a patrolman, Peralta is in charge instead of him. However, the former captain is still used to being in charge of investigations.
Vanessa Bayer will guest star on season 7 of 'Brooklyn Nine-Nine'
In August 2019, Andy Samberg, who plays Jake Peralta, posted a photo on The Lonely Island Instagram page. The photo showed Samberg and Bayer on the Brooklyn Nine-Nine set. The two formerly starred on Saturday Night Live together.
Towards the end of the trailer, a brief clip of Bayer laughing while wearing police gear is shown. According to TV Line, Bayer will play Debbie Fogle, Holt's new partner.
There is an official description of season 7
While it does not give much away, there is an official description of season 7 of Brooklyn Nine-Nine.
The official season description reads:
"Detective Jake Peralta, former captain Holt and the rest of the Nine-Nine team are back to take down crime and put away bad guys on Season 7 of Brooklyn Nine-Nine, premiering Thursday, February 6 at 8/7c on NBC. SNL alum Andy Samberg and Emmy winner Andre Braugher lead this diverse, critically acclaimed ensemble that solves crimes like only they can – with tons of humor and the heart to match. Winner of a Golden Globe Award for Best Comedy Series and from Executive Producers Michael Schur and Dan Goor, "Brooklyn Nine-Nine" has captured the hearts of millions, and NBC is proud to be a part of the story."