'Brooklyn Nine-Nine': The 1 Thing Fans Say Terry Did Wrong
Some 'Brooklyn Nine-Nine' fans say there was at least one instance when Terry's better judgment failed him. Here's what they think.
Brooklyn Nine-Nine enthusiasts might be in a group all their own. Responsible for resurrecting the popular series back in 2018, those who love the police station comedy are genuinely connected to their show.
They tune in to Brooklyn Nine-Nine in part because the characters are so engaging, and in their own ways, capable of mistakes. Plus, they're hilarious. When it comes to the ever-dependable character, played by Terry Crews, it may be hard to find any missteps.
But, some fans say there was at least one instance when Terry's better judgment failed him.
Why fans love 'Brooklyn Nine-Nine'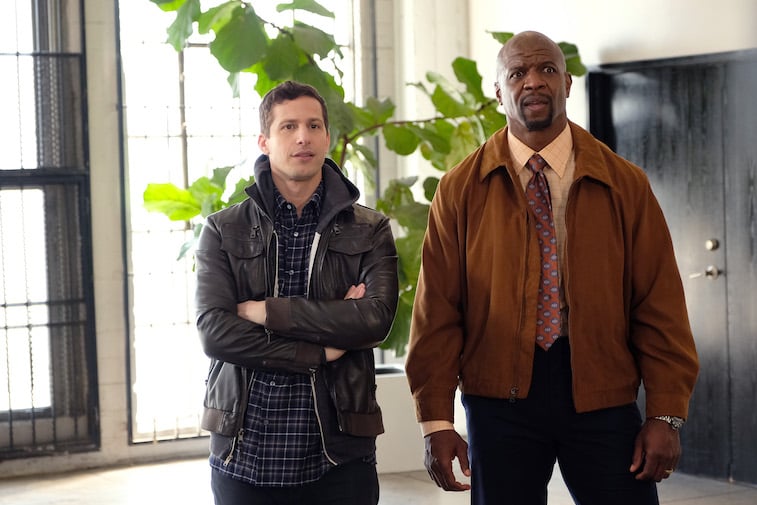 The popular television series, based on the day-to-day life of police officers in the 99th Precinct, has found its fan base. Unlike more serious and dark themed cop shows, Brooklyn Nine-Nine offers a fresh and comedic perspective of goings-on law enforcement.
The characters have authentic encounters and tackle real-life situations, all with comedic flare. The show, once slated for cancellation under FOX, rallied the fan troops, who some say, are solely responsible for the show's comeback in 2018, with a new home at NBC.
The proof of popularity is in the numbers. NBC Universal is reaping the rating rewards after breathing new life into Brooklyn Nine-Nine. According to Nielsen, the show boasts a 1.4 among adults in the 18-49 range. That's 3.9 million fans tuning in live, with additional revenues mounting from off-network syndication as well.
Terry's character is generally a considerate guy, and talented, too
Terry Crews plays Sergeant Terry Jeffords, a by-the-book leader with a tender and considerate side to his personality. In general, his role allows him to walk a path of genuine and respectable leadership.
Sergeant Jeffords brings an additional set of talents to the precinct, including an ability to sketch perpetrators. What some fans may not know, artistic talent is something Terry Crews possesses in real-life, as well. In fact, Crews held a job early on in life as a courtroom artist and was responsible for drawing depictions of a murderer on trial.
He also attended police and weapons training alongside his fellow cast members in preparation for the role.
The episode in which the Sergeant falters
If you're scratching your head in remembering which episode had Sergeant Jeffords making a mistake, think back to "The Funeral."
In the opening scene, Terry is asking his squad to be on their best behavior at the upcoming funeral for Captain Dozerman. You may be remembering now how the events unfolded. Terry encounters Holt at Shaw's bar, and both attempt to drink their sorrows away.
At Dozerman's wake, the spirits have caught up with Terry as he embarrasses himself during a toast about the discontinuation of his mango yogurt. Compared to the mistakes of other beloved characters, having a moment like this might not seem terribly wrong.
But, for Sergeant Jeffords, it attempts to show the irresponsible side of the character.
What's new for Brooklyn Nine-Nine?
NBC announced enthusiastically, the return of Brooklyn Nine-Nine for another season, at its current home on the peacock network. Fans can expect a midseason premiere date in January and return of all the pivotal characters they've come to enjoy watching.
Season six left much anticipation. While Madeline Wuntch makes some repositioning decisions with her new appointment to Commissioner, it has fans wondering what else to expect. It's hard to say how the season plans to begin in terms of plot, but enthusiasts are eager to see how it, and everyone pans out.
Brooklyn Nine-Nine is proving to be a powerhouse in NBC's comedy arsenal. As long as the fans keep embracing their characters in blue, the show will surely continue to build. Even despite the characters' occasional flaws and mistakes, the series continues to be a much-anticipated favorite.