Bruno Mars Says Anderson .Paak Was Drunk When Silk Sonic Made 'Smokin Out the Window'
Silk Sonic is on fire. Bruno Mars and Anderson .Paak formed their own supergroup, and the dynamic duo revived an old '70s soul sound with their album, An Evening With Silk Sonic.
They rocked the Grammys stage at the 2021 event when they performed "Leave the Door Open," but the R&B crooners have another hit on their hands. "Smokin Out the Window" is their latest musical ear-bender, and according to Mars, Anderson .Paak's inebriated state contributed to its creation.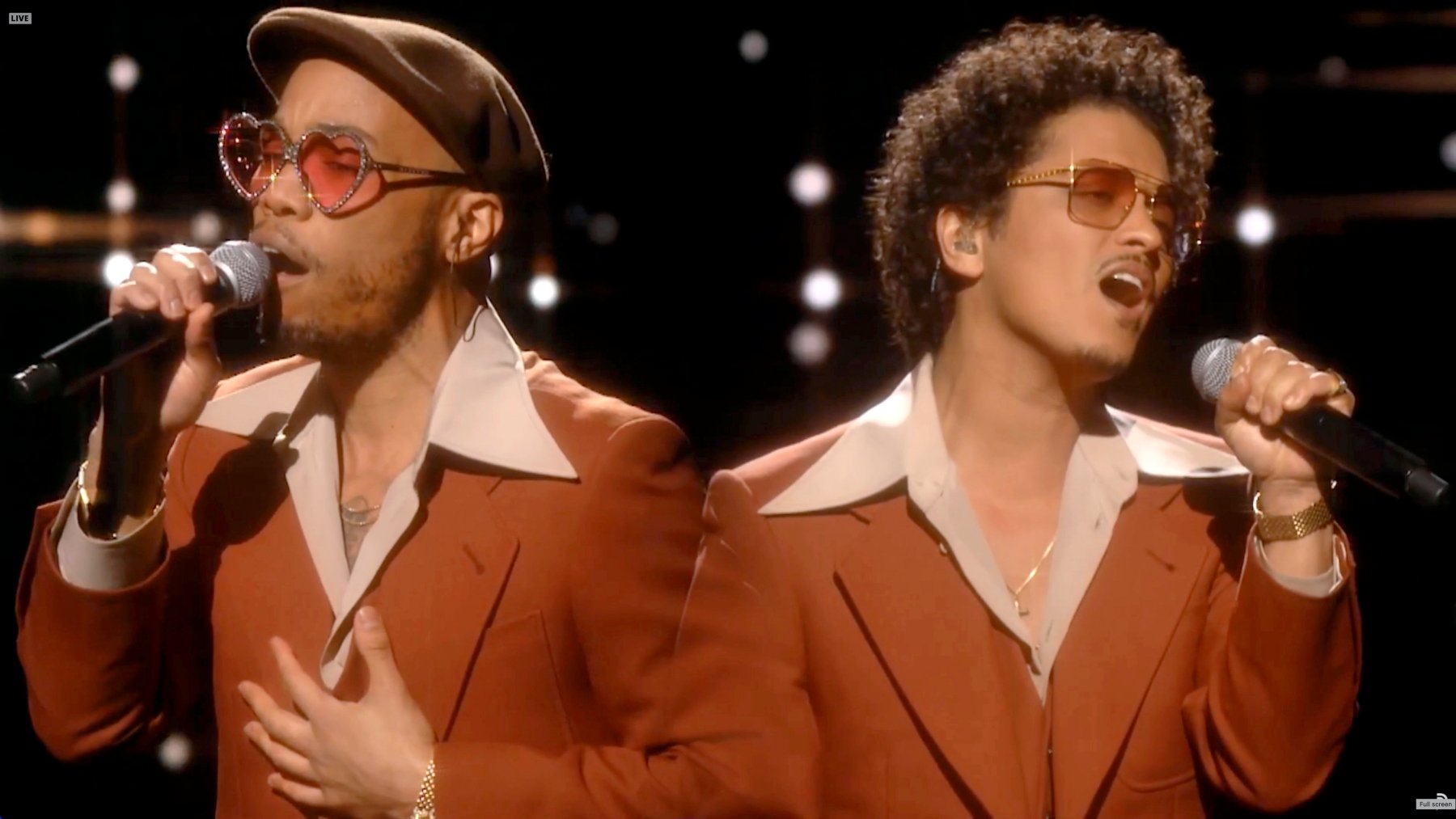 Silk Sonic made 'Smokin Out the Window' with tipsy Anderson .Paak
Silk Sonic sat with Ebro for Apple Music to discuss their new project, how they became a tag team, and the genesis of their songs. Mars and .Paak first got together in the studio two years ago, and "Smokin Out the Window" is one of the first songs they made. But according to Mars, his friend was under the influence when it happened.
"It was an idea we started four or five years ago on tour. It didn't sound nothing like it does now, but we just had the 'Smokin Out the Window' idea," said Mars about .Paak. "On his birthday, I called him over. I said, 'Yo, I want to finish that song,' and he said, 'I'm drunk! What do you mean? Come on!' And he shows up, and he wasn't lying. But he was hysterical that night. You should've seen him."
.Paak kept cracking jokes during that song-making session, and even declared, "I'm the king of R&B! Tell me I ain't the hottest in the game!" Mars recalled how they laughed the whole night but finished the song. "Leave the Door Open" came next.
A similar thing occurred with 'Put On a Smile'
An Evening With Silk Sonic flows like a cohesive body of work, dipping into the highs and lows of its narrators' love lives. By the time "Put On a Smile" kicks in, the singers are in lovey-dovey ballad mode, pouring out their feelings. Mars admitted that he called in legendary singer-songwriter Babyface for an assist.
At first, .Paak didn't like the track. But he and Mars retooled it, created a hook, and made it sound better. To avoid killing the magic, Mars asked Babyface to step in with his opinion. "Babyface comes down to the studio, meets Andy. Andy was drunk again, right?" Mars said. The two laughed and explained that Babyface helped them tweak the song so they could get it just right.
With their musical powers combined, Silk Sonic worked hard to lay out the entire album, and they had a blast doing it.
Silk Sonic also launched a radio show
Fans have seen how Bruno Mars and Anderson .Paak have mutual respect for each other's talent and they mesh well together. Musical brothers, they also launched an Apple Music radio show. Titled "An Evening With Silk Sonic Radio," the first episode aired on Nov. 17.
The four-week series that features the pair as hosts and will include a special guest during the segment and curated R&B, funk, and hip-hop songs in the lineup. Expect to hear tunes from The Isley Brothers and more.
RELATED: Bruno Mars' First Big Hit Probably Isn't What Fans Think It Is