Bryan Cranston Has a 2-Part Approach to Fame Since 'Breaking Bad': 'You Have to Set Up Boundaries'
Bryan Cranston is well known for being the star of Breaking Bad. But Cranston achieved his fame somewhat later in his life than some other famous actors, and he had to adapt to that fame. In a recent interview, Cranston spoke about how he deals with being a famous actor. It's not easy, but he has a solid approach to it.
The roles that made Bryan Cranston famous
RELATED: 'Breaking Bad': Science Advisor Points Out a Mistake Walter White and Jesse Pinkman Made With This Memorable Death
There are three roles that have truly defined Cranston's path to success. After an early stint in his life driving motorcycles across the country, he eventually found his way to acting. His first major role was a bit part on the greatest sitcom of all time.
Cranston appeared in a minor but hilarious recurring role as the dentist, Tim Whatley, on several episodes of Seinfeld. While that role certainly left viewers in stitches, it would be yet another comedy that got Cranston noticed. He was cast as the dad, Hal, on the sitcom Malcolm in the Middle.
After that, he transitioned away from comedy into the role that made him a household name.
Bryan Cranston's role on 'Breaking Bad' catapulted him to another level of fame
Malcolm in the Middle was certainly a hit show, and Cranston played a big part in making it successful. But the amount of notoriety he got from it paled in comparison to his next major role.
Vince Gilligan cast Cranston as chemistry teacher turned meth cook Walter White in the show Breaking Bad. It seemed like an unlikely hit, but the show became one of the most acclaimed in television history. Cranston received plenty of recognition for his performance as White.
Before Breaking Bad, Cranston was a solid actor who was well known but by no means a star. After Breaking Bad, he could have his pick of any role he wanted. His new level of fame was hard to deal with.
Bryan Cranston has a 2-part approach to fame since 'Breaking Bad'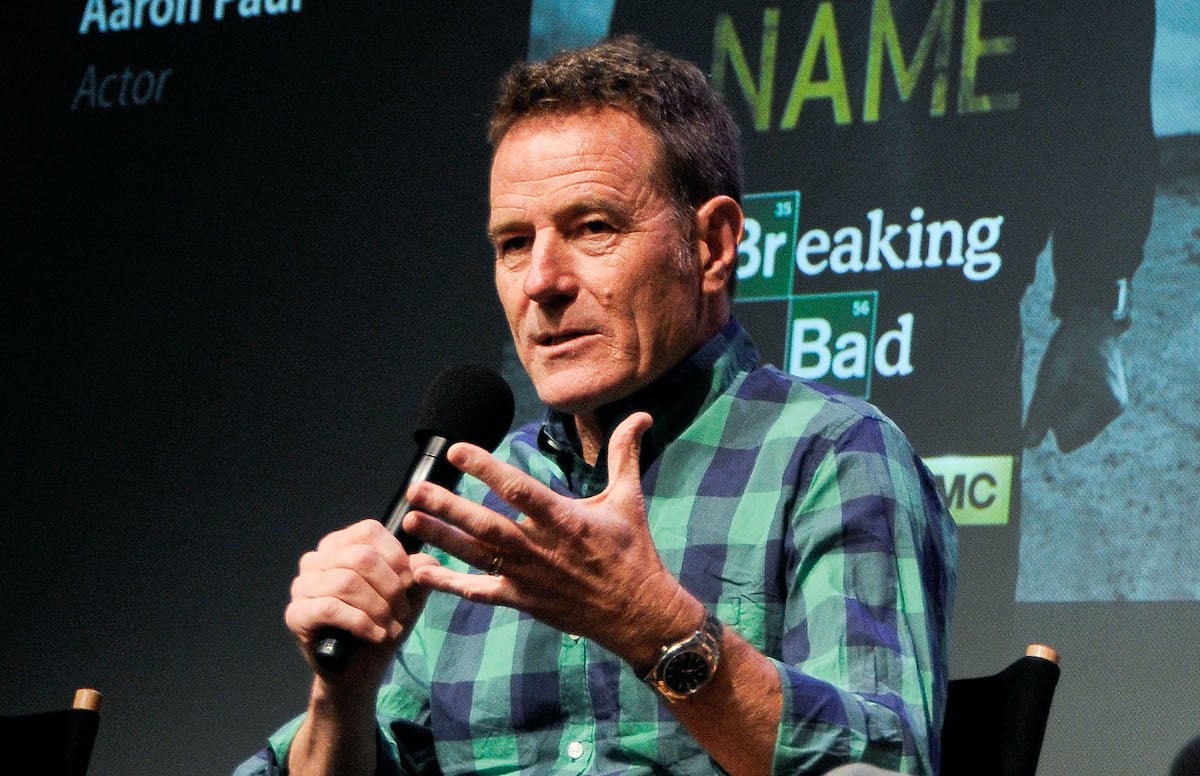 While appearing on Conan O'Brien's podcast, Cranston acknowledged that while he's grateful for his success, the fame that comes with it has been difficult to deal with at times. He has a two-part approach to dealing with fame: 1) he appreciates his success and 2) he sets boundaries with his fans.
"Fame is an interesting, odd thing. It's not something that either one of us was able to prepare for. We didn't know what that was going to be like…With that, comes a lack of privacy, interestingly enough, you have tremendous benefits on one side and there are a few things that you have to learn to live without from that point on."
Cranston commented about the fact that when people approach him while he's out with his family for dinner, he has a strict rule: no pictures or autographs while he's inside the restaurant.
"…when I go to a restaurant with my family, once I'm in the restaurant and seated, I don't take pictures. I don't sign autographs. I don't do that. People will approach the table and I'll say, politely, 'No, I can't do that right now….If you want to wait and meet me outside when I'm done, I'd be happy to do that.' But otherwise, if I stood up for one person then it gives permission for other people to approach."
Cranston may have disappointed a few autograph hounds, but his reasoning is sound. He argued that it wouldn't be fair to his family if he humored one fan. Once he made concessions for one fan, he'd feel pressure to honor all their requests. Cranston said his family dinner would become something else.
The fact that Cranston puts his family first shows you what's important in his life. He hasn't allowed fame to come between him and his family.