BTS and Ariana Grande Posted a Photo Together on Twitter and Yes, That Is the Sound of the Internet Collapsing
BTS and Ariana Grande posted a photo together on Twitter from "rehearsals" and fans react on social media, asking for a collaboration stage.
It's always a shock when two powerhouses in the music industry get together. Sometimes it's as if onlookers — such as ourselves — can't even fathom all the talent ruminating from a single space. So naturally, when BTS and Ariana Grande casually released a photo together on Twitter, fans flooded every crevice of the internet with a rush of excitement — as well as a few burning questions.
BTS and Ariana Grande share a photo on Twitter
On Jan. 22, Grande posted a photo with six out of seven members of BTS. Grande sat in the middle of RM, Jimin, Jungkook, V, J-Hope, and Jin. However, Suga was notably missing.
"look who i bumped into at rehearsal," Grande wrote on the caption with a smiley face. And moments later, the BTS Twitter account retweeted Grande's pic.
Now, this isn't the first time Grande and a member of BTS stopped the internet in its tracks. Back in May 2019, Grande posted a photo with Jungkook on Instagram after he attended her concert.
"screaming," Grande wrote with a single black heart. "thank u soooooo much for coming to my show, Jungkook. it meant so much. love u sm."
Later, Jungkook detailed his experience on Twitter. "I felt and learned a lot after seeing her stage," he wrote. "I am really challenged by her stage and will try harder! #ArianaGrande."
And funnily enough, the photo of Jungkook and Grande re-emerged after some fans speculated the pic was edited and the "7 rings" singer had to address the claims.
"it's not," Grande wrote on Jan. 15. "ask @AlfredoFlores! but wow what a moment. WHYYY would i post an edit thanking him for coming to my show."
Fans react to BTS and Ariana Grande's Twitter post
Following the Jan. 22 Twitter post, fans of Grande and BTS expressed their thoughts about the photo on social media.
"ARIANA ON BTS' TWITTER AND BTS ON ARIANAS TWITTER. WE LOVE TO SEE IT," a fan tweeted.
"The amount of power in this picture!!!" another fan wrote on Reddit. "I'm surprised the ground around them and twitter is alive right now! I love my girl and my boys together."
Fans also let their voices be heard, noting Suga's absence with comments and "fixing" the pic by adding the "Seesaw" singer. They even trended "WHERE IS YOONGI" on Twitter worldwide with over 122K tweets in two hours.
"I love how our knee-jerk reaction to this picture was all like, 'oh cool, they met ari. Wait, does this confirm a solo stage?? WAIT A MINUTE.. WHERE IS YOONGI??!?!!'" a fan wrote.
Meanwhile, fans wondered what "rehearsals" Grande was referencing to in the Twitter post. But most seem to believe the music artists are preparing for the 62nd Annual Grammy Awards on Sunday, Jan. 26. Grande's Grammys performance has been confirmed for about a week. And recently, Variety reported BTS will join Lil Nas X onstage at the awards show. But as of this writeup, Big Hit Entertainment has yet to confirm the performance.
"not @ how ariana was the one who confirmed bts are actually rehearsing for the grammys when bighit is literally ignoring us all and won't release any news regarding it," one fan wrote on Twitter.
"Can the grammys just confirm if bts are performing?" another fan wrote on Reddit.
Update: On Jan. 23, the Recording Academy officially announced BTS will perform at the 2020 Grammy Awards.
Fans want Ariana Grande and BTS to collaborate on a new song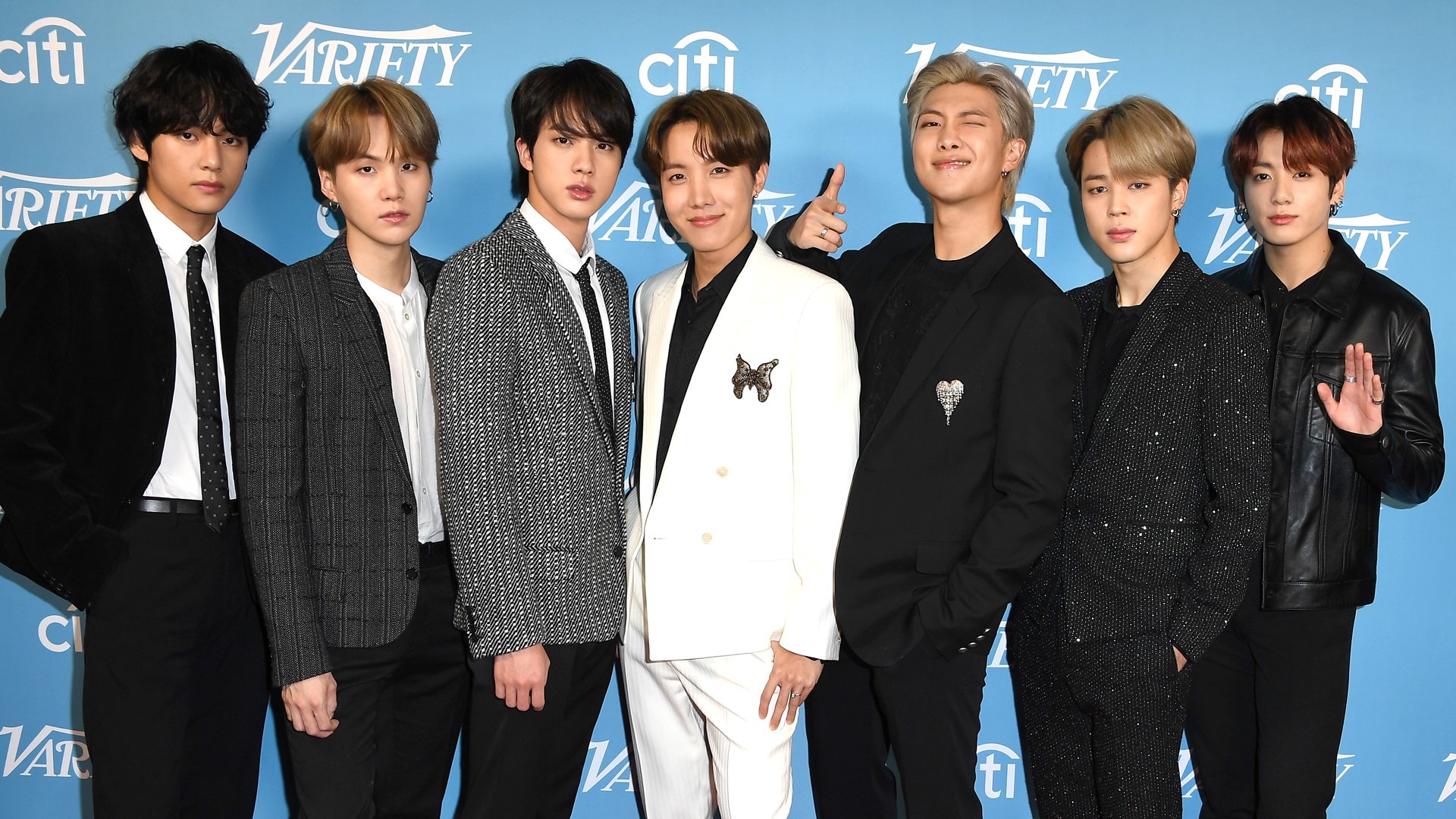 With the rehearsal pic, a few hawk-eyed fans also noticed BTS and Grande are now following each other on social media. So of course, most people are crossing their fingers for a collaboration.
"BTS JUST STARTED FOLLOWING ARIANA TOO F*CK WE ARE GONNA GET A COLLAB," one fan wrote.
In May 2019, an unnamed source told Hollywood Life that Grande would "love to do a song in the same vein" as BTS.
"Since both Ariana and BTS are always working on music and are in the studio, it is only a matter of time that they do something," the source said.
Nevertheless, a collaboration between Ariana and BTS has yet to be realized. But even if one doesn't happen anytime soon, the interaction between the two music artists is certainly enough for now.
Read more: BTS: Will the 'Ego' Comeback Trailer Feature J-Hope or Jungkook? These Theories Will Make You Think Twice