BTS Asks Ariana Grande to Collaborate and ARMY Has Never Been More Ready
There's no questioning BTS and Ariana Grande's influence within the music industry. In recent years, both artists topped the charts with every release and inspired a loyal fanbase to back their every move. So naturally, when Grande and BTS met up at rehearsals for their respective 62nd Annual Grammy Awards performances, the internet lit up with excitement. And of course, most individuals began to wonder whether this nonchalant encounter will lead to collaboration in the future. Then on the Grammys red carpet, the South Korean band's leader, RM, revealed BTS wants to collab with Grande.
BTS and Ariana Grande meet up for rehearsals ahead of the Grammys
On Jan. 22, Grande all but confirmed BTS' involvement at the 2020 Grammy Awards ahead of the Recording Academy's official announcement about the group's performance.
"look who i bumped into at rehearsal," Grande wrote on Twitter with a smiley face.
The "thank u, next" singer attached the caption to a black-and-white photo of herself surrounded by six out of seven BTS members. RM, Jimin, Jungkook, J-Hope, V, and Jin sat down in the pic. However, Suga was noticeably missing.
At the time of the post, Grande was already a confirmed performer at the 2020 Grammys. Then, merely a few hours after the photo was shared on Twitter, the Recording Academy announced BTS' stage in collaboration with Lil Nas X, which featured the complete septet.
BTS wants to collaborate with Ariana Grande
Ahead of the Grammys on Sunday, Jan. 26, BTS ran the media circuit, interviewing with multiple publications about their forthcoming album and potential collaborations. And of course, given their recent meetup, Grande's name popped up a few times.
When speaking with Entertainment Tonight, BTS opened up about meeting Grande during rehearsals.
"She's the one right now. So when Ariana was just practicing next to our big studio, she said she wanted to see our rehearsals and what we're doing," RM said. "And we showed her."
The 25-year-old also explained Grande's reaction to the BTS performance, sharing the "7 rings" singer shouted out "some bad words" out of excitement. Then RM shared the group saw Grande's stage and teased that it "was the greatest."
"We purple Ariana," he said.
Meanwhile, when speaking with Billboard, BTS gushed over Grande once more. But this time, they openly expressed their desire to collaborate with her in the future.
"We always want to collaborate with Ariana," RM said. "She's the one right now and she's the best."
The rapper later added, "Please collaborate with us, Ari."
Now, Grande isn't the only name on the BTS' wishlist. The group also shared they would love to do projects with Run DMC as well as Beyoncé and Jay-Z. But it seems ARMY can already look forward to another collaboration in the near future. And it includes an artist BTS fans have heard of before.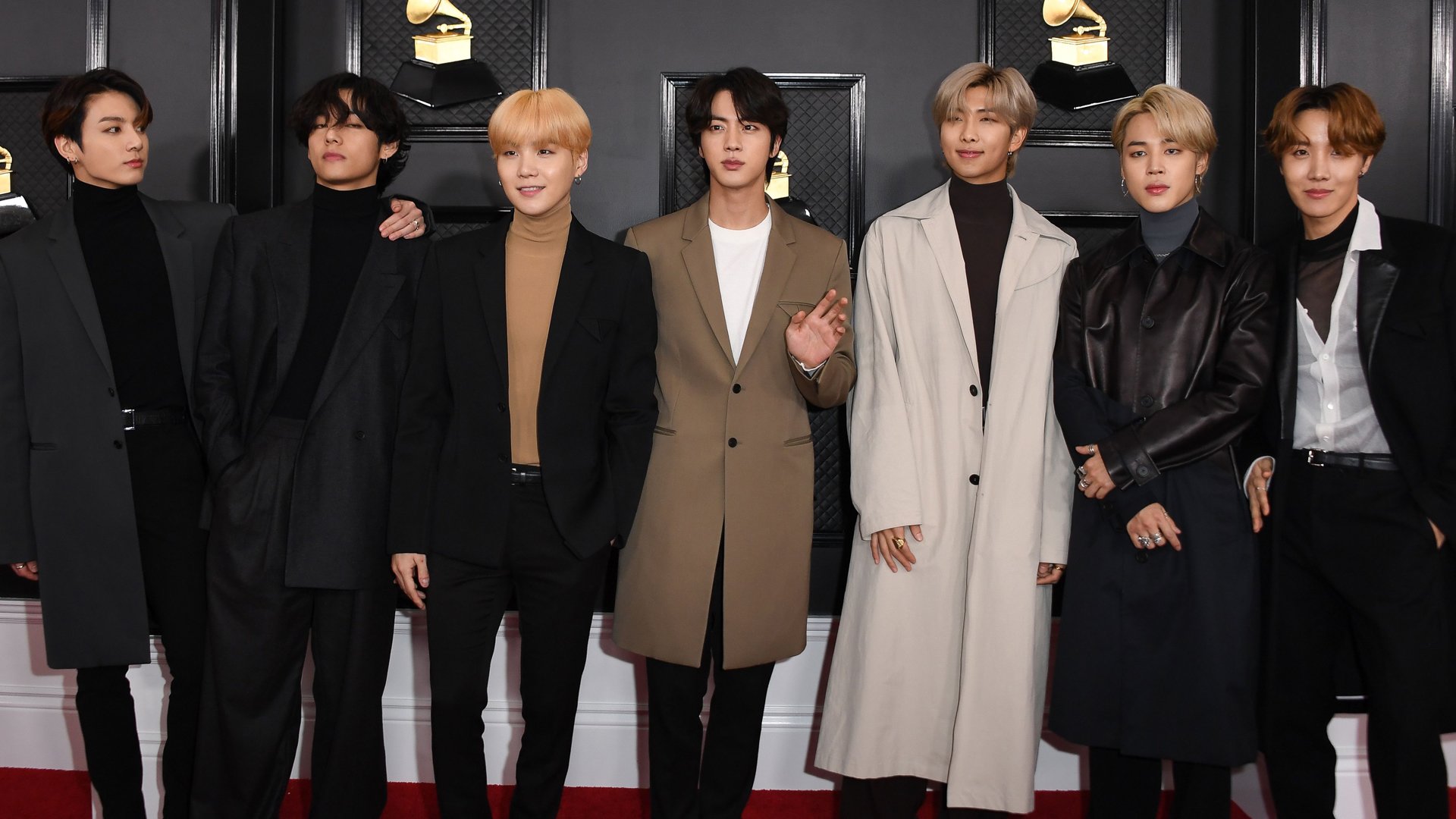 As you may know, Lauv will release his debut album, titled ~how i'm feeling~, on Mar. 6. Then during the Grammys red carpet interview with Billboard, RM teased BTS' second collaboration with Lauv will be out soon. And from what he has to say about the new track, the collab will probably match — or even exceed — the phenomenal success of the "Make It Right" remix.
"Actually, we did [a collab] with Lauv and it's going to be released in March," RM said. "It's really great. I've heard it and it's really great."
Read more: The Real Reason Why Halsey Wanted BTS' Suga to Collaborate On Her New Album Will Send Shivers Down Your Spine