ARMY Can't Get Enough of BTS's Comeback Special Performances
BTS released their new album Map of the Soul: 7 on Feb. 21. After promoting the album in the U.S., BTS returned to South Korea for album promotions. So far, fans love all of the different concepts from BTS's comeback special performances.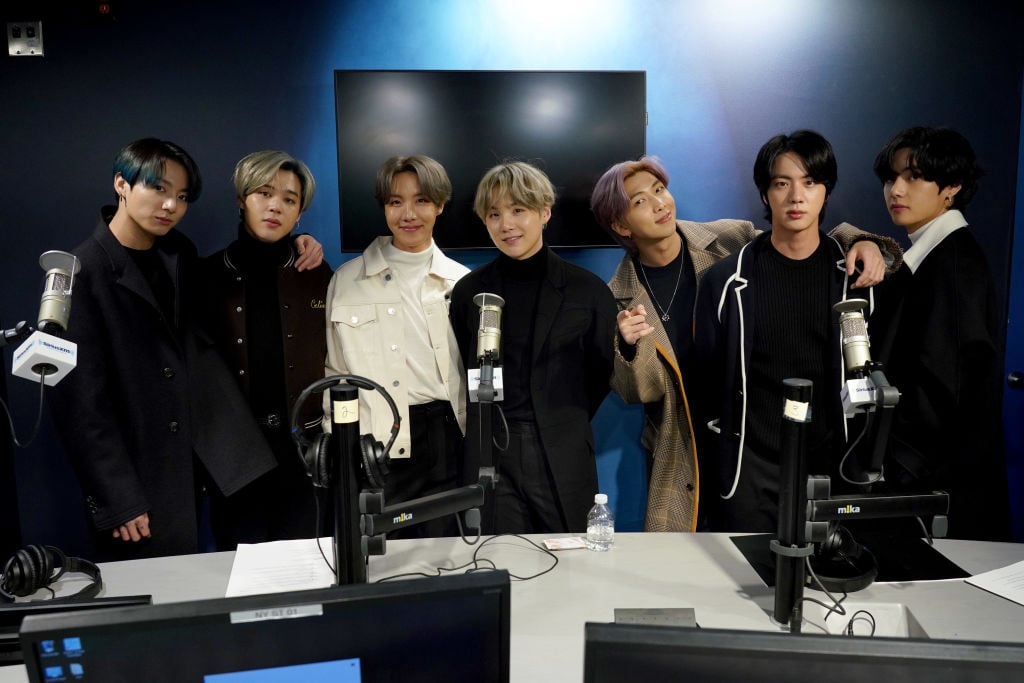 BTS appeared on Mnet's 'M Countdown'
On Feb. 27, BTS performed "ON" and "Black Swan" on Mnet's M Countdown. ARMY could not get enough of the "Black Swan" performance, as the group incorporated looks from the first version of concept photos from Map of the Soul: 7.
"The black swan performance was based on that huge black hole in version 1 photo concept.. they were inside the hole :(( #BTSCOMEBACKSPECIAL," wrote a Twitter user.
Fans also loved BTS's performance of "ON," as it boasted BTS's live vocals and the song's dynamic choreography. To ARMY, Jungkook's bridge once again was a highlight of the song.
"No matter how many times I hear Jungkook's bridge I am going to react as if it's my first time hearing it #BTSComebackSpecial," a fan tweeted.
One fan tweeted, "JIMIN'S VOCALS?!? JIMIN'S ARMS?!? HELLO CALL THE POLICE ?!??"
BTS won their first award for 'ON'
KBS Music Bank is a weekly music program, and BTS appeared on the show on Feb. 28. The group performed "On" and "Black Swan," and won first place at the music show for "ON." This gave BTS their first win for the song, and during the program's encore BTS sang "ON" while playing with the backup dancers' drums.
"#ON1stWin BTS : global group , breaking records , with all their songs ranking top on charts , being most famous artists Also BTS : Little happy children playing with drums while singing half of their lines and just having fun on stage," a fan wrote on Twitter.
"This is only one of many awards they will be winning this year. I'm so proud of our boys @BTS_twt#ON1stWin," tweeted a fan.
"HOSEOK ATE CDs FOR BREAKFAST AGAIN #ON1stWin," wrote a Twitter user.
After winning the top prize, BTS thanked ARMY in their acceptance speech.
"ARMY, are you watching! Though you're not in front of us now, we believe that we were able to come first through to your support. It's the first time in ages, in almost a year, that we've won on a Korean music show; we're really happy and I really want to say that I love you," RM told ARMY according to a fan translation.
BTS's comeback performance of 'ON' referenced 'Star Wars'
For their "ON" performance at KBS Music Bank, BTS wore outfits resembling Tatooine residents and Jedi from the Star Wars franchise. On March 1, BTS appeared on SBS Inkigayo, another weekly music program. There, BTS won first place and earned their second win for "ON."
At SBS Inkigayo, BTS performed in front of a large LED panel. It was the biggest comeback stage in SBS Inkigayo history, and the performance of "ON" once again referenced Star Wars. The LED panel projected images of the Death Star, BTS performed decked out in black leather outfits, and the backup dancers wore all white, resembling storm troopers.
"This massive stage is crazy! All for #BTS only? The FLEX! Also, the Death Star in the bg is kinda cool. It's the BTS x Star Wars crossover no one expected. @BTS_twt," a fan tweeted.
"bts from the bottom of my heart thank you for this vaguely star wars themed comeback," one fan wrote on Twitter.