BTS's December 2019 Schedule Proves They're Not Slowing Down Anytime Soon
We may not have any official news in regards to the next comeback, but BTS's December 2019 schedule proves ARMY is going to be feasting for the rest of the year.
As it's now midway through the month, the South Korean band already graced us with their presence at the Melon Music Awards (MMA 2019), Mnet Asian Music Awards (MAMA 2019), and Jingle Ball. However, the septet — RM, Jin, Suga, J-Hope, Jimin, V, and Jungkook — isn't slowing down before ringing in 2020.
Moving forward, BTS will attend other year-end shows like SBS Gayo Daejeon, KBS Gayo Daechukje, and Dick Clark's New Year's Rockin' Eve in New York City. And basically, it's the most wonderful time of the year. So get ready.
BTS began their December 2019 schedule with year-end shows
Prior to the new month, BTS kicked off their December 2019 schedule with MMA 2019 on Nov. 30. The group performed a magnificent 37-minute set, filled with hits like RM's "Intro: Persona," "Boy In Luv," "Boy With Luv," and "Dionysus." BTS also achieved their first "Daesang All Kill" at MMA 2019, where the band won every major award.
Merely four days later, BTS — once again — swept up all the major awards. Only this time, it was at MAMA 2019. The seven members also performed a medley of songs, including "N.O," "We Are Bulletproof Pt. 2," "Mikrokosmos," "Boy With Luv," "and "Dionysus."
Then on Dec. 6, BTS flew to Los Angeles and performed at iHeartRadio's 102.7 KIIS FM's 2019 Jingle Ball, where the boys were greeted by a sea of purple while performing "MIC Drop," "Make It Right," and "Boy With Luv" with special guest Halsey.
Now, just in case you were unable to watch the show live in L.A., The CW will broadcast a nationwide Jingle Ball special on Thursday, Dec. 19 at 8 p.m. ET. iHeartRadio also confirmed the holiday event will include BTS's performance will Halsey.
BTS to attend SBS Gayo Daejeon on Dec. 25
In early December, the second lineup for SBS Gayo Daejeon 2019 was announced, and it included BTS. The event will begin at 5:30 p.m. KST — 3:30 a.m. ET — on Christmas Day (Dec. 25). And each performance will be recorded live from Gocheok Sky Dome in Seoul.
BTS will also perform at the annual music festival alongside acts like TWICE, GOT7, SEVENTEEN, MAMAMOO, NU'EST, MONSTA X, NCT 127, TXT, ITZY, and CHUNG HA — just to name a few.
Meanwhile, Newsen reported BTS's performance at SBS Gayo Daejeon will feature a "Christmas Carol edition that cannot be seen anywhere else," per a Twitter user's translation.
BTS to attend KBS Song Festival (KBS Gayo Daechukje) on Dec. 27
BTS's December 2019 schedule continues on Dec. 27 with the KBS Song Festival (KBS Gayo Daechukje). According to Soompi, the event — hosted by GOT7's Jinyoung, Red Velvet's Irene, and Shin Dong Yup — will be filmed from Korea International Exhibition Center (KINTEX) starting at 7:50 p.m. KST — 5:30 a.m. ET.
The theme of the music festival will also be "A Huge Fantastical Party." So watch out for BTS's performance, along with other artists in the lineup.
BTS to perform at Dick Clark's New Year's Rockin' Eve in NYC to ring in 2020
Looks like we're going to make things right in the new year. On Dec. 17, Dick Clark's New Year's Rockin' Eve announced BTS will perform live from New York's Time Square. And according to ABC, the event will also showcase appearances by Post Malone, Sam Hunt, and Alanis Morissette with the cast of Jagged Little Pill.
The New Year's Eve broadcast will air live on ABC, starting Dec. 31 at 8 p.m. ET. However, the event typically goes past midnight. And as of this write-up the network has yet to announce the lineup's slot times.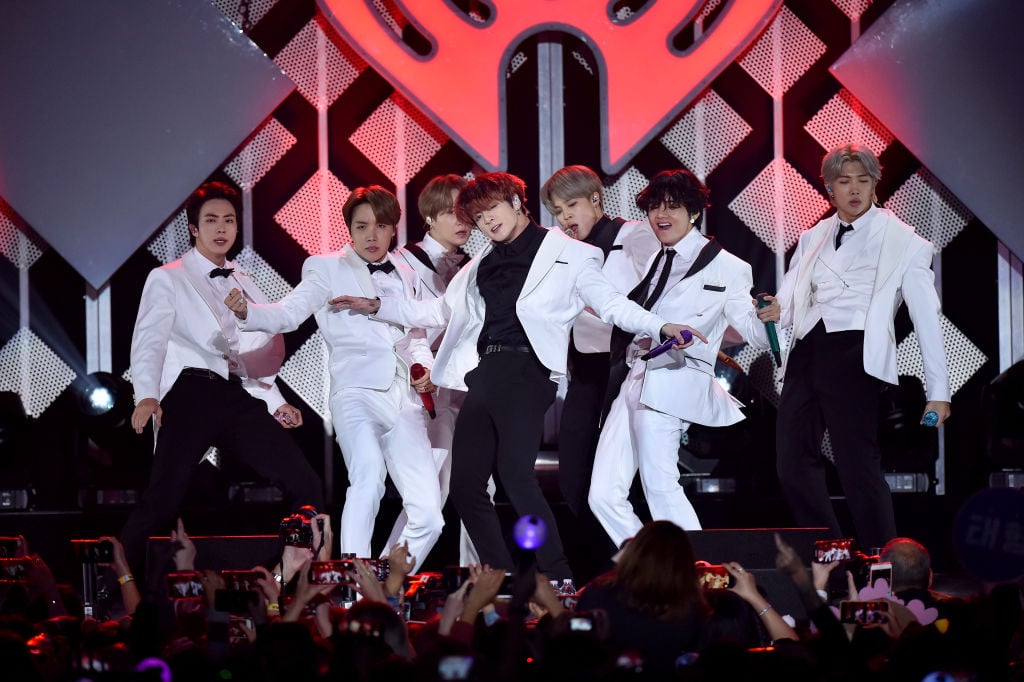 Clearly, BTS has a busy schedule ahead of them as December 2019 comes to a close. And that's not even considering V's upcoming birthday on Dec. 30 or even the Golden Disc Awards, which the group is expected to attend on Jan. 5, 2020. So basically, we're grateful for the hard work BTS has put into making ARMY's year-end extra special. Now, let's get it.
Read more: BTS: RM Says He's Growing His Long Hair and Basically, ARMY Needs to Prepare for a New Era of Lengthy Locks