BTS Fanboy John Cena Reveals What Made Him First Fall in Love With the Group
John Cena rose to fame almost 20 years ago as a wrestler on the WWE. Known for his tough image, it can seem surprising to some people that Cena is a fan of BTS. However, Cena is, indeed, a big supporter of the K-pop group and seems proud to let everyone know about it.
If you are curious to know how Cena came to like BTS so much, read on below to learn more about his journey in joining the BTS ARMY.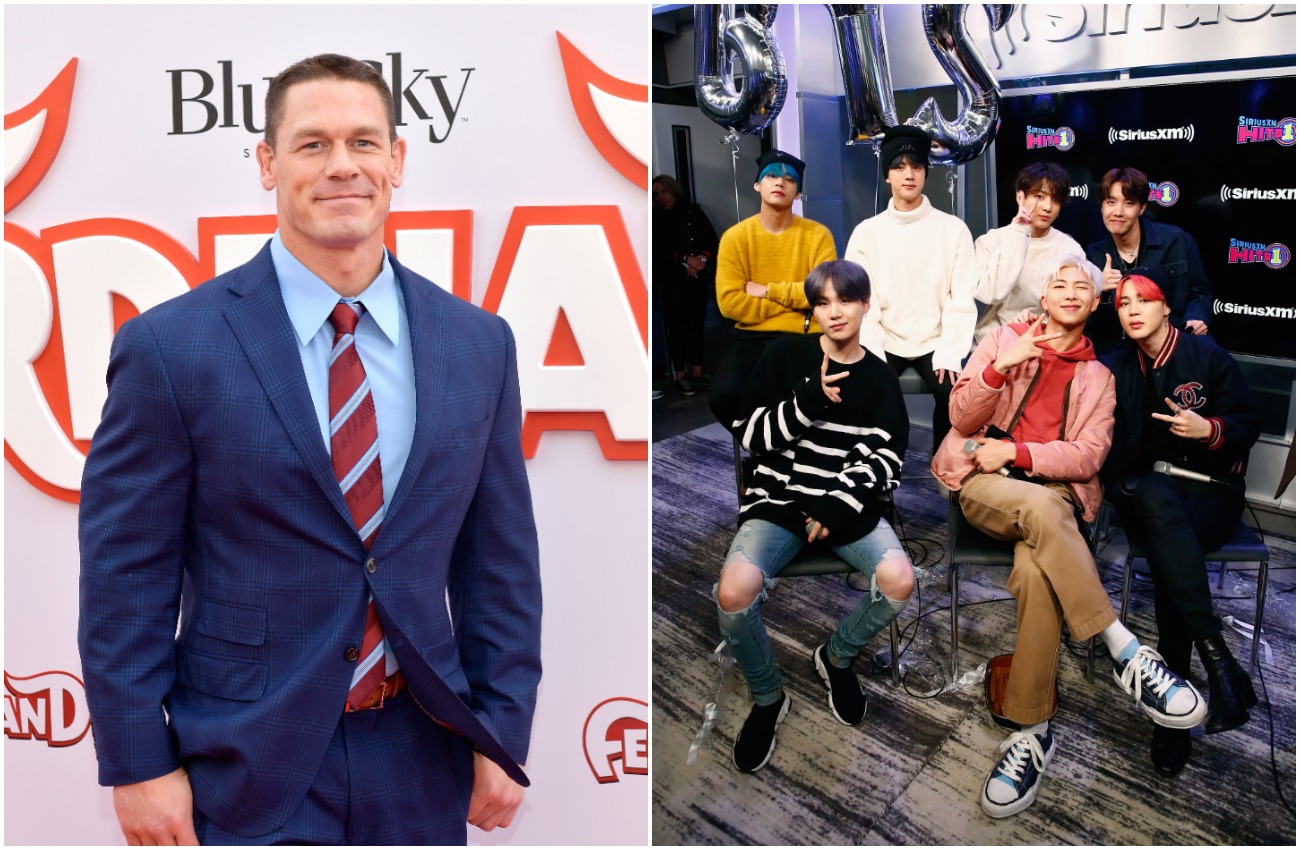 John Cena has shown a lot of support to BTS
Cena first talked about BTS online in February 2018 when he posted a photo of member J-Hope on Instagram. Cena did not explain why he shared the photo, though in the months afterwards, it became clear Cena was a BTS fan.
In July 2018, Cena even offered to be BTS's bodyguard, writing on Twitter, "I've had a little trouble keeping up lately but does @BTS_twt @bts_bighit need a bodyguard? Crazy because I've been touring with them for years, they just can't see me."
That same month, he also spoke to Entertainment Tonight and shared that his favorite BTS member is J-Hope.
Then, in April 2019, a few days after BTS released their album Map of the Soul: Persona, Cena revealed his favorite songs from the record.
"Favorite tracks off Persona .. Intro aka Persona (love the Super Mario Bros 'coin sample')and Dionysus. Greek god of wine making… yeah that's a good one for me," Cena said on Twitter.
John Cena reveals what first attracted him to BTS
Since Sept. 28, The Tonight Show Starring Jimmy Fallon has been celebrating BTS week. Being one of BTS's biggest celebrity fans, Cena made an appearance to talk about his love for the K-pop group.
He started out by sharing his journey in becoming a BTS fan. Cena admitted that he decided to check out BTS because of their popularity. He said, as reported by Comic Book, "When something becomes a thing, it's open for criticism. I love what this band has done because they're this massively popular thing, and they've been so globally popular for so long. And I was like, 'Okay, I should probably know about this.'"
Then, what got Cena down the rabbit hole was his admiration for BTS's rap line. This is perhaps not surprising since Cena is known for being a hip-hop fan.
"So when I started to look at BTS, and listen to their music, I was originally drawn because there are rappers in that crew," Cena said. "And they use, on some of their intro tracks, and like bookend tracks, they use sick*** boombap beats and they actually rap, so like yeah I kinda like this is great."
After learning more about BTS, Cena also became impressed by what the group stood for.
"They advocate self love. They advocate don't be afraid of failure. They advocate that you are enough," Cena shared. "They kinda are trying to shatter all the stereotypical difficulties and uncomfortable situations that we go through, and they're catering to an audience that is living that. Young people. That's why they're so popular around the world. One, they're great performers, but it's the message they send. It resonates with the people."
John Cena is also impressed with BTS's fans
In addition to learning about BTS's achievements, Cena became aware of the things BTS's ARMY achieved as well. Cena noted that BTS hardcore fan base is not just made up of "geeked out fans." Rather, he is impressed to learn of all the philanthropic work they have done.
"BTS Army charity gives a bunch to philanthropic causes," Cena said. "As an artist, as a performer, hell yeah, man, we have fun, we're doing good stuff, but if we could resonate through the television to you at home to come out of your pocket to give to a cause? That's work. That's work, and that's purpose, and that's f***ing changing the world. That's impressive."
In June 2020, BTS fans made headlines for donating $1 million to the Black Lives Matter movement. Afterwards, Cena joined in and decided to match the donation.