BTS Fans Celebrate the Anniversary of 'I Purple You'
One word to describe BTS's relationship with their fans is wholesome. Another word to describe it is purple. ARMY supports and defends BTS while BTS uses their artistry to inspire and encourage ARMY. On Nov. 13, BTS fans celebrated the three-year anniversary of "I purple you." The phrase has a special meaning in the BTS fandom.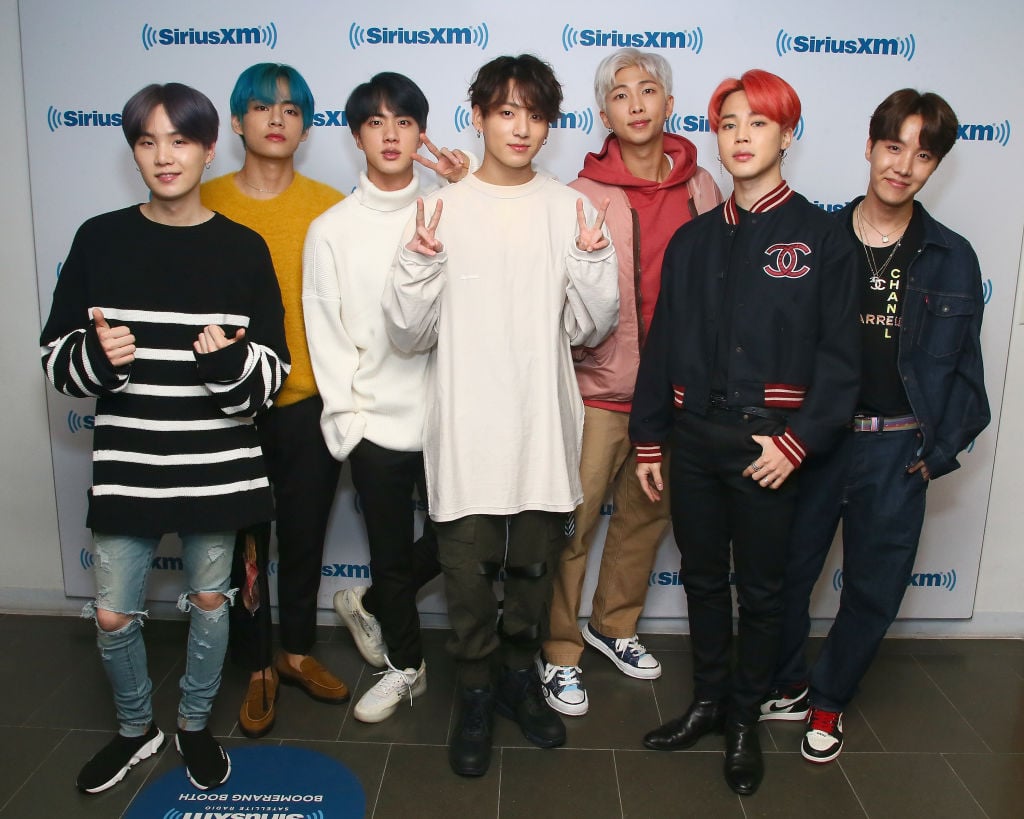 How did 'I purple you' originate?
Every year, BTS holds a fan celebration called BTS Muster. The event is essentially a mashup of a BTS concert and a fan meeting. BTS performs old songs as well as recent material and also performs skits for fans. The group performed their 5th Muster in Busan and Seoul in the summer of 2019.
At BTS's 3rd Muster in November 2016, V coined the phrase "I purple you."
"Do you know what purple means?" He asked the audience. "Purple is the last color of the rainbow colors. Purple means I will trust and love you for a long time. I just made it up."
V told fans that the color purple relates to ARMY and BTS.
"I wish I could see you for a long time just like the meaning of purple," he said. "We will always trust you and go up the stairs with you. You don't need to help us all the time. You can hold our hands and follow us now. We'll go up really high. I'll make it nice."
BTS fans celebrated three years of 'I purple you'
On the three-year anniversary of "I purple you," BTS fans around the world celebrated the phrase. To ARMY, the phrase and color represent the strength of the bond between fans and BTS. On Twitter, ARMY trended #IPurpleYouDay as they talked about what the phrase meant to them.
One Twitter user wrote, "… It's been 3 years since Tae gave a whole new meaning to the color purple and 'I Purple You' was born, a phrase that has special meaning for BTS and ARMYs around the world…"
"Today is the 3rd anniversary of the beautiful phrase 'I Purple You' coined by Kim Taehyung. This is the phrase of love, unity and bond between BTS and ARMY," a fan tweeted.
Fans also thanked V for creating the phrase about the special connection BTS and ARMY share.
"I don't know how much we have to thank to Taehyung for making this lovely and fresh expression. It's been 3 years since our genius, Taehyung made 'I Purple you' He literally invented a new meaning and culture of purple color," one fan wrote on Twitter.
"Tae really has changed a simple color into a something that Armys and BTS can say to eachother to show how much we love each other. So thank you Taehyung we love you and we purple you what would we do without you #IPurpleYouDay," a fan tweeted.
The anniversary of 'I purple you' falls on World Kindness Day
The anniversary of "I purple you" is Nov. 13, the same day as World Kindness Day. BTS fans were quick to notice the connection. Because BTS's music often gives the message of love, fans found it fitting that a phrase that represents love was created on World Kindness Day.
"#IPurpleYouDay falls on the same day as #WorldKindnessDay None of this is a coincidence, it's in our DNA," one fan wrote on Twitter.