BTS: J-Hope, RM, and Jin Tease 'Map of the Soul: 7' and Expect the Group to Exceed Every Expectation
On Jan. 26, BTS made history when the seven-member band — RM, Jin, Suga, J-Hope, Jimin, V, and Jungkook — became the first Korean group to perform at the Grammy Awards, making due on a promise made the previous year.
"Growing up in South Korea, we always dreamed about standing on the Grammy stage. Thank you to all our fans for making this dream come true," RM said when BTS presented the Best R&B Album on Feb. 10, 2019. "We'll be back."
And so they did. The South Korean septet returned to the 2020 Grammys to perform "Old Town Road" alongside Lil Nas X. And before they set foot on the awards show stage, BTS members RM, Jin, and J-Hope made a new promise to ARMY — this time in regards to the group's forthcoming album, Map of the Soul: 7.
BTS members J-Hope, RM, and Jin preview 'Map of the Soul: 7'
At the red carpet for the 62nd annual Grammy Awards in Los Angeles, E! News host, Ryan Seacrest, spoke with BTS. Then when asked about the next album, Map of the Soul: 7, J-Hope knew exactly what to say to inspire confidence in the band's new music.
"You will know when you listen to our new album and watch the performance that liking BTS was the best decision ever," J-Hope said.
RM also revealed the new album will feature a myriad of different tracks, from ballads to upbeats. And ARMY should know that "whatever you're expecting, it's going to be better."
Meanwhile, in an interview with Entertainment Tonight, RM touched on what fans can expect from BTS' Map of the Soul: 7. At first, the leader promoted the Feb. 21 release date for the full-length album. He also teased the first single, "Black Swan," which debuted on Jan. 17.
Then RM confirmed BTS will go "harder" than they ever have before.
"It's gonna be harder … whatever you're expecting, it's going to be better. And harder," he said.
The Entertainment Tonight hosts asked RM to expand on his comments, and the 25-year-old he said he couldn't say much more. But he gave another hint anyway.
"It's the hardest we can go," RM said and laughed as his BTS brothers chuckled behind him. "We've always been personal and frank in our message and tracks. And the new performance… I think it's the best."
When speaking with Billboard, RM echoed his remarks about the upcoming BTS album being "harder than before." Then Jin revealed another teaser.
"We've prepared so many songs and you can hear so many music," Jin said. He then looked directly into the camera and politely asked fans to wait.
BTS gets real about what's coming in 2020
We're less than a month into the new year, but BTS has already made monumental moves. Aside from the Map of the Soul: 7 promotions, the South Korean group performed on the Grammys stage without a nomination. In the above interview with E! News, RM revealed BTS didn't know they would attend the 2020 Grammys.
"We weren't expecting this. There are rules, like, if you're not nominated, you can't have a performance," he said. "So were like, 'Okay, we're not gonna be there.' And then 'Old Town Road' happened — thanks Lil Nas and the Grammys."
Then when speaking with Entertainment Tonight, RM reflected on their Grammys comeback.
"Last year, we said it … 'We'll be back.' And we thought that it would never come true," he said. "But I think this is why you should speak out about your ambitions. It'll come true."
Now, as BTS dives headfirst into 2020, the septet is setting new objectives — and they're setting the bar high.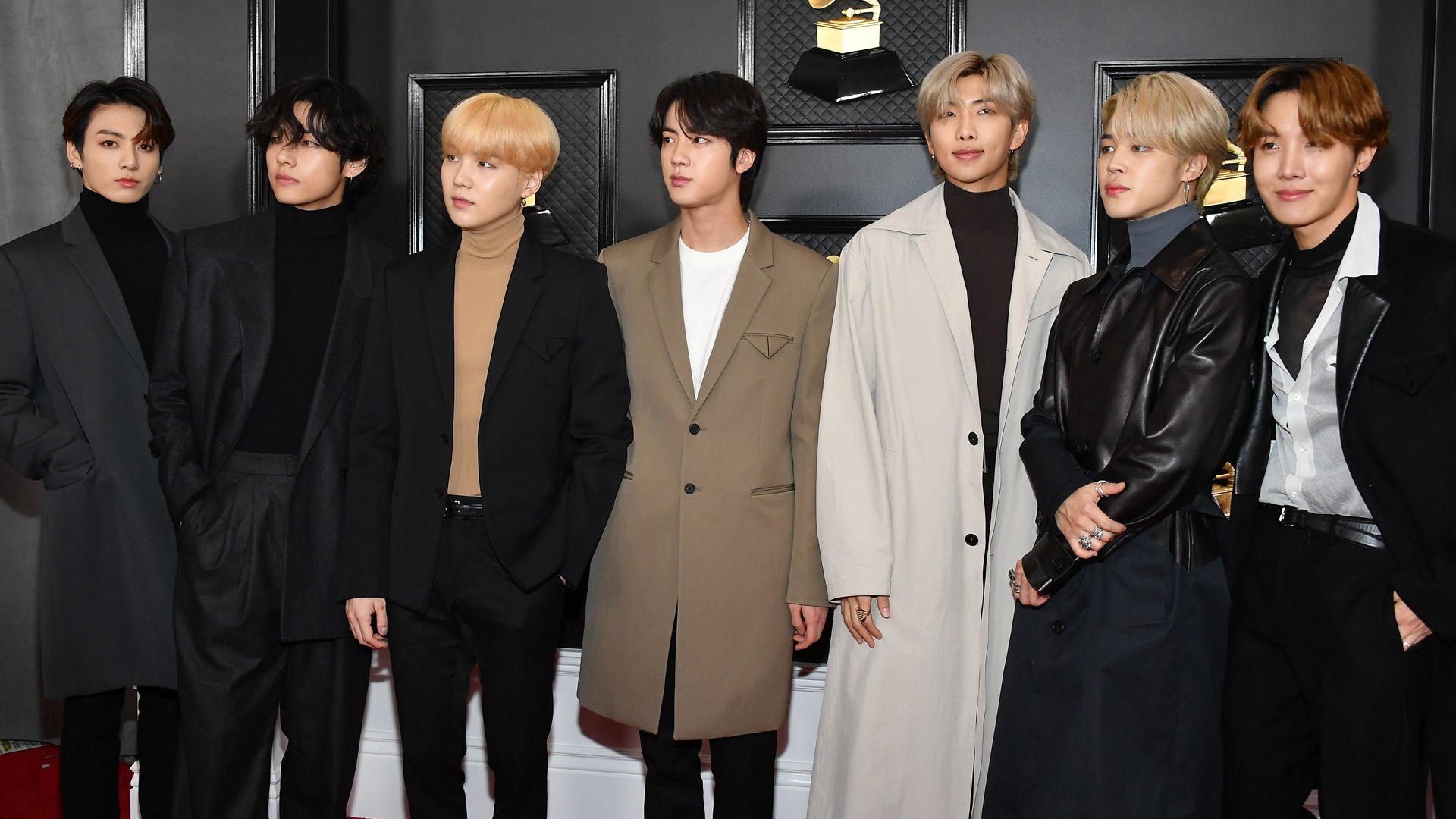 "The main goal is our new album. We've been practicing, shooting videos," RM told Billboard. "And of course, the tour — the United States tour, Europe, Asia, everywhere."
But aside from the worldwide tour and Map of the Soul: 7 album release, BTS wants to return to the Grammy Awards stage in 2021 — this time as a nominee.
Regardless, BTS knows they will make it through 2020 with a little help from ARMY. When speaking to Entertainment Tonight about dealing with the haters, RM said:
If there's light, there's always a shadow, right? So I think you cannot always concentrate on those bad words. If you keep doing that, then I'd be scared to do this interview today. Even now, my ears are really itchy because somebody's hating right now, like on Twitter or anywhere. But, you know, we have our fans and they purple us. And with that, we can get over it.
Read more: The Real Reason Why Halsey Wanted BTS' Suga to Collaborate On Her New Album Will Send Shivers Down Your Spine