BTS Fans Around the World Are Celebrating J-Hope's Birthday
Feb. 18 is a special day. Across the world in all different time zones, BTS fans are celebrating J-Hope's birthday. The Korean rapper turned 26 years old internationally and 27 years old in South Korea. On social media, fans wrote heartfelt birthday wishes for J-Hope, and he held a special VLIVE livestream to celebrate his birthday with ARMY.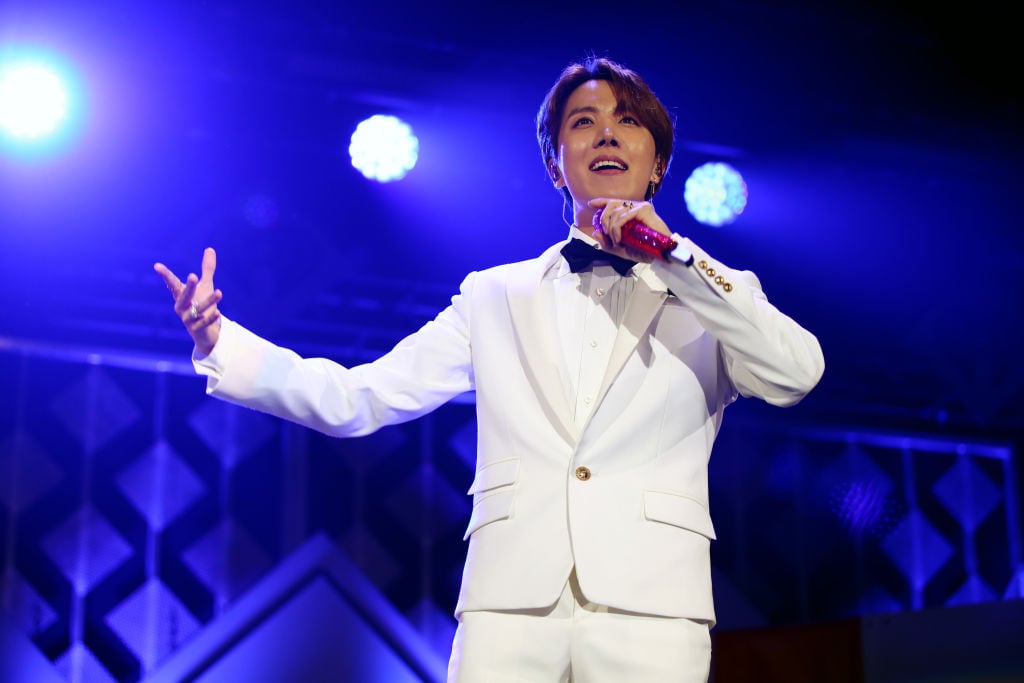 The rapper held a VLIVE livestream with fans
To start his birthday, J-Hope went live on VLIVE for nearly an hour. He titled the livestream "love you hope-ah~" according to a fan translation. During the VLIVE, J-Hope answered fans' questions, told stories, and celebrated his birthday with a birthday cake.
When fans brought up BTS's upcoming album Map of the Soul: 7, J-Hope reassured fans that the group is working hard practicing choreography. J-Hope also told a cute story about how he got his jacket. It turns out one day Jin was late to rehearsal because he was buying J-Hope a new jacket. The jacket can be worn in the summer with shortened sleeves or in the winter with long sleeves.
J-Hope recreated the 'Outro: Ego' music video
During the VLIVE, J-Hope danced to his song "Outro: Ego." The song was released as a comeback trailer for Map of the Soul: 7. The comeback trailer for "Outro: Ego" already has over 33 million views on YouTube.
With the lyrics, J-Hope reflects on his past as a dancer and with BTS. During the music video, he recreates childhood poses from old photographs. At two points during the VLIVE, J-Hope recreated one of the poses of his younger self smiling with a birthday cake.
"he did the 'just trust myself' pose from ego,,, not only once but TWICE. he really is the cutest boy on earth," a fan tweeted.
J-Hope spent the end of the VLIVE hyping up "Outro: Ego," which got fans even more excited for BTS's upcoming tour.
One Twitter user wrote, "From just a vlive, and he got me dancing and hyped, now can you imagine hobi performing Ego on stage?!!!!"
BTS fans celebrated J-Hope's birthday on social media
Even before it was officially J-Hope's birthday, BTS fans trended multiple hashtags to celebrate. ARMY trended #HappyBirthdayJHope, #HAPPYJHOPEDAY, and more. Along with the hashtags, fans wrote posts about how much J-Hope means to them.
"happy birthday to our precious and extremely talented, jung hoseok! you've come a long way since debut and we are so extremely greatful for your very existence. thank you for being our sunshine on a rainy day! #제이홉_너하나로_다_위로가_된다는걸," wrote a Twitter user.
"Happy birthday Jung Hoseok! I am so proud of everything you do and everything you've accomplished. You make me smile even on the darkest days. You are the brightest sunshine and you light up so many peoples lives, including mine thank you and I purple you #HappyBirthdayJhope," a fan tweeted.
"woke up today and the sun is literally brighter than i've ever seen !! that's no coincidence happy birthday j-hope @BTS_twt thank u for being an inspiration and a beacon of positivity for everyone in the world including myself #HappyBirthdayJhope," wrote a fan on Twitter.
"Happy Birthday to the rap king #HappyBirthdayJhope," a fan tweeted.
"Happy birthday sunshine of my life, year, month, week and day #HappyBirthdayJhope," wrote a fan on Twitter.