Which BTS Member Clowned Jimin on His Birthday? An Investigation
Stop what you're doing BTS fans, because it's officially Jimin's birthday in Korea. On Oct. 13, the "Promise" singer turned 24-years-old — or 25-years-old in Korean age. Of course, the six remaining BTS members — RM, Jin, Suga, J-Hope, V, and Jungkook — took the time to express their happy birthday wishes for Jimin on social media. And as always, their posts are filled with adorable sentiments that reminded ARMY why Jimin will always be our light.
BTS members RM, Jin, Suga, J-Hope, V, and Jungkook celebrate Jimin's birthday on Twitter
The BTS crew kicked off Jimin's birthday celebrations on social media with a post from Jin. The "Awake" crooner wished Jimin a happy birthday with a handwritten message, which supposedly took three hours to write. And hilariously enough, the letter echoed Jin's caption.
"Jimin-ah," Jin wrote, according to a fan's translation. "Happy birthday. Seokjinnie hyung."
Next up came Suga, who — to no one's surprise — used the platform to savagely roast Jimin. "Happy birthday, Jimin," Suga joked. "I hope you eat a lot and grow tall this year."
Meanwhile, RM shared a set of photos featuring a contemplative-looking Jimin in front of a body of water. The BTS leader simply wished Jimin a happy birthday. He later shared a few more photos of Jimin during their vacation, captioning the post, "Little Jimin Big Jimin."
Then Jungkook released a pair of fun photos that Jimin probably wouldn't have approved of, as the "Euphoria" singer lined the post with apologies. "Jimin hyung happy birthday! And sorry," Jungkook wrote, along with hashtags apologizing to Jimin.
"I couldn't help but make this decision I'm sorry," one hashtag wrote, as translated by a fan. "You seem to be sleeping so sorry," another hashtag read.
J-Hope's precious post about Jimin went up on Twitter two hours later. "Happy birthday to our pretty Jiminy," the "Chicken Noodle Soup" singer tweeted with a heart emoji. "Let's eat delicious food in Korea."
And finally, we have ARMY's favorite photographer, V. "Happy birthday to my friend," the "Winter Bear" singer captioned a photo of Jimin blowing snow into the camera.
Who trolled Jimin on Oct. 13?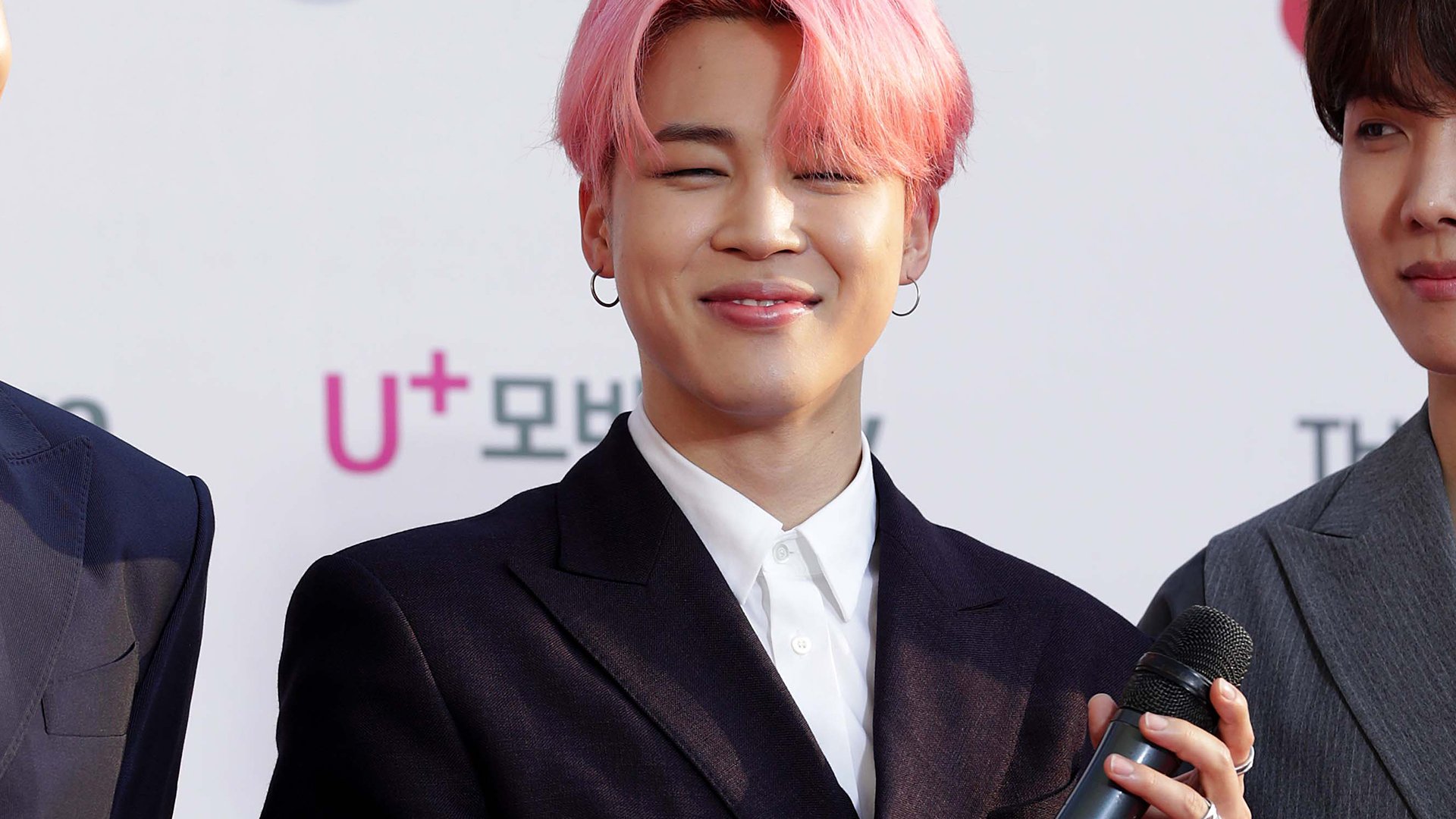 Just when fans thought the boys were done, the unthinkable happened. Someone posted a set of photos featuring double take-worthy Jimin edits with the hashtag reading, "It's hyung." The photos in question were left unclaimed by the members of BTS. But, ARMY seems to have an idea of the culprit.
For those of you who may not know, "hyung" means older brother. Since V — who is 23-years-old — and Jungkook — who just turned 22 last month — fans believe this only leaves two suspects from the BTS crew. And many members of ARMY then responded to the post accordingly, posting memes of V and Jungkook trolling Jimin.
"That ESCALATED QUICKLY M TAEHYUNG SSI," one fan tweeted, referring to V's adorable post moments before.
"Jungkook still sticking to the traditions of unattractive bday posts," another fan wrote.
Meanwhile, some fans believe both are guilty. "I think it's both because he took the first one with Jungkook and through the hashtag because he used it before Tae," a Twitter user explained.
That said, the culprit could still be referring to a BTS member that is older than Jimin. "It's hyung" could indicate the person posting the images, rather than Jimin himself. Remember, Jin is the master of roasting people online.
So who really clowned Jimin on his birthday? The world may never know. But quite frankly, it doesn't matter. The truth is, BTS's heartfelt — and also ridiculous — posts about Jimin on his birthday truly show the boys are a family unit. And honestly, it's moments like these that make ARMY connect with BTS in the first place.
Check out Showbiz Cheat Sheet on Facebook!