BTS: Jimin Turns His VLIVE Into an Iconic Fashion Show
Jimin told BTS fans he would be back on VLIVE soon, and as always Jimin kept his promise. The BTS singer spent nearly an hour talking with fans, and opened the livestream with a brief fashion show.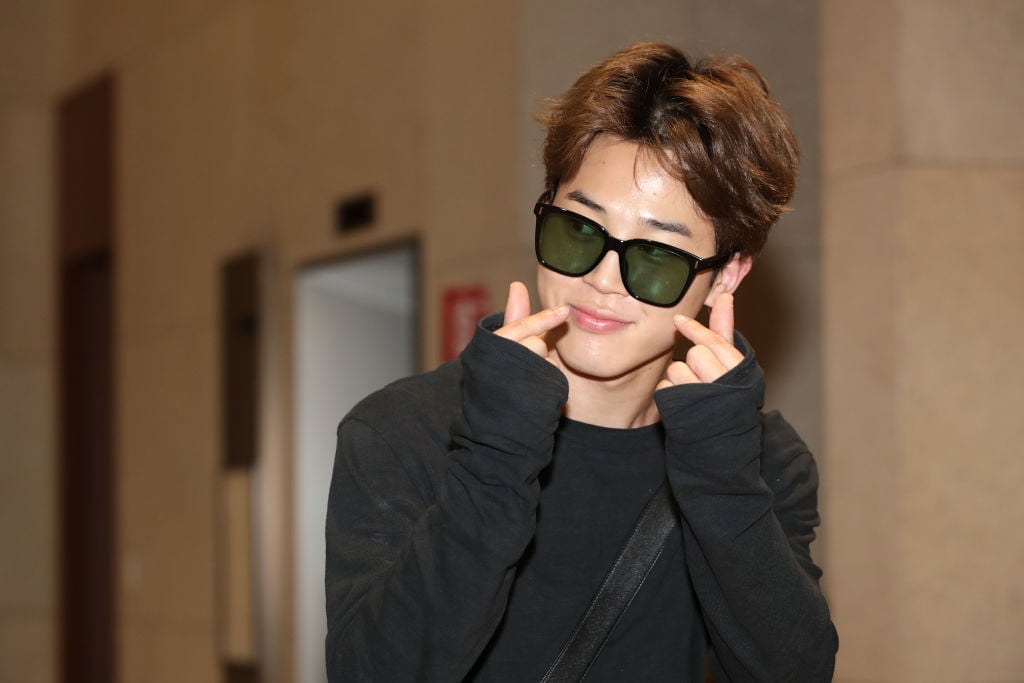 Jimin showed off his new coat in the VLIVE
The VLIVE was titled "My fancy entrance," and when it started Jimin was not seen on screen. Then Jimin danced into the frame before taking a seat. While sitting down, Jimin danced in his seat and spun the rolling chair around the room.
He then told ARMY watching that he was not wearing any makeup and going barefaced. Jimin said it was 5 p.m. when he started the VLIVE, and he stopped by to broadcast it in between work activities. The BTS singer stood up and showed fans his new coat.
"Actually… everyone," he said. "Today… Don't I look different? This outfit?"
Jimin then spun around so fans could see the back of the coat.
"I don't think I wore this before," he said.
He acknowledged it was probably fans' first time seeing him in that outfit. Jimin told fans he normally wore sweatsuits to the company, and that he bought the coat in 2019. He originally planned to wear it to the airport, but then it was too cold because of winter. Because there is not a reason to go to the airport now, he decided to wear the coat since it fit the weather.
The singer ordered food while talking with fans
As he talked with fans on VLIVE, Jimin ordered food to be delivered. For his meal, Jimin ordered Kimchi fried rice and pork cutlet.
"Food is here," he said excitedly once he sat back down. "I only talk about eating these days… I don't think I ever lost my appetite. I always feel like eating something. I eat well even when I'm sick. For example, when I'm sick and go to the hospital, 'You need to fast.' But they couldn't stop me. I had to fast but… I pretended I was ordering porridge but I ate pork."
Jimin also showed viewers the fried egg with his Kimchi fried rice, and talked about how he loves food made with eggs, but fried eggs are his favorite.
Jimin talked to BTS's Jin and V on the phone
During the VLIVE, Jimin admitted he meant to invite V to join him but forgot. He then called Jin once fans started asking how the other members were doing and told Jin he was on VLIVE with ARMY.
"Hi," Jin said on the phone. "I'm Jin."
Jimin told Jin he called him because he figured he would be the quickest to answer. He then messaged and called V, but at first V did not pick up. The two then briefly spoke on the phone, as V was playing an online game with ARMY. On the phone, Jimin told V that he would have to come on VLIVE soon and V agreed.
Towards the end of the livestream, Jimin made the VLIVE a fashion show again. He rose up from his seat to show off his outfit one more time.
"I was happy to wear this today," he said. "I didn't wear it for awhile."
Showing off his modeling skills, Jimin walked around the room as if it was a catwalk.