BTS: Jungkook Showed Off His Stellar Vocals and Tattoos While Covering Lauv's 'Never Not'
It's no secret that Jungkook of BTS rules social media. Anytime the BTS singer posts on Twitter or Weverse, he trends on Twitter. So when Jungkook posted a video of him on Twitter covering Lauv's "Never Not," showing off his stunning vocals and his tattoos, BTS fans instantly trended "JEON JUNGKOOK."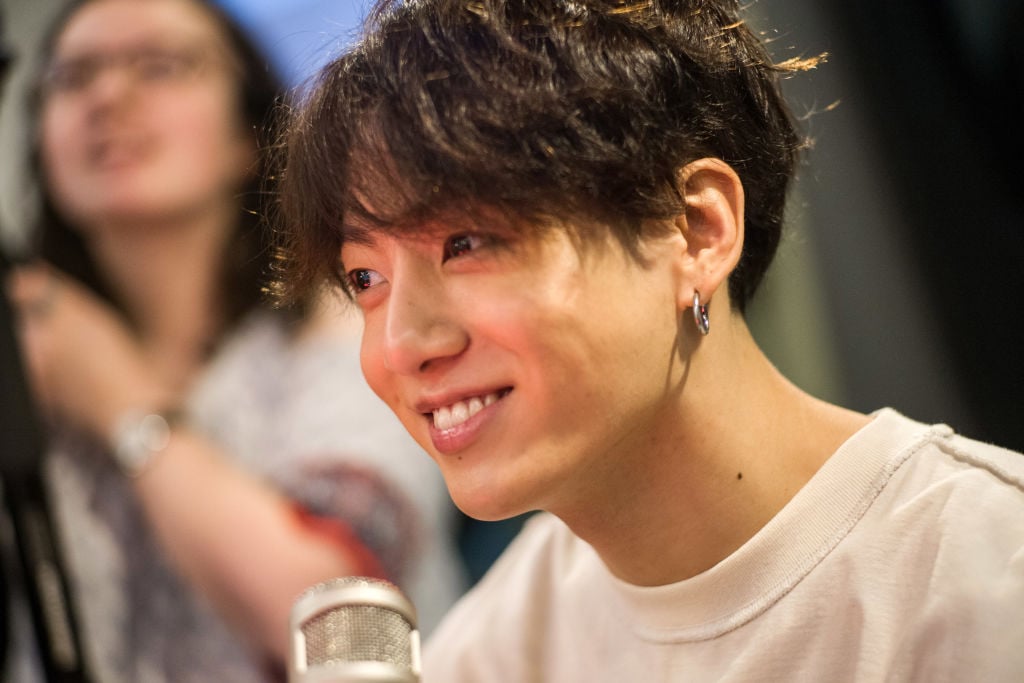 Jungkook broke his own Twitter records
Jungkook posted the video on Twitter at 3:16 a.m. KST on May 3, meaning it was posted at 2:16 p.m. EST on May 2 in the U.S. The video immediately set new Twitter records, and according to a fan account the tweet reached 1 million views in 10 minutes, 2 million views in 22 minutes, 4 million views in one hour, and 5 million views in one hour and 30 minutes.
With this, Jungkook's cover of "Never Not" became the fastest tweet to reach 1 million views in 2020. The tweet also reached 1 million likes within two hours. On Twitter, ARMY trended "JEON JUNGKOOK," "Never Not," "Jungkooks," "#JUNGKOOOK," "HIS VOICE," and "HIS TATTOOS."
One fan tweeted, "The way jeon jungkook sets and breaks his own records. Who's doing it like him?"
"jeon jungkook deserves the whole universe and even more," a Twitter user wrote.
"its been two hours and i haven't stopped crying over jeon jungkook," tweeted a fan.
The BTS singer showed off his vocals with the cover
BTS previously collaborated with Lauv in 2019 with "Make It Right (feat. Lauv)," a remix of BTS's song "Make It Right" from their 2019 EP Map of the Soul: Persona. Jungkook and Jimin then collaborated with Lauv on the song "Who," which appeared on Lauv's debut album How I'm Feeling.
In the video, Jungkook covered Lauv's song "Never Not." As always, Jungkook's vocals were impeccable, and he ended the video with a cute sound effect before turning off the camera.
"JUST ANOTHER EPISODE OF JEON JUNGKOOK EATING A CD, HE ACTUALLY SLAYED WITH THOSE VOCALS. HIS VOICE GOT ME CHILLS," a fan tweeted.
BTS fans were quick to notice Jungkook's tattoos
Ever since Jungkook got tattoos in 2019, fans have been waiting for him to show them off. While there had been glimpses, like during interviews and BTS's "ON" music video, Jungkook had never publicly displayed his tattoos until he posted the "Never Not" cover on Twitter. Based on the relaxed and soothing vibe of the cover, BTS fans were happy that Jungkook felt comfortable revealing his tattoos on social media for the first time.
"The way Jungkook posted that he sang a song with full emotions & golden voice at over 3am while just casually revealing off his tattoo arm without thinking about anything else is truly so super softest and best thing ever," a fan tweeted.
"idk what to cry about …his voice?? hearing him singing after a long time? HIM DISPLAYING HIS TATTOOS FOR THE FIRST TIME … mom, I LOVE JEON JUNGKOOK," wrote a Twitter user.
"jeon jungkook on…short sleeves..showing his tattoos!… different earrings…his beautiful voice..everything about him screams perfection," tweeted a fan.
One fan tweeted, "tonight I'll sleep knowing jungkook felt comfortable sharing his tattoos with us and that's happiness."