What Makes BTS Different From Other K-pop Groups?
BTS made a name for themselves as one of the biggest boy bands in the world. They've sold out stadiums worldwide and collaborated with artists like Charli XCX, Halsey, and Lauv. What makes these K-pop idols different from other boy bands? Here are just a few of the reasons why fans love BTS so much.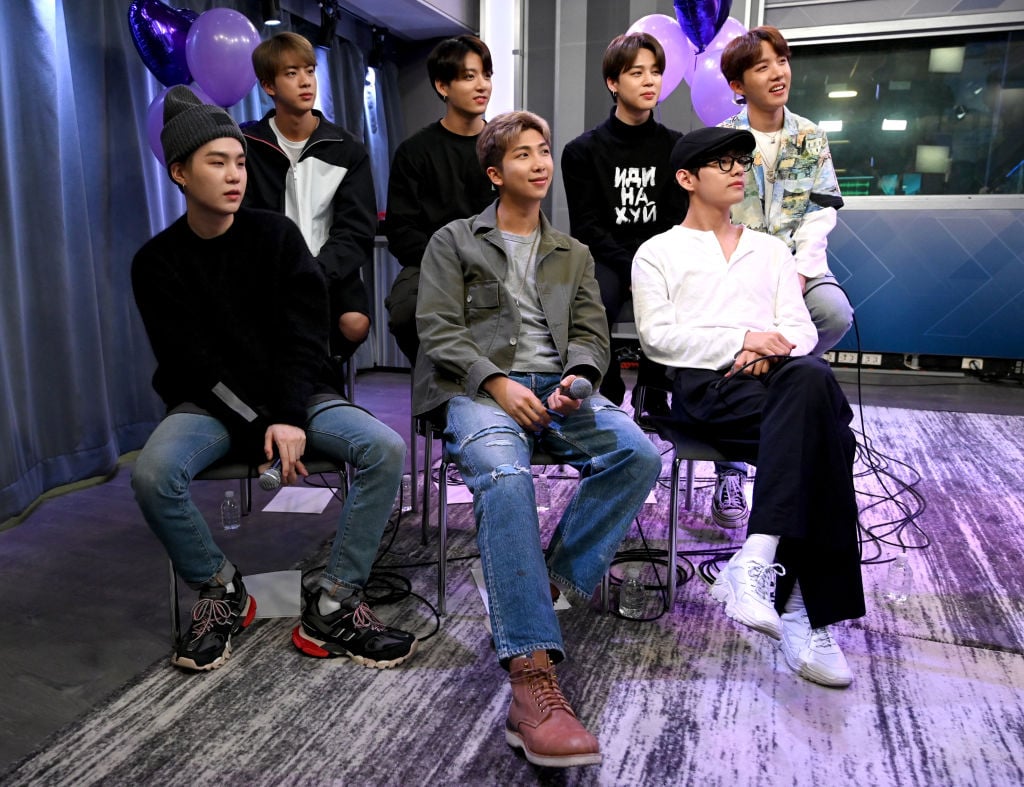 BTS debuted in 2013, under the management company, Big Hit Entertainment
Everyone loves an underdog story. BTS first debuted in 2013, under one of the lesser-known musical management companies, Big Hit Entertainment. Despite having fewer resources and connections than other K-pop groups, they rose in popularity.
Over five years later, BTS is now one the biggest boy bands in the world. BTS was the first K-pop group to present an award at the Grammy's. They spoke at the United Nations and became the first K-pop group to perform at the Billboard Music Awards.
Members of BTS write some of their own music, including the recently released 'Boy With Luv,' featuring Halsey
Because BTS works with a smaller management company, the group had a lot of room, creatively, to be involved in the music. That means BTS members including RM, Suga, and J-Hope, helped write and produce the music released by the group. Since BTS became so successful internationally, other management companies have followed Big Hit's lead and let the artists play a role in the songwriting process.
One reason for BTS' success cited by multiple fans is their international appeal. These K-pop idols, as solo artists and as a group, often collaborates with artists from America, the UK, and beyond. Recently, BTS released a remix of their song, "Make it Right," featuring Lauv. Off of Map of the Soul Persona, the song "Boy With Luv" featured Halsey, even earning the group nominations at this year's MTV Video Music Awards.
BTS uses their platform to get involved in non-profit work
Aside from their music, BTS keeps busy with philanthropy work, recently partnering with UNICEF for their "Love Myself" campaign. Thanks to their fanbase, BTS raised millions to benefit their anti-violence initiative. Even aside from their work with UNICEF, the members of this K-pop group donate to nonprofit organizations and foster a loving environment among their fans.
"I really want to say that everyone in the world is lonely and everyone is sad, and if we know that everyone is suffering and lonely, I hope we can create an environment where we can ask for help, and say things are hard when they're hard, and say that we miss someone when we miss them," Suga said during an interview with Billboard.
That's not to say other K-pop idols and fans don't get involved in philanthropy. Each year, fans of EXO donate money to various nonprofit organizations in honor of the K-pop group. According to Forbes, fans of NCT 127 Haechan raised money for the Los Angeles Zoo and Botanical Gardens.
Music by BTS, including Map of the Soul: Persona, is available on Spotify, Apple Music, and most streaming platforms.