BTS Makes 'SNL' History: Who are BTS and What Does 'ARMY' Stand For?
BTS made Saturday Night Live history as the first K-pop musical guest. Who are BTS and why are their fans called ARMY?
BTS made a huge splash on Saturday Night Live — and made history as well, as the first K-pop group to be an SNL musical guest. The boy band's high energy performances won over everyone, from their loyal ARMY fanbase to those who had never heard of the band before they hit the SNL stage.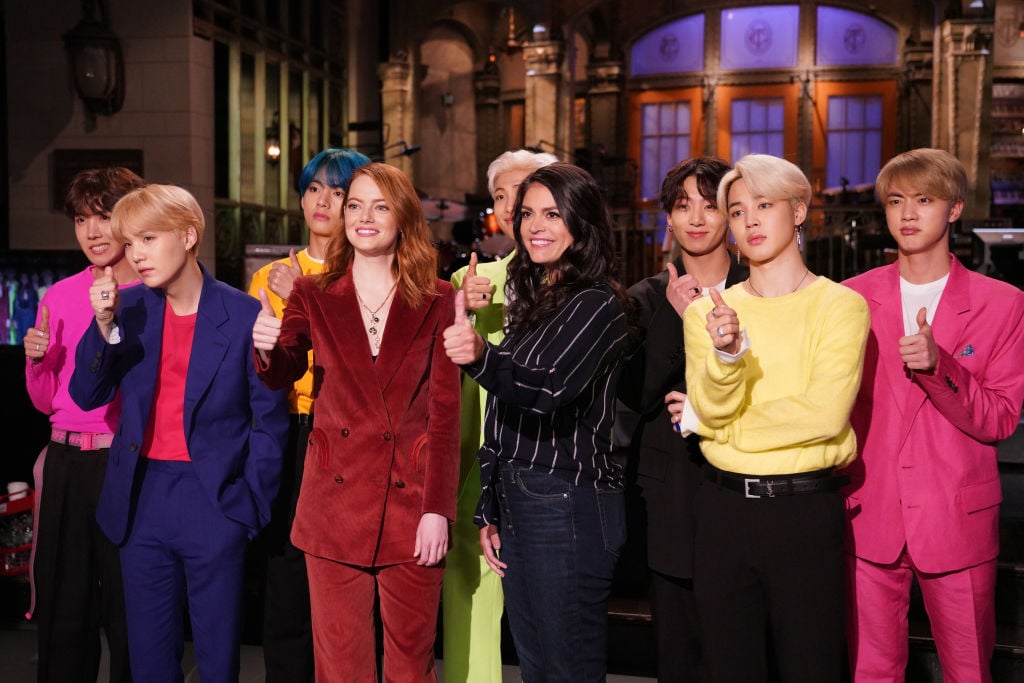 Who are BTS?
BTS, also known as the Bangtan Boys, is a South Korean boy band made up of seven members (RM, Jin, Suga, J-Hope, Jimin, V, and Jungkook), which was formed in 2010 by Big Hit Entertainment through an audition process. In 2017, it was announced that their name would stand for 'Beyond the Scene.'
Though they were formed in 2010, their debut single album 2 Cool 4 Skool wasn't released until 2013, along with their lead single "No More Dream." Six months prior to their debut, BTS began to get buzz when people discovered them on social media and their YouTube and SoundCloud covers.
The band first toured Japan for their Wake Up: Open Your Eyes tour in 2015 and embarked on a number of world tours in the years since. Their next tour, Love Yourself: Speak Yourself was announced in March 2019, selling out all dates within 2 hours.
In 2017, BTS landed on six of Billboard's "Year End" Charts, ranking No. 1 on the "World Albums Artists" chart, No. 2 on the "World Albums" chart, No. 1 on the "Social 50 Artists" chart, No. 2 on the "Top Artists – Duo/Group" chart, and No. 32 on the "Independent Albums" chart. They also came in at No. 10 on the "Top Artists" chart.
In 2018, BTS ranked #8 on Billboard's year-end Top Artist Chart and were the No. 2 act of the year in the Duo/Group ranking, behind Imagine Dragons.
What is ARMY? 
ARMY is the name for BTS fans, an acronym meaning "Adorable Representative MC for Youth." Their fandom is huge and still growing, as evidenced by the 2018 iHeartRadio Awards where the group won both the "Best Fan Army" and "Best Boy Band" awards.
One Twitter user shared this description of ARMY: "ARMY 'Adorable Representative MC for Youth'… People who stand against and up for what is right for them, and that is what we ARMY do and we stand up with BTS and defend, help and guard them."
BTS makes Saturday Night Live history
On April 13, BTS made their Saturday Night Live debut, one day after releasing their new EP Map of the Soul: Persona — and made SNL history as the first K-pop group to do so. During the show, they performed "Boy With Luv" featuring Halsey (though she did not appear with them, due to Coachella, but she will perform the song with BTS at the Billboard Music Awards on May 1) and "Mic Drop."
Their style choice, vocals, and choreography were absolutely mesmerizing and the ARMY were definitely won over by the history-making performance. Even those who were seeing BTS for the first time were blown away, as one person commented on Twitter: "I've never heard BTS before and… I can't look away."
Emma Stone fangirls over BTS on SNL
Saturday Night Live played up the excitement over BTS' role as musical guest in a promo ahead of the April 13 broadcast. Host Emma Stone and some of the ladies of SNL were seen having a sleepover where they fangirled over the boyband.
Heidi Gardner remarked: "I don't know, I can't pick a favorite," with Kate McKinnon responding, "If you picked a favorite then inevitably the other ones would found out, and then they'd be hurt."