BTS: Everything Fans Noticed in the 'ON' Kinetic Manifesto Film
BTS's new album Map of the Soul: 7 is here along with a kinetic manifesto film for the album's lead single "ON." BTS 'ON' Kinetic Manifesto Film : Come Prima premiered on YouTube at the same time the album dropped, and it demonstrates once again that BTS are at the top of their game as artists.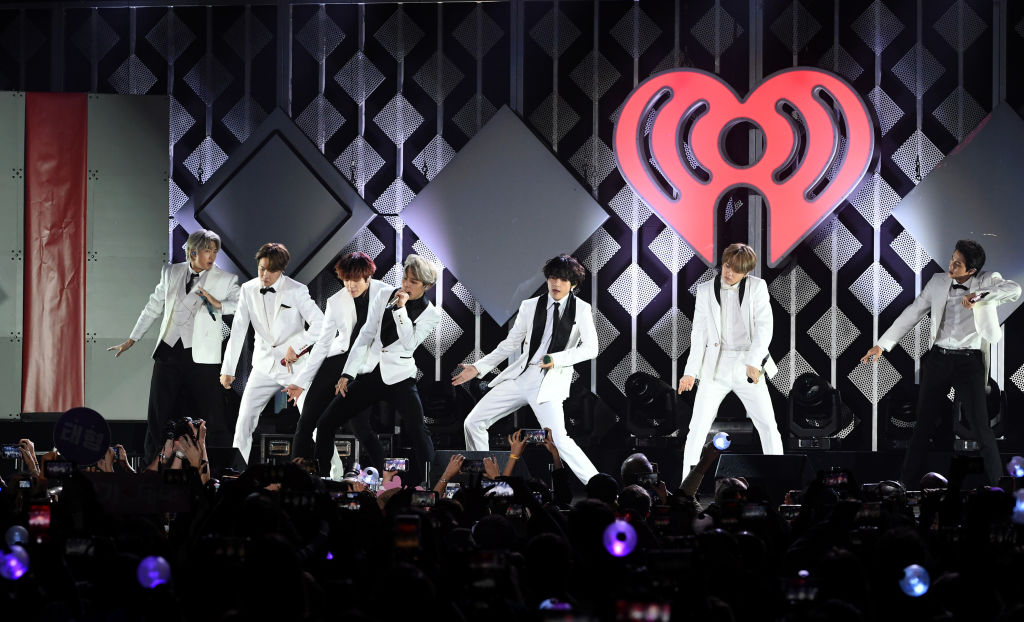 BTS embrace their shadows in the kinetic manifesto
BTS's Map of the Soul series incorporates Carl Jung's psychology surrounding personality archetypes. According to Jung, the Shadow is the animal side of a person's personality, and it contains both "creative and destructive energies."
In "ON," the members of BTS reflect on their calling and journey as artists. With the lyrics, BTS explain that they have chosen to embrace their shadow. In doing so, they are one step closer to discovering their true selves.
"With each step then again grows the shadow," Jimin sings at the beginning of the song.
"Bring the pain / It'll become my blood and flesh / Bring the pain / No fear, now that I know the way / Breathe on the small things / My air and my light in the dark / The power of the things that make me 'me,'" J-Hope raps during his verse.
The bridge of "ON" reflects BTS's choice to embrace their shadow, "Can't hold me down cuz you know I'm a fighter / Choosing to descend into the dark abyss."
There are tattoos everywhere
In BTS 'ON' Kinetic Manifesto Film : Come Prima, fans were quick to realize that at times, Jungkook's tattoos were fully visible. While fans knew he had a hand tattoo and sleeve, the manifesto film revealed the tattoo sleeve goes all the way up his shoulder.
"SO JUNGKOOK'S TATTOO REACHES UP TO HIS SHOULDER…," one fan tweeted.
"JUNGKOOK'S TATTOOS REACHES UP ALL THE WAY TILL HIS SHOULDER?? YALL," wrote a Twitter user.
In the video, V sported two fake tattoos. On his face, V had a tattoo that read "The shadow like me" under his eye. V also had tattoos representing his shadow breaking to the surface on his neck.
One fan tweeted, "Taehyung really just outright made me breatheless, this man really knows how to perform with so much fluidity and facial expression and can we talk about the 'The shadow like me' tattoo on his face, The man that you are today Tae!"
Like Jungkook, Jimin's real tattoo that reads "Nevermind" poked out several times during the BTS music video.
"JIMINS NEVERMIND TATTOO YUPPP," a fan tweeted.
Another fan tweeted, "I WAS STREAMING AND I NOTICED JIMIN'S NEVERMIND TATTOO PEEKING OUT?????"
Every member of BTS stood out in the kinetic manifesto
BTS 'ON' Kinetic Manifesto Film : Come Prima gave every member of BTS a chance to shine. The song features impressive vocals and choreography. So much happens in it, it's impossible to focus on just one member.
"JUNG HOSEOK'S VERSE ??????? MY DEATH," wrote a fan on Twitter.
"NAMJOON IS FR OUT OF HIS MIND FOR THIS HE CRAZY CRAZYYYY," a Twitter user wrote.
One fan tweeted, "im not gonna stop screaming about this yoongi center with namkook?!?!?"
"Me replaying Jin's 'Can't hold me down cause you know I'm a fighter' verse in ON for the thousandth time," tweeted a fan.
The BTS kinetic manifesto also featured a dance break with all of the members.
"CAN WE JUST TALK A BIT MORE ABT THE DANCE BREAK THEY LITERALLY SNAPPED HERE #BTSComeback2020," tweeted a fan.
"Picture this, @BTS_twt is in the middle of performing ON at the concert and you're going crazy and then all of a sudden the lights cut…it's quiet…then you hear the music switch up…and THIS starts happening…," a fan tweeted about the dance break.