BTS Share an Empowering Message Encouraging Their Fans to 'Stay Strong' Amid Coronavirus Outbreak
In a time when some celebrities are coming under fire for their behavior during the coronavirus (COVID-19) outbreak, BTS continue to put their fans first. The group recently released a powerful video message, encouraging ARMY and anyone else watching to "stay strong" during this trying time. After the video came out on YouTube, #StayStrong_BTS and #StayStrong_ARMY simultaneously trended on Twitter.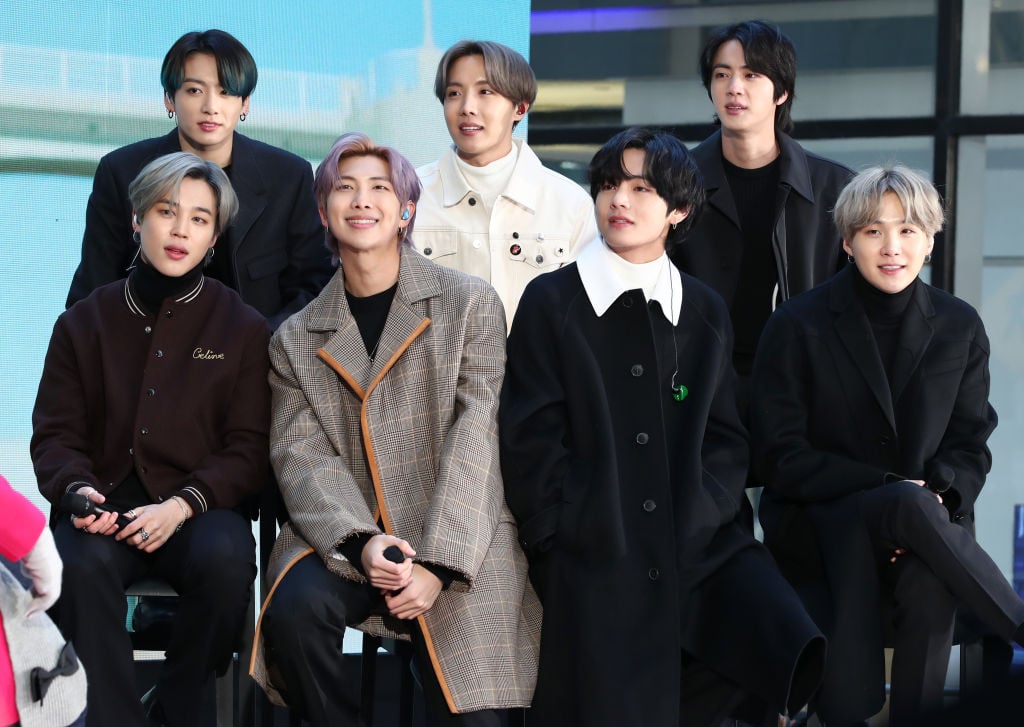 BTS encouraged ARMY to 'stay strong'
On the BANGTANTV YouTube channel, the members of BTS posted an encouraging video for their fans around the world. In the video, each member of BTS spoke and offered support for the isolation people might be feeling.
"We are here because the cadets of the Korea Armed Forces Nursing Academy chose us to make the next video to support the fight against COVID-19," RM said.
J-Hope continued, "We want to thank the nursing officers, medical staff, and everyone battling this virus to protect the safety and lives of the people."
"We realize more than ever how meaningful our everyday life was," Jin said. "Standing on stage facing empty seats, we realize how precious each moment with you was."
"COVID-19 has shut down travel, and people are keeping their distance from each other," Suga said. "I think the hardest thing may be that we are feeling more and more isolated."
Jimin continued, "But guys, we are connected closely, and we share both pain and joy. If we have the courage and will to overcome anything, I'm sure we'll succeed with the power of our connection."
"These are times we need trust more than doubt, care more than anger. As citizens of Korea and of the world, BTS will face this challenge together with all of you," said Jungkook.
"I hope soon we'll again be able to see those we love, share a meal and talk together," V said. "I hope soon we'll sing and be happy together with you."
At the end of the video, BTS encouraged ARMY to find strength until things return to normal. They also asked Korean soccer player Son Heung-min to continue their message of strength.
Fans trended a hashtag for BTS
After BTS posted the video, ARMY trended #StayStrong_BTS on Twitter to show their support for the group. Fans know the coronavirus outbreak has been difficult for the band. With the hashtag, fans encouraged BTS to "stay strong" too.
"They always seem to know how to acknowledge the hard times and encourage a positive outlook. Thank you, @BTS_twt. #BTS #StayConnected #StayStrong #StayStrong_BTS #StayStrong_ARMY," tweeted a fan.
"I know it must be hard for you right now too.. but thank you for being our strength #StayStrong_BTS @BTS_twt," wrote a fan on Twitter.
"#StayStrong_ARMY #StayStrong_BTS Lets stay strong through these very hard times….and get through this together love you guys," one fan tweeted.
ARMY also trended a hashtag encouraging others
BTS fans also trended #StayStrong_ARMY on Twitter to encourage each other. It's clear ARMY took BTS's message to heart and want to help each other find strength through connection.
"BTS continues to shine bright each and every day and you and this message really made my day brighter we need to ban together instead of against one another through this crisis #StayStrong_Army," a Twitter user wrote.
"Everyone please stay safe, soon we'll return to our normal lives and continue our studies or work, but until then please try to be as much socially responsible as possible, our every action can save lives. Thank you for the message @BTS_twt, Love y'all and #StayStrong_ARMY," a fan tweeted.
"bts telling us to stay strong and that even though we're becoming more and more isolated we are still connected,,,this is so wholesome #StayConnected #StayStrong_ARMY," wrote a Twitter user.