BTS: Suga's MAMA 2019 Speech for Artist of the Year Will Make You Cry Actual Tears
Why Suga and RM's 2019 Mnet Asian Music Awards (MAMA 2019) speeches for BTS's Artist of the Year awards hit so hard for ARMY.
Just four days after BTS's "Daesang All Kill" at the 2019 Melon Music Awards (MMA 2019), the South Korean band continued the trend and swept the 2019 Mnet Asian Music Awards (MAMA 2019), collecting Song of the Year, Worldwide Icon of the Year, Album of the Year, and Artist of the Year into their arsenal. As always, the individual members — RM, Jin, Suga, J-Hope, Jimin, V, and Jungkook — humbly accepted each accolade on stage. And during Suga's MAMA 2019 speech for BTS's Artist of the Year award, the one and only Min Yoongi managed to utter a few words that could make any member of ARMY crumble to the ground from the weight of emotions.
Suga reflects on the success of BTS at MAMA 2019
MAMA 2019 wrapped with BTS's big Artist of the Year win. The septet wrapped their arms around one another after their group was announced for the award — an achievement BTS earned three times before.
Last year at MAMA 2018, BTS delivered an emotional acceptance speech for Artist of the Year. The septet broke down crying, expressing their gratitude, despite the struggles throughout the year. Jin also revealed BTS considered disbanding at the start of 2018.
"Earlier this year, we had a really difficult time mentally. So we talked together and worried about whether we should disband or not," he said, according to Soompi. "But I'm so relieved that we found our resolve again and now we're able to have these great results."
The seven members of BTS then kept their promise to continue working hard in the new year. And as we've seen from the Daesang sweep in 2019, their efforts paid off.
During Suga's MAMA 2019 Artist of the Year speech, the rapper referenced the group's tears at the 2018 ceremony while thanking ARMY for their support.
"Thank you, ARMY. 2019 was an intense year in which we worked really hard," Suga said, per Soompi. "Last year at MAMA, the members were crying, and we ran hard with the intention of working hard and doing our best. Thank you for giving us many awards."
The 26-year-old then illustrated how far his BTS brothers have come in the past year — in spite of all the obstacles.
"At the time it can be so hard and feel like the world is going to collapse, but after time's passed it becomes a time that you can think of with a smile," Suga said. "In the past year, we've improved more and became stronger. Thank you, ARMY."
RM interrupts Suga's Artist of the Year speech at MAMA 2019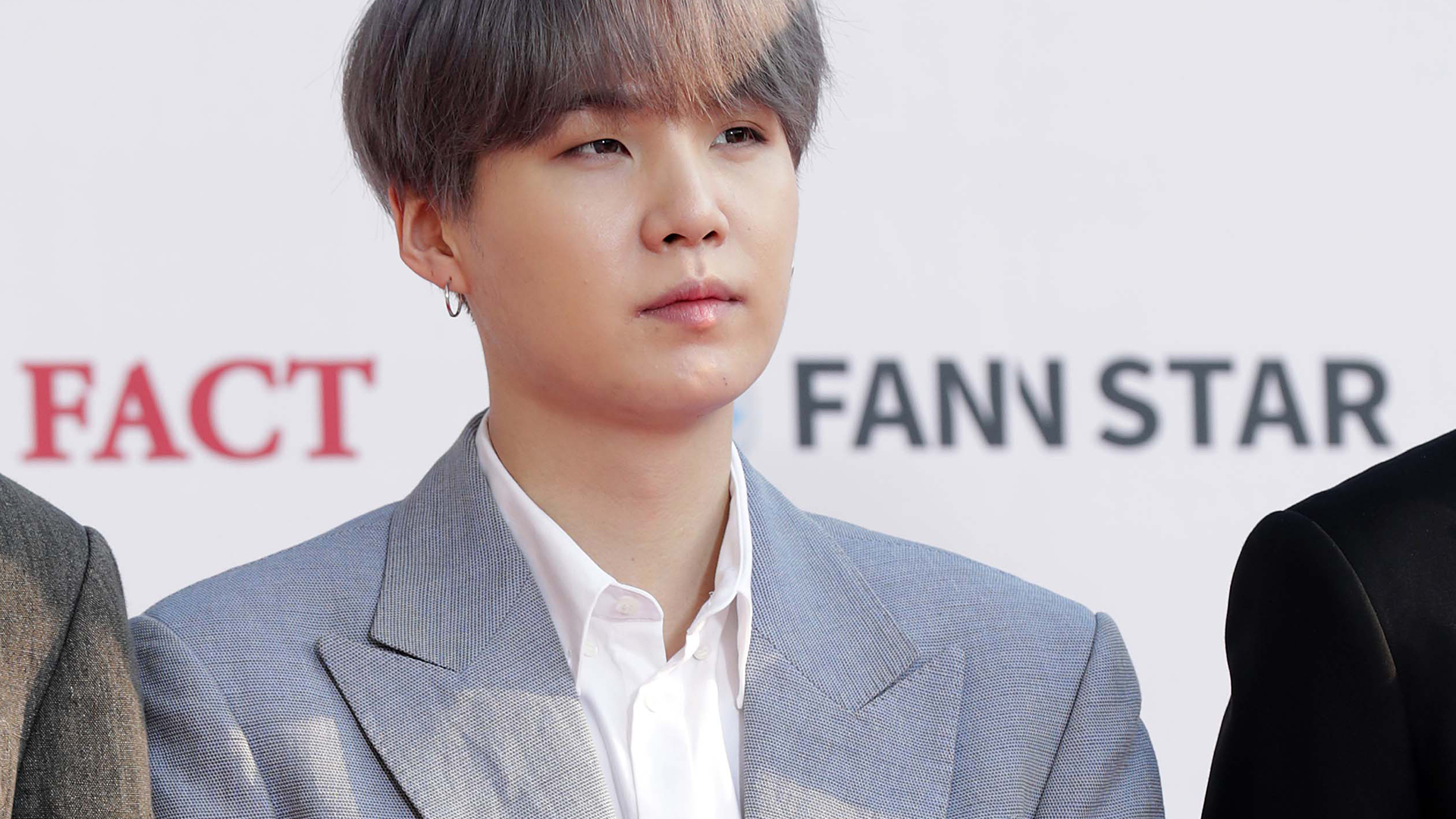 Suga wasn't the only BTS member to deliver an Artist of the Year speech that pulled at ARMY's heartstrings. When Suga paused to bask in the MAMA crowd's cheers, RM took the microphone. And according to Soompi, the BTS leader said:
There's not a lot that we can do. We're going to work hard at making music, practicing in the practice room, and dancing. We're going to shine in our place as much as we can so that everyone who's living in the same time as us can have strength. Seeing all of you gives us strength too, and we're determined to work hard and shine bright. Everyone who's watching over us, you've worked hard, and please watch over us next year too. Please be healthy and happy! Thank you!
Now, many members of ARMY — as well as Jungkook and V — noticed Suga wasn't done speaking. Then a few hours after MAMA ended, RM went on Weverse to apologize for taking the mic too early from "Yoongie Hyung."
Nevertheless, the heartfelt sentiments from RM's original acceptance speech remained the same. In the Weverse post, the 25-year-old reminisced on BTS's early days as they watched the end-of-the-year award shows in their living room in Nonhyeon-dong, wondering if they would ever attend themselves.
"Now, seven years after our debut, there were times when I felt the end of the year season was never ours," RM wrote. "And we were always congratulating someone else's holiday month and making someone else shine. But today I looked around myself and learned that in fact, this is the season of the year when I receive so much love, too much love, all at once."
Check out Showbiz Cheat Sheet on Facebook!