BTS' Suga Didn't See Himself Dancing With Psy for 'That That'
BTS' Suga is a songwriter, producer, and even a dancer. Even if he didn't expect it, Suga learned some difficult choreography for his song with Psy, 'That That.'
Suga is a rapper, producer, songwriter, and even a dancer. This BTS member showcased his dancing skills during his collaboration with Psy. Here's what we know about the 2022 release "That That" and Suga's unexpected choreography moment. 
Is Suga a producer of BTS?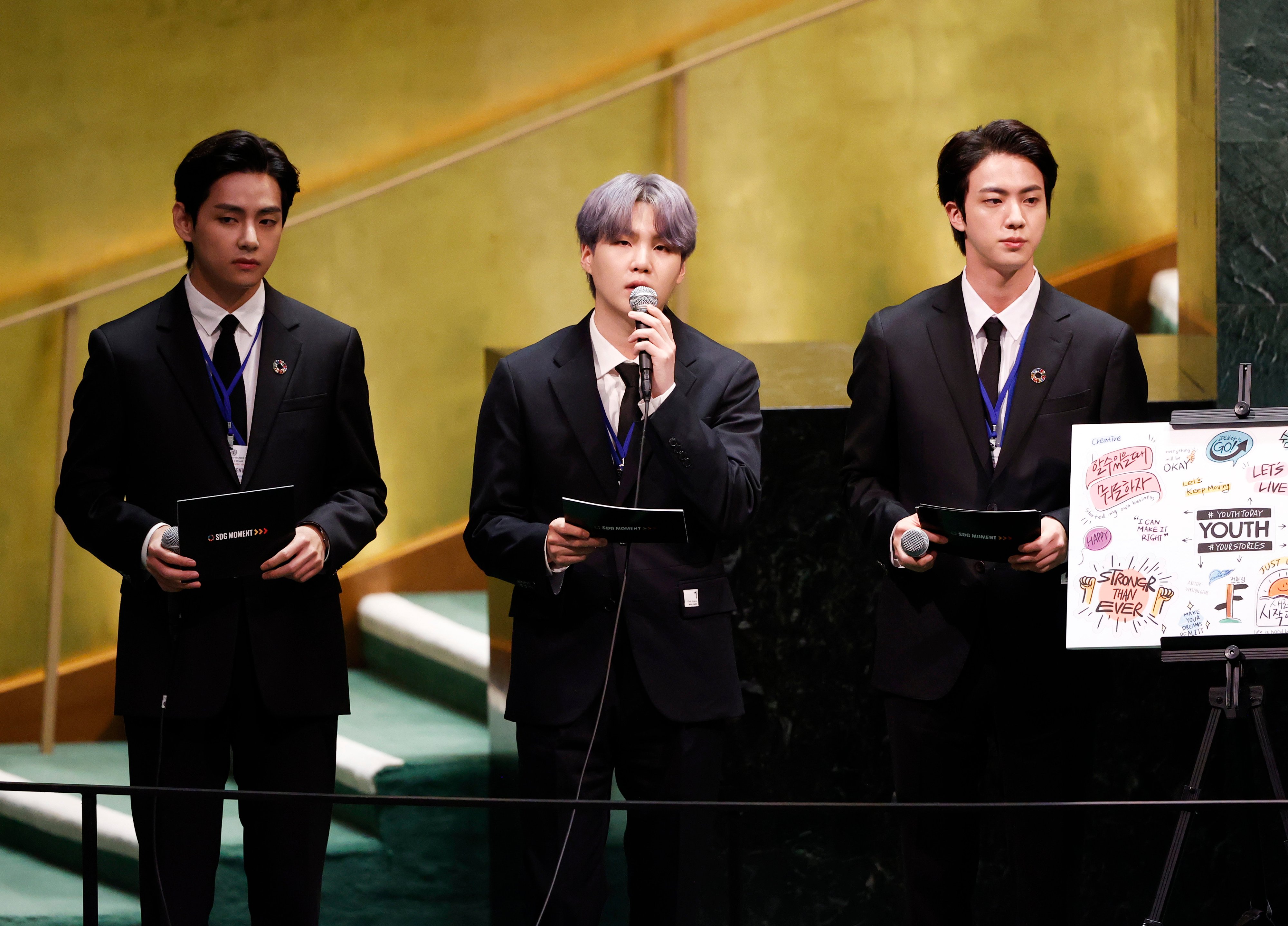 BTS is a Grammy-nominated, chart-topping band, with Suga featured as a rapper and dancer. Alongside other members, Suga writes and produces music for the K-pop group, recently appearing on "Permission to Dance" and "Butter."
Aside from his work with BTS, Suga releases solo music under the stage name Agust D, including his D-2 mixtape in 2020. He produces other for other artists and projects, including the 7FATES: CHAKHO soundtrack. Recently, this rapper produced and rapped in the song "That That" by Psy. 
BTS' Suga danced for Psy's 'That That' music video
He doesn't need permission to dance. As one rapper and producer, Suga collaborated with "Gangnam Style" legend Psy for the 2022 track, "That That." This came with a cowboy-themed music video and even Suga learning new choreography. 
"To be honest, I haven't gotten that close with anyone I collab[orate] with. It's because I'm not usually the type to meet up with collaborators in person," Suga said during one promotional video. "But [Psy] he wanted to see me in person."
"I seriously didn't expect to be dancing with Psy. Ah… I thought I was only writing the song," he continued. 
Suga isn't exactly known for his love for dance, despite his butt wiggle during one Permission to Dance on Stage concert. The new "That That" choreography was showcased in Psy's official music video, as well as a TikTok video. 
"Then he ended up learning the intense choreo[graphy]. Then he ended up starring in the music video," Psy said. "Step by step, he got involved more and more deeply. Our Yoongi." 
Suga and Halsey collaborated on 'Suga's Interlude'
After working with BTS on "Boy With Luv," Halsey decided to feature Suga on her album Manic. BTS' rapper had a role in creating and recording "Suga's Interlude," which has since earned millions of Spotify plays. The two reunited in person for the iHeartRadio Jingle Ball, with Halsey posting a picture on Instagram. 
"I was like, 'Why me? I'm not good at English,'" he said during one V Live, according to a translation from Soompi. "She said it was okay, and she asked me to do it in Korean. I wanted to thank Halsey for that, but I couldn't when we met in the United States because I'm not good at English."
Suga also lent his voice to MAX's "Blueberry Eyes." When BTS and Coldplay created "My Universe," Suga even made an official remix, now available on most major streaming platforms. "That That" is available on Psy's album PSY 9th, released in April 2022.