BTS' Visit to 'The Tonight Show Starring Jimmy Fallon' Highlights to Best (And Worst) Parts of Being an ARMY in New York City
"Clean" subway cars and an empty grand central station a New Yorker's pipe dream or reality on Monday's episode of The Tonight Show Starring Jimmy Fallon. In fact, this is the first last night show to take place on the subway and it's all to welcome this K-pop group, BTS, into the city.
Here's what New Yorkers are saying about BTS' appearance on The Tonight Show Starring Jimmy Fallon.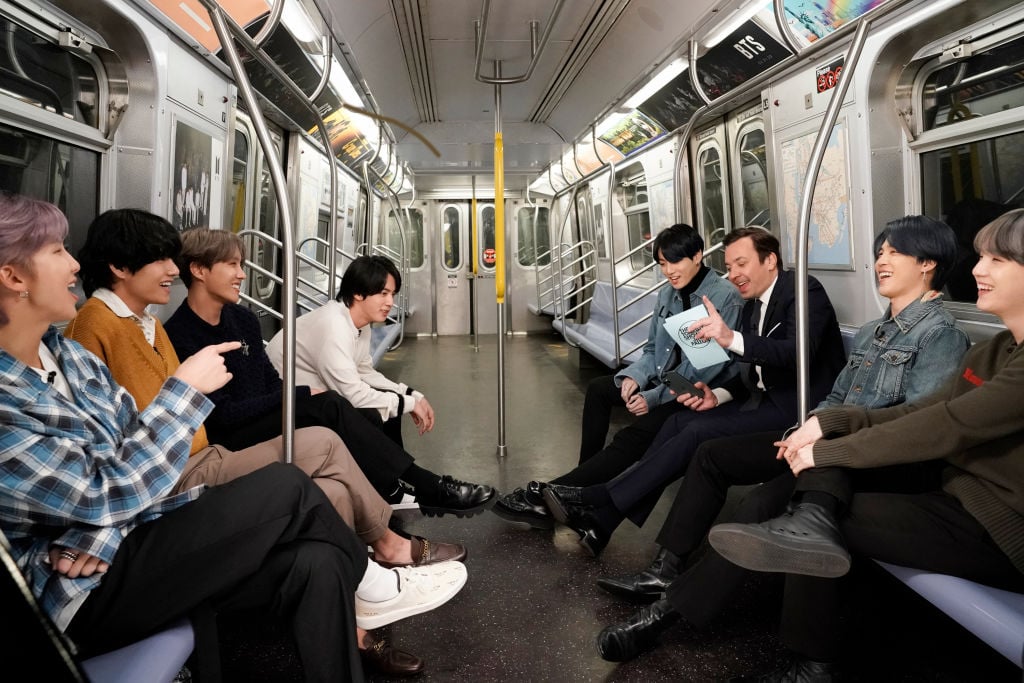 BTS visited New York City to promote their album, 'Map of the Soul: 7'
New York is known for its landmarks. There's the Empire State Building, the Freedom Tower, and, most recently, the Brooklyn art exhibit funded by BTS, in conjunction with Connect BTS. When BTS returned to the city to promote their album, Map of the Soul: 7, it's only fitting that Jimmy Fallon took them around on the subway.
"We're gonna spend one hour together, or as it's known on the subway, two stops," Jimmy Fallon said during his monologue. "It's great to be down here, though. It's cramped, it's loud, and there's no view if this were a New York City apartment, it'd be $3000 a month."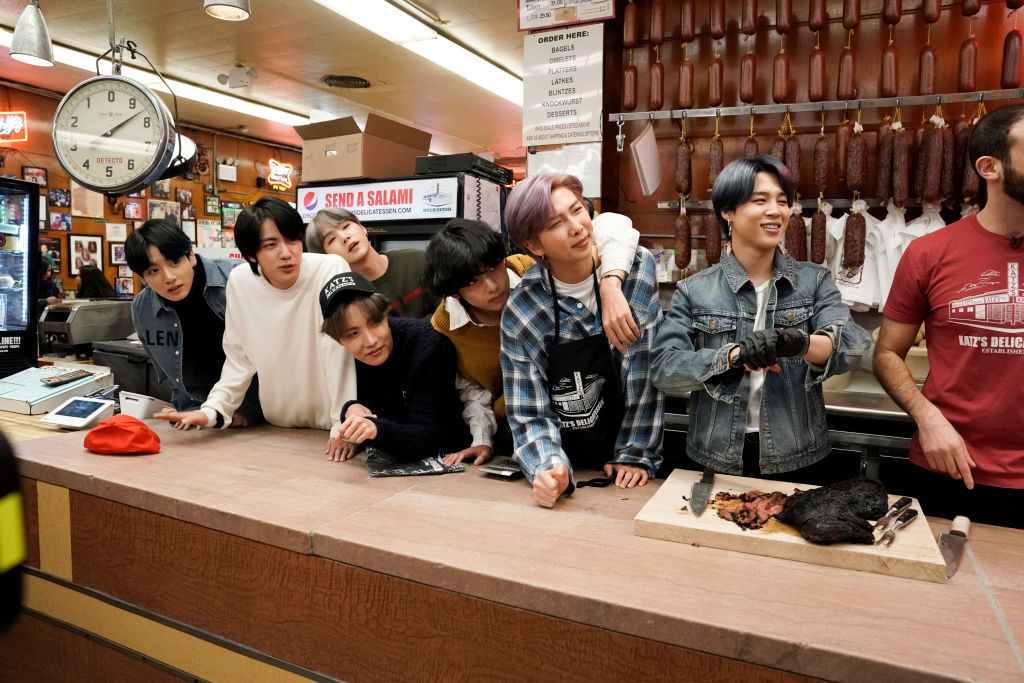 BTS spent time on the New York City subway
Normally, you wouldn't be excited to see seven guys get onto the subway. For BTS, though, fans shared their excitement for their New York experience. On The Tonight Show with Jimmy Fallon, they answered some questions, played some games, and, during a separate interview, commented on how clean the car was.
"BTS on the New York subway but it's just them waiting 44 minutes for the R train and then it turns express and goes straight past them," one Twitter user said.
"The rats on the platform fighting over who gets to nibble on Namjoon's toes," another Twitter user wrote, responding to the cleanliness of the subway car.
The "Subway Stories" in between each segment, some from New Yorkers like Tina Fey and Lin Manuel-Miranda, helped show what it's like to live in New York City. After their ride on the subway, BTs and Jimmy Fallon went to Katz's Delicatessen, a landmark and iconic Jewish deli.
BTS performed 'On' at Grand Central Station
Then the group headed to Grand Central, for the first live performance of their song "On." This was a historic moment for Korean musicians, as this was the first K-pop performance to ever take place in Grand Central Station.
It was also a historic moment because the building was completely empty. During a video clip, Jimmy Fallon shared that they shut down the terminal from 2 a.m. to 4 a.m., giving BTS tie to perform their song, "On," a few times.
"Tonight Show team also deserves mad props. The mere idea of executing all that is immensely impressive," one Twitter user said. "Then you have that the fact that they didn't OVERDO the New York stuff at the expense of quality content and interactions. BTS, not the city backdrop, shined brightest."
Music by BTS, including Map of the Soul: 7, is available for streaming on Spotify and most major music platforms.