BTS Will Take Over New York City on 'The Tonight Show Starring Jimmy Fallon'
On Feb. 24, BTS will appear in a special episode of The Tonight Show Starring Jimmy Fallon. The group will take part in an extended interview with Fallon, explore New York City, and perform a new song. The one-of-a-kind episode will come just a few days after BTS release their album Map of the Soul: 7.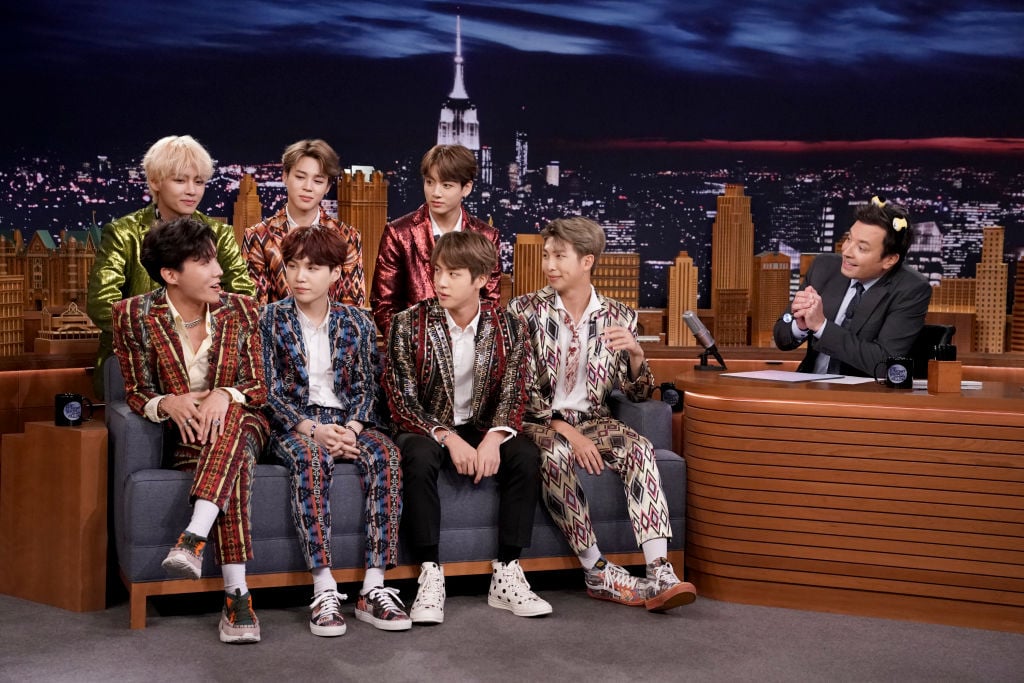 'The Tonight Show Starring Jimmy Fallon' asked BTS fans to submit questions
On Feb. 6, Fallon announced that BTS would appear on the show. ARMY knew something special was in the works after the official Twitter account for the show dropped hints about a big announcement.
"We have a very special show coming up. It's unlike any other Tonight Show we've ever done. And our guests will be global sensation BTS," Fallon said. "I'll be interviewing them, and I want your help. If you're a BTS fan and there's a question you've always wanted to ask the band, we're going to give you that chance."
Fallon then gave instructions on how fans could submit questions for the interview segment.
"Just go on Twitter or Instagram and send in your question to us at @FallonTonight. Be sure to use the hashtag #FallonAsksBTS. Just send in your questions, we'll read them all. And who knows, we might ask BTS your question," Fallon said.
BTS will explore New York City with Jimmy Fallon
Fans knew BTS's appearance would mark a special episode of The Tonight Show Starring Jimmy Fallon, but a new announcement shows this episode is something completely unprecedented and unexpected.
Typically, The Tonight Show Starring Jimmy Fallon features multiple guests and a performer in the studio. For this upcoming episode, BTS and Fallon will explore New York City together. BTS are the only guests and performers on the episode, meaning the entire episode is dedicated to them.
"We wanted to do something special for BTS and, at the same time, celebrate New York City. BTS really knocked it out of the park. You're not going to believe how big and fun their performance is — they took over Grand Central Terminal," Fallon said.
Gavin Purcell, the showrunner of The Tonight Show Starring Jimmy Fallon, confirmed this is one of the most expansive episodes the show has ever put on. He also complimented the members of BTS for how talented and humble they are.
"In terms of the production side, this [episode] was a pretty heavy lift. I can't tell you how many people went into the making of this — it was the entire staff rallying together to make this really cool show. And on the BTS side, it was amazing to see how they rallied and how hard they worked. That's something their fans know, but not only are they incredibly talented, they're also so hardworking and humble," Purcell told Rolling Stone.
The group will perform a new song
After debuting "Black Swan" on The Late Late Show with James Corden, BTS flew to New York City to film The Tonight Show. BTS are not only appearing on the show, it's acting as their comeback stage. The episode will show the group performing a new song in Grand Central Terminal.
Purcell also confirmed that Fallon's interview with BTS takes place on the subway, the group visited Katz Deli, and they will play a new one-on-one tournament game. This means fans can expect a concert, BTS: Bon Voyage, and Run BTS! all in one talk show.