BTS: V Debuts Long Hair and Keeps His Promise to Jungkook
The holiday season is finally here. But that doesn't mean the members of BTS — RM, Jin, Suga, J-Hope, Jimin, V, and Jungkook — are slowing down anytime soon. The South Korean band is working hard to promote their upcoming end-of-the-year events. And with ARMY itching for news about the next album, each public appearance is filled with new comeback speculations. Then on Nov. 21, BTS's V arrived at the airport and the "Stigma" singer sported dark locks and long curly hair, sending the internet ablaze.
BTS's V tells Jungkook he'll grow out his long hair
On Nov. 2, iHeartRadio released their Ask Anything Chat with BTS. The seven members were given fan questions to answer. And one ARMY asked Jungkook why he chose to cut his long hair.
"Because the hair was damaged and hard to control," Jungkook said. "If I have the chance, I might grow it out again."
Jungkook's hyungs then proceeded to compliment the "Euphoria" singer's hair. Meanwhile, V told Jungkook he would also grow out his long hair, and the two BTS members shared a high five. And now, it appears V kept his word to Jungkook.
V debuts long curly hair when BTS arrives at the airport on Nov. 21.
On Nov. 21, BTS arrived at the Gimpo International Airport, according to a video posted by Newsen. The South Korean publication revealed BTS was headed to the official 5th Muster Magic Shop Fanmeeting in Chiba, Japan at Zozo Marine Stadium for Nov. 23 and 24.
Upon arrival, it was clear the "Winter Bear" singer followed through on his previous comments to Jungkook. When V stepped out of the black vehicle, he stunned the press with his airport fashion, per usual. But V also dawned fluffy black curls, elegantly disheveled so his long locks wouldn't cover his eyes.
Meanwhile, V brought his dog, Yeontan, to the airport. The proud dog dad carried Tannie close to his chest, bowing to the media. However, the pup didn't accompany V to Japan, as V gave Tannie to a staff member before entering the airport with the rest of BTS.
Later, once BTS arrived in Japan, V surprised fans with a video in his black gingham pajamas. "Can't fall asleep," he captioned the 16-second clip. However, the "Singularity" crooner seemed to have washed out his bouncy curls.
BTS fans react to V's long curly hair
Naturally, BTS fans had a strong reaction to V's long and curly hair on social media.
"Taehyung looks so soft with that fluffy hair pleaseeee his smile is everything," one fan wrote on Twitter.
Some fans then wondered if V is growing out his mullet, reminiscent of previous eras.
"Doesn't it look like a mullet again," a fan wrote with a purple heart.
"THE CURLY HAIR, THE MULLET, THE VISUAL!!!! OH GOD KIM TAEHYUNG!" another fan tweeted.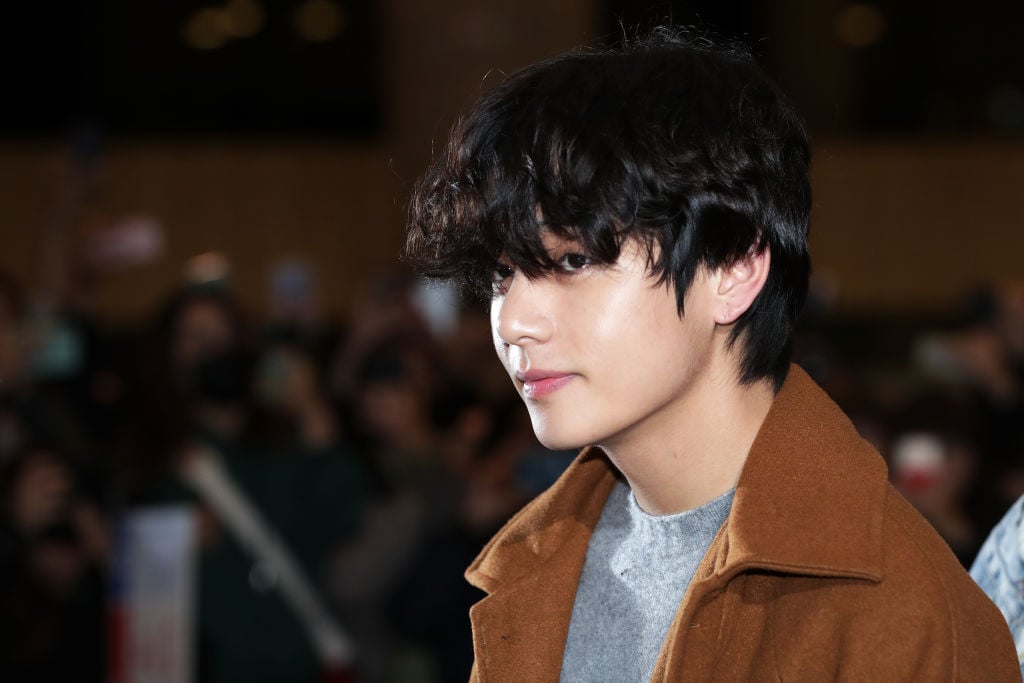 Many members of ARMY also compared V's hair to Tannie's.
"Look at Tannie's Flooofy hair all blowing in the wind and then Taehyung's soft long hair in the wind," a Twitter user wrote. "HOW AM I SUPPOSED TO LIVE?"
And of course, some couldn't help but wonder if V's long hair hints at BTS's next comeback. A fan tweeted:
During BTS interview:

– Taehyung told Jungkook that he might be next to grow his hair

On Weverse:

– Taehyung replying to an ARMY that it might be cool to grow his hair

SO WE ARE GETTING MAP OF THE SOUL SHADOW WITH DARK CONCEPT AND V LONG HAIR ?!
ARMY wonders if the BTS's hair changes mean a comeback soon
Now, V isn't the only one who sent ARMY buzzing on social media. When the South Korean band arrived at the airport, BTS fans also noticed each member was either sporting light or dark hair.
"So to recap: Namjoon and Jimin are blond, Jungkook and yoongi are honey blond whilst Tae, Hobi and Jin have dark hair," a fan on Twitter wrote. "I need some answer."
Meanwhile, it seems everyone agrees the hair changes are not a coincidence. And ultimately, BTS fans are theorizing it has something to do with the upcoming comeback.
"Jungkook has blond hair Jimin with grey hair Namjoon with blond hair Taehyung mullet is back Yoongi hiding his hair Jin Black soft hair And Jhope light brown hair," a fan wrote. "WE ARE NOT SAFE FOR COMEBACK!!!!!!"
Regardless, BTS has already promised ARMY new music in the future. Following the release of the first "Make It Right" remix with Lauv, RM revealed the K-pop group was working on their next album.
"We're actually now in our studio," RM told iHeartRadio on Oct. 18. "So we're working on our next album."
Check out Showbiz Cheat Sheet on Facebook!