BTS: What Time Will the 'Map of the Soul: 7' Album Be Released?
History will be made when BTS releases their new comeback album, Map of the Soul: 7, on Friday, Feb. 21, 2020. The seven-piece South Korean band — including members RM, Jin, Suga, J-Hope, Jimin, V, and Jungkook — prepared a full 20-track masterpiece to reflect upon the seven years since debut. So what time will the BTS album come out? The worldwide digital release will allow us to celebrate the next era through streaming services while we patiently wait for our physical copies to arrive.
The BTS album release time for 'Map of the Soul: 7'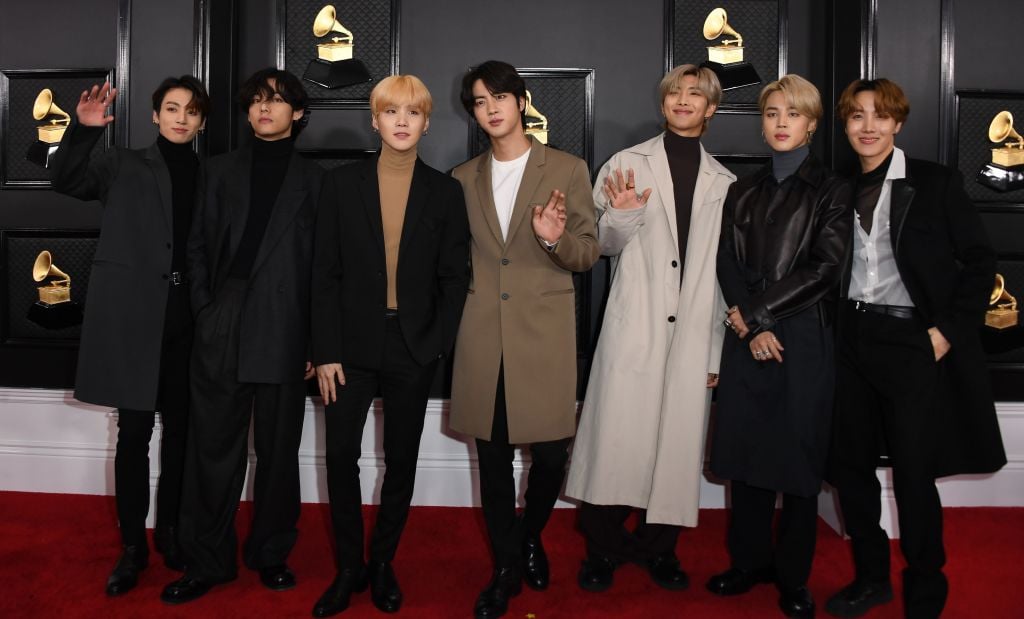 If the pre-order volume for Map of the Soul: 7 gives off any indication in regards to the excitement BTS fans are feeling about the next comeback — spoiler alert — it's monumental. On Jan. 15, Big Hit Entertainment announced the album sold 3.42 million stock pre-orders within the first week of availability.
As ARMYs across the globe hold on for their mail carriers to deliver Map of the Soul: 7, they can continue to look forward to the digital release. According to multiple publications — such as NME and Billboard — the new BTS album is set to come out at the same time worldwide. So mark your calendars — Map of the Soul: 7 drops Feb. 21 at 6 p.m. KST (4 a.m. EST/1 a.m. PST).
You will be able to stream BTS' Map of the Soul: 7 through streaming platforms like Spotify and Apple Music. Big Hit and Sony Music also offers the option to pre-save the new album on Spotify ahead of the release.
"Connect your Spotify to pre-save #MAP_OF_THE_SOUL_7 to ensure the album is added to your collection as soon as it's available on Feb 21!" Big Hit explained on Twitter.
The BTS comeback schedule for 'Map of the Soul: 7' on Feb. 21
Now, the Map of the Soul: 7 album release isn't the only thing BTS has scheduled for Feb. 21. At 6 a.m. KST (4 p.m. EST on Feb. 20), TikTok will share a 30-second video teaser for the lead single, "ON." BTS' Kinetic Manifesto Film: Come Prima for "ON" will also premiere at 6 p.m. KST when the full album drops.
Then at 12 p.m. KST (10 p.m. EST on Feb. 20), VLIVE will host a BTS Comeback Special, which the streaming service says will be a "live-broadcast in New York."
As expected, BTS will be making the media circuit rounds in New York City on Feb. 21. The septet will stop by the Today Show at Rockefeller Plaza to give a live interview. According to Big Hit, the segment will begin at 8 a.m. EST (10 p.m. KST), with the Kinetic Manifesto Film for "ON" airing at the plaza at 6:30 a.m. EST (8:30 p.m. KST).
ARMYs can also anticipate BTS interviews with ExtraTV and MTV Fresh Out. The MTV segment will be filmed at 11 a.m. EST (1 a.m. KST on Feb. 22) and air on the network starting at 5 p.m. EST (7 a.m. KST on Feb. 22).
Meanwhile, the "world premiere of Hyundai's new story with BTS will be showcased on 21st February at Times Square NYC," per the Hyundai Lifestyle Instagram account. The promotion will be a "1-hour exclusive show" and start at 7 p.m. EST (8 a.m. KST on Feb. 22).
After Feb. 21, BTS fans can still look forward to two special late-night features. On Feb. 24 at 11:35 p.m. EST (1:35 p.m. KST on Feb. 25), The Tonight Show Starring Jimmy Fallon will air a BTS-centric episode. Then on Feb. 25, The Late Late Show With James Corden will debut the BTS edition of Carpool Karaoke.
There's an energy flowing throughout the BTS community as a few mere hours stand between ARMY and the Map of the Soul: 7 album release. Everyone is buzzing with excitement, completely prepared to show their support while simultaneously unprepared for the impact of hearing 15 new songs. Regardless, it's clear the seven-member group is proud of their forthcoming album.
"You will know when you listen to our new album and watch the performance that liking BTS was the best decision ever," J-Hope told fans at the 2020 Grammy Awards red carpet on Jan. 26.
And as we should all know by now, BTS will deliver.
Read more: BTS Reveals the Powerful Meaning Behind 'Map of the Soul: 7'