BTS's Heartfelt Gifts For Each Other in 'Run BTS!' Will Make You Tear Up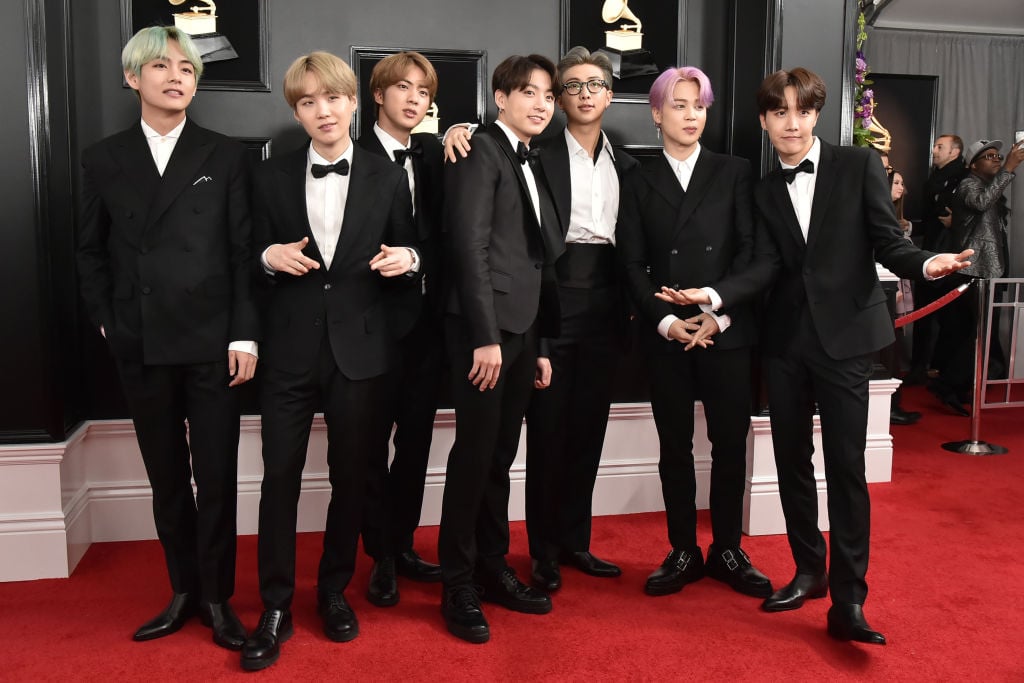 The third season of Run BTS! is officially over. The final three episodes of the season showed BTS competing in summer outing activities. During the season finale, each BTS member gave a special gift to another member. In typical BTS fashion, some of the gifts were hilarious while others were incredibly heartfelt.
Some of the BTS members got funny gifts
Humor is a large part of the BTS fandom. BTS makes fun of themselves, members of BTS ARMY make fun of BTS, and BTS makes fun of ARMY. Sometimes it seems like BTS and their fans can find humor in almost any situation. The last few episodes of Run BTS! showed the group hilariously playing water sports, and the fun continued when they opened gifts.
In the last episode, each BTS member had to give a personalized gift to their manito, which is similar to a "Secret Santa." Several members of BTS seemed to be on the same wavelength when choosing their gifts. Suga gifted Jin with Suga merchandise, V gave Jungkook V merchandise, and Jin gave RM BT21 merchandise as part of his gift.
RM gave Suga a pack of underwear. As part of a running joke, each member pretended Jimin was their manito before switching at the last second. On a more sentimental note, Jungkook gave J-Hope a disposable camera so the group could take pictures while embracing nostalgia.
Jimin got V a gift related to 'Winter Bear'
Jimin and V are considered the soulmates of BTS because of their close bond. The two attended high school together, and V's heartfelt letter to Jimin in the second season of Bon Voyage brought V to tears. While this season of Run BTS! filmed, V worked on his solo song, "Winter Bear."
To commemorate V's hard work on the song, Jimin gifted V with two bear figurines. Since V released the song, Jimin has been vocal about his support. He played the song multiple times on his VLIVE livestreams and in the season finale of Run BTS! he admitted he falls asleep to the song.
V later used the bear figurines for the cover shoot of "Winter Bear." Fans were quick to realize that while V used Jimin's gift for the cover of his solo song, Jimin used a photo taken by V for the cover of his song, "Promise."
"So Jimin used a photo taken by Taehyung as the cover photo for Promise while Tae included the bears that Jimin gifted him in his cover photo for Winter Bear? My heart," wrote a fan on Twitter.
"hurts more when you realise that the cover for promise was taken by tae and the bears in the winter bear cover was gifted by jimin," wrote another.
J-Hope's gift to Jimin included a personal message
While Jimin's gift was very sentimental, J-Hope's gift for Jimin was the most heartfelt of the episode. After the whole group pretended each present was for Jimin, J-Hope gave Jimin the last present of the night. J-Hope gave Jimin a personalized CD of his single, "Promise." The CD also included photos of J-Hope and Jimin's friendship and a personalized message for Jimin.
The gift caused Jimin to tear up, and after seeing J-Hope's gift every other BTS member was impressed with his dedication. Jimin and J-Hope are roommates and have a very close bond. However, typically Jimin is known to fans and BTS as one of the most supportive members of the group. Fans realized that J-Hope's gift made Jimin feel like how the other members feel when he supports them.
"if you think about it … hoseok is jimin's jimin," wrote a fan on Twitter.
"JIMIN WAS SMILING SO WIDE I FELT MYSELF MELT TO THE GROUND. I cannot cope with this. I really can't… the fact that he smiled so wide and was teary by the end, idk what else to say but, Thank you Hoseok… thank you for letting him know that his song means so so much," wrote a Tumblr user.