Buckingham Palace Made a 'Big Mistake' Prior to Prince Harry and Meghan Markle's Bombshell Interview (Exclusive)
Prince Harry and Meghan, Duchess of Sussex's bombshell interview with Oprah Winfrey still has fans talking and Buckingham Palace scrambling. In response to the Sussexes' jaw-dropping claims, the palace said they take the issues they raised "very seriously."
But according to one royal expert, The Firm made a 'big mistake' in the days leading up to the primetime special.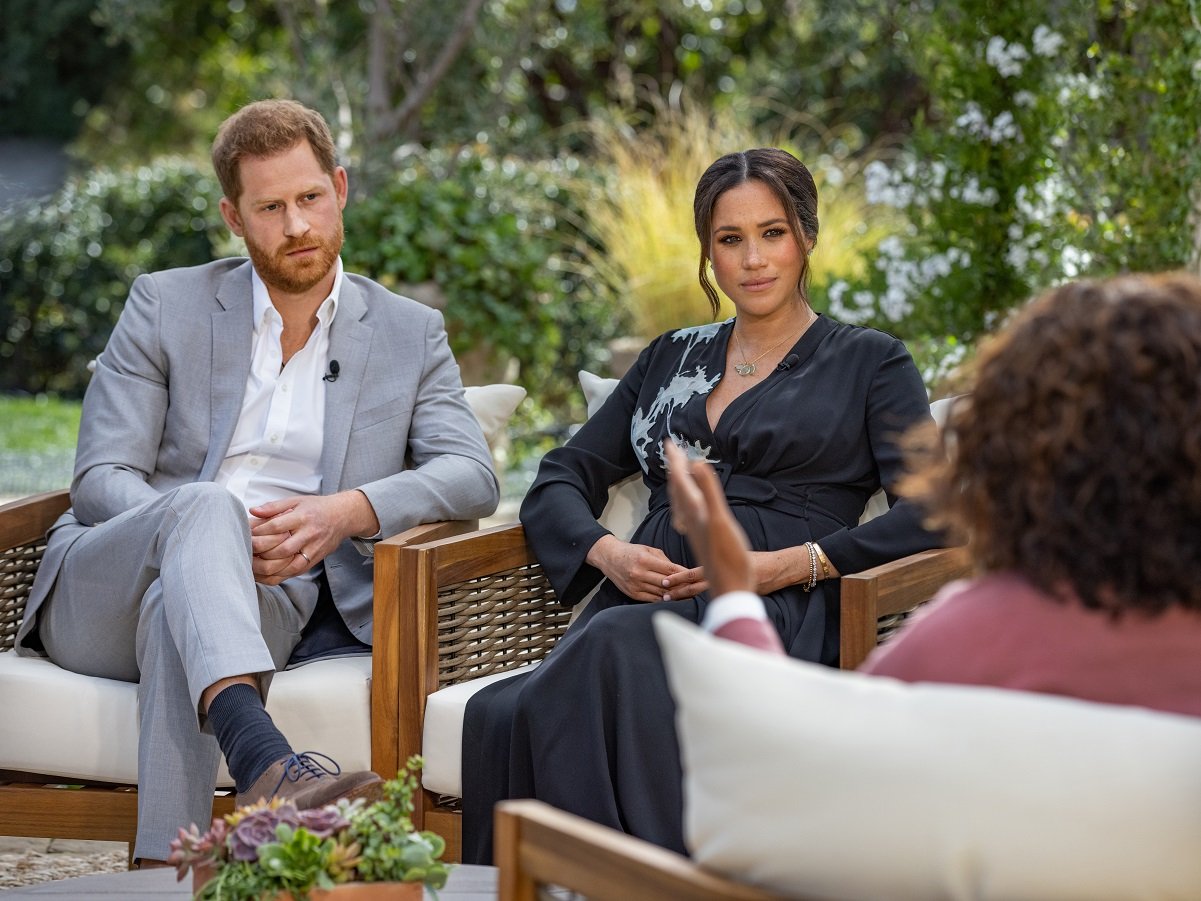 Royal expert Clive Irving wrote a book about the parallel experiences of Prince Harry's mother and his wife
Clive Irving is a royal expert who has been part of both the American and British media during his career. The former managing editor of the Sunday Times in London has a new book titled The Last Queen, which discusses the similarities in how the British tabloid media treated Harry's mother, Princess Diana, and his wife, the Duchess of Sussex.
In an exclusive interview with Cheat Sheet, Irving discussed the claims that Harry and Meghan made in their recent interview. He also pointed out the mistakes the palace made both before and after the interview aired.
The royal author says Oprah Winfrey was the 'obvious choice' to conduct the interview
Irving says that Winfrey was the obvious choice to do the interview with Harry and Meghan for two specific reasons. First, he says that Meghan and Harry opted for Winfrey because they already knew her and "felt secure." Second, they chose an American journalist instead of a Brit because Meghan "wanted to reach the American audience."
"She didn't really care what the British audience thought because in a sense, I think she'd already written off the British audiences in two sentences," Irving explained. "It was a very minor noise on the fringe. And secondly, she knew that there wasn't as much sympathy for him there (the UK) as there is here (America). And obviously, you get maximum impact with some of Oprah's stature."
Buckingham Palace made a 'big mistake' leading up to Prince Harry and Meghan Markle's interview
The palace knew for weeks in advance that Harry and Meghan's tell-all interview was coming. But according to Irving, they completely underestimated the impact it would have.
"I don't think anybody saw it coming in the degree it did, because even the promotion of it in advance from Oprah Winfrey didn't suggest that it would get to the level of seriousness that it did," Irving noted.
The royal expert said that he thought the palace made "a big mistake" in trying to preempt Harry and Meghan's interview with "very petty sniping" and "hypocritical" accusations.
Clive Irving says there was a 'deliberate' defamation machine
Irving pointed out that The Firm suddenly brought up issues from 2018 prior to Harry and Meghan's interview.  He says it's clear that there was a "consistent mean streak" in palace briefings and a deliberate "defamation machine" leaking info to the public.
"To say that she belabored people was hard on her staff. I mean, it happened in 2018," Irving said. "Why suddenly introduce it in the weeks running up to the Oprah interview? And in any case, if it happened, then why was there not any kind of investigation into it? So it seemed to me, to put it mildly, that they were desperately searching for anything they could out in advance and therefore trying to somehow go for her and not for Harry."
Did the palace let Prince Harry 'off the hook'?
Irving says that the thesis in his new book was about the palace's "approach to mechanism" and the influence from those "who don't like Meghan." He explained that the goal was to let "Harry off the hook" if anything went wrong by saying "she made him do it."
"She was the strongest of the two and she was having her way and he just followed it behind whatever she said," Irving explained. "And so it's an insult to her and it's an insult to him."
The Last Queen is now available in bookstores.