How Much Is Buckingham Palace Worth? Inside The Queen's London Headquarters
As Queen Elizabeth II's main headquarters and one of the most famous palaces in the world, many want to know: How much is Buckingham Palace worth and who owns it? From it's rich history to its impressive value, we take a closer look at the royal abode — including how much it's worth and what it's like inside — ahead.
How much is Buckingham Palace worth?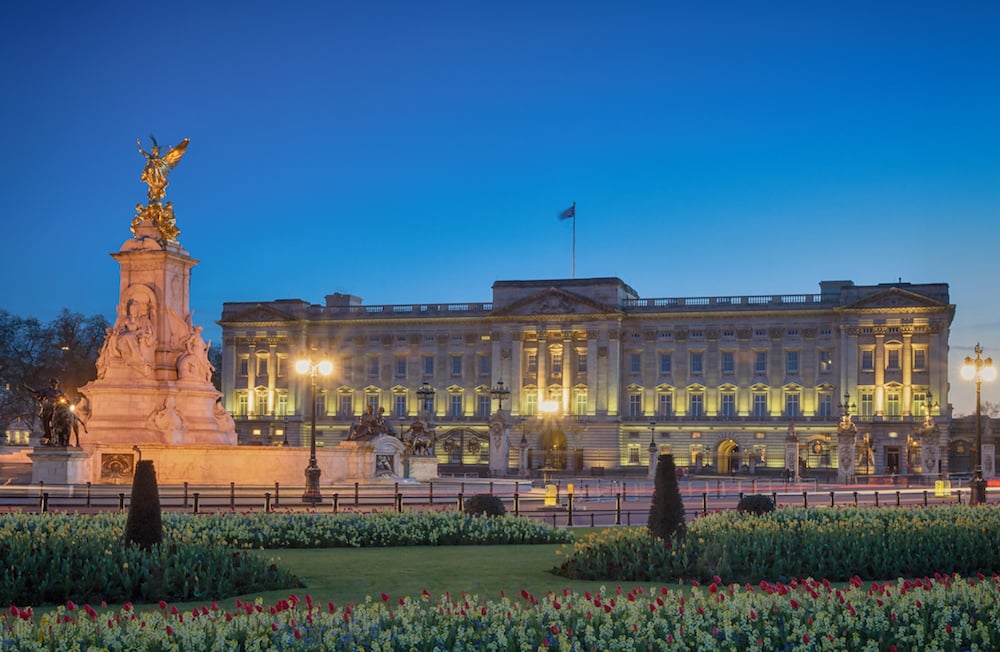 Buckingham Palace is not the most expensive palace in the world, but it's certainly up there. According to reports, Queen Elizabeth II's London headquarter is worth over $5 billion (though some reports claim it's closer to $2 billion).
Despite technically being around for almost 1,000 years, Buckingham Palace is one of the newest royal family properties. In fact, it didn't serve as the monarchy headquarters until 1837 (before that, St. James's Palace was the family's main London abode).
Buckingham Palace history
Before Buckingham Palace became the monarch's main offices (and London home), it was a much smaller property called Buckingham House. It started as a place for King James I's garden, which featured a small house on the lot. Then John Sheffield — the Duke of Buckingham — acquired it in 1698. The duke built a new home on the land (designed by William Winde and John Fitch) which was completed in 1705.
In 1761, King George III purchased the house and turned it into a getaway for his wife. Then, King George IV wanted to make it his official London residence, so he asked architect John Nash to add onto the house and create a U-shaped structure. After Queen Victoria ascended the throne in 1837, she moved into the newly renovated Buckingham Palace and the rest is history.
Who owns Buckingham Palace?
Despite its rich royal history, the royal family doesn't technically own Buckingham Palace. Instead, it is part of the Occupied Royal Palaces Estate. That said, the property technically belongs to the reigning monarch, which means Queen Elizabeth II is its current (and temporary) owner.
Inside Buckingham Palace
The queen and her family aren't the only ones that get to experience the magic of this historical palace. Much like Windsor Castle, royal family fans can visit Buckingham Palace in the summer (while the queen is away at Balmoral Castle in Scotland) to get a taste for royal life. Here are some of the things you can see inside Buckingham Palace.
Throne Room
A trip to Buckingham Palace wouldn't be complete without a glimpse of the queen's throne. On the Buckingham Palace tour, visitors can step inside the Throne Room and get an up close and personal look at what it's like to stand before Her Majesty.
White Drawing Room
The White Drawing Room is another impressive area of Buckingham Palace. It serves as a royal reception room and is where the royal family gathers ahead of official occasions.
Ballroom
You probably recognize the Buckingham Palace Ballroom from pictures of State Dinners with Kate Middleton, Prince William, and other beloved royals (and their guests). If you take a tour of Buckingham Palace, you'll get to see this impressive (and historic) space.
Picture Gallery
Buckingham Palace features quite an impressive art collection. And, you can see many of its masterpieces in the palace's Picture Gallery.
Grand Staircase
The Grand Staircase is another exciting facet of the Buckingham Palace tour. Designed by John Nash (and inspired by his experience working in the theater), the staircase features intricate detailing, as well as full-length portraits of Queen Victoria's immediate family members.
Check out The Cheat Sheet on Facebook!