'Buffy the Vampire Slayer': How Walking His Dog Landed David Boreanaz the Role of Angel
David Boreanaz didn't expect his life to change when he was walking a dog. But that's what led to his casting in 'Buffy the Vampire Slayer.'
Millions of fans first loved David Boreanaz for his role as Angel in the surprise cult classic Buffy the Vampire Slayer. Since then, he's starred in a few other series, playing everything from a vampire to an FBI agent to a Navy SEAL. But all of this fame might not ever have happened if he hadn't been spotted one day, out for a walk with his dog. 
David Boreanaz was an unknown actor before 'Buffy the Vampire Slayer'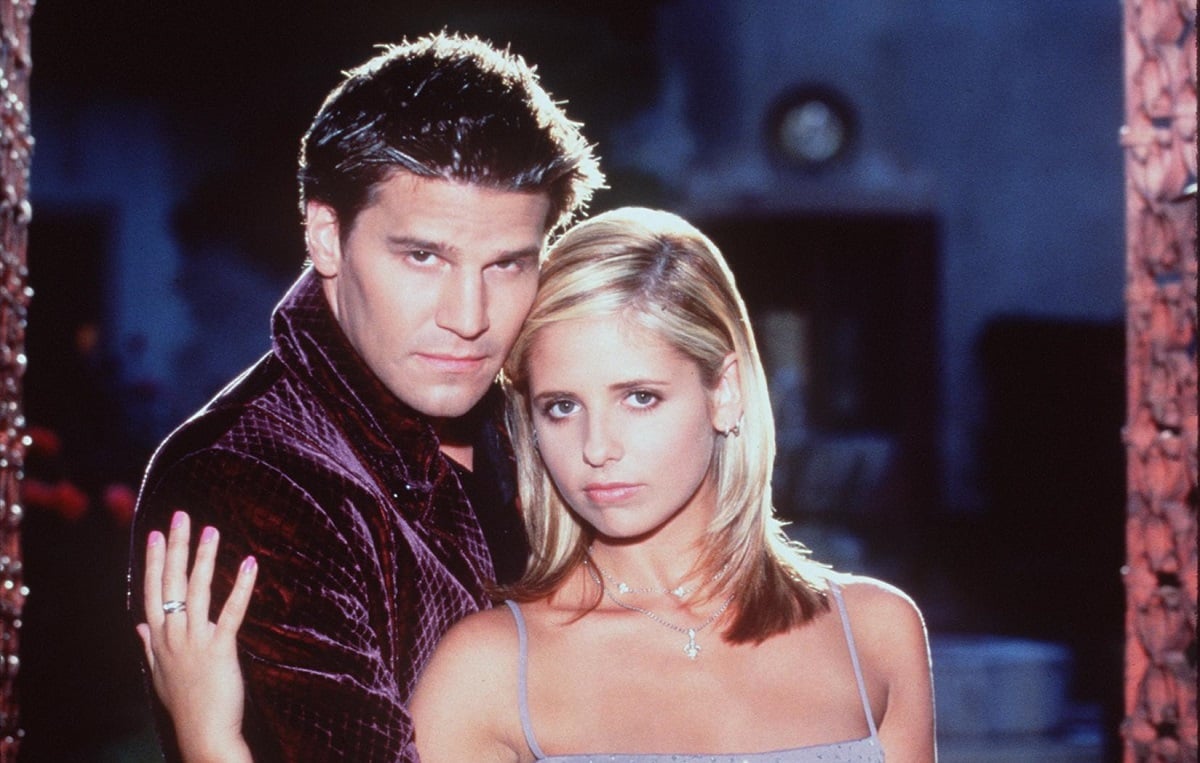 In the mid-'90s, Boreanaz was a struggling actor, trying to break into the big times for years. He'd had a few uncredited roles as an extra, made an appearance in the sitcom Married With Children, and had a part in a low-budget horror film called The Macabre Pair of Shorts. But he'd never been able to land any prominent roles. 
All that changed one day when he was out walking his dog. As GQ puts it, "Buffy casting director Marcia Shulman, looking to cast The Most Handsome Man Ever as tortured vampire-with-a-soul Angel got a call from a friend who spotted him walking his dog and told Shulman that he was her guy."
The friend seemed to have an eye for casting cursed vampires because Boreanaz was a hit as Angel. 
'Buffy' led to 'Angel'
Boreanaz played Angel on Buffy from 1997 to 2003. According to Entertainment Weekly, he was only supposed to appear in six out of the first 12 episodes of Buffy. But the response to his character was so positive that he quickly became a central figure in the series.
Midway through the show's run, he got his spinoff show, starring in Angel from 1999 to 2004. Even when he had his series, he returned to appear on the show that made him famous. 
Angel was more than a big career move as an actor for Boreanaz. It also allowed him to make his directorial debut when he directed an episode in 2004.
"It was a phenomenal experience," he said. "I remember having knee surgery and literally directing with 50 percent of my knee gone…so it was a challenge, but I loved it — loved it, loved it, loved it, loved it."
What Boreanaz has done since his 'Buffy' days
Boreanaz hasn't had much time to rest since he gave up his role as Angel. The year after Angel ended, he landed another popular series. He starred as FBI Special Agent Seeley Booth in Bones. The show lasted for an impressive 12 seasons, from 2005 to 2017. 
After Bones, Boreanaz landed another starring role in the series SEAL Team. He also serves as a producer on the show. He plays a member of the elite Navy Tier 1 Seal Team, and he says the character is the one he's most proud of in his career because of how it enables him to share the stories of service members. 
"It's a blessing and I'm so humbled to play a character that can show this," Boreanaz explained. "It's very easy for us to forget until something catastrophic happens, right?"
After four seasons on CBS, SEAL Team moved to the streaming service Paramount Plus. Even if it isn't renewed for a sixth season, history suggests that Boreanaz will land on his feet — and probably in yet another hit series.