Buzz Lightyear: What Tim Allen Said About Reprising His 'Toy Story' Character
Hearts are melting now that the new Lightyear trailer arrived, hitting us with twinges of nostalgia for longtime Toy Story fans. To infinity and beyond!
While many already knew that Marvel star Chris Evans would play Buzz Lightyear in this Disney movie, there are still questions about Tim Allen's involvement. After all, he immortalized the character for the franchise. However, he once shared his thoughts on whether he'd reprise the role in the future.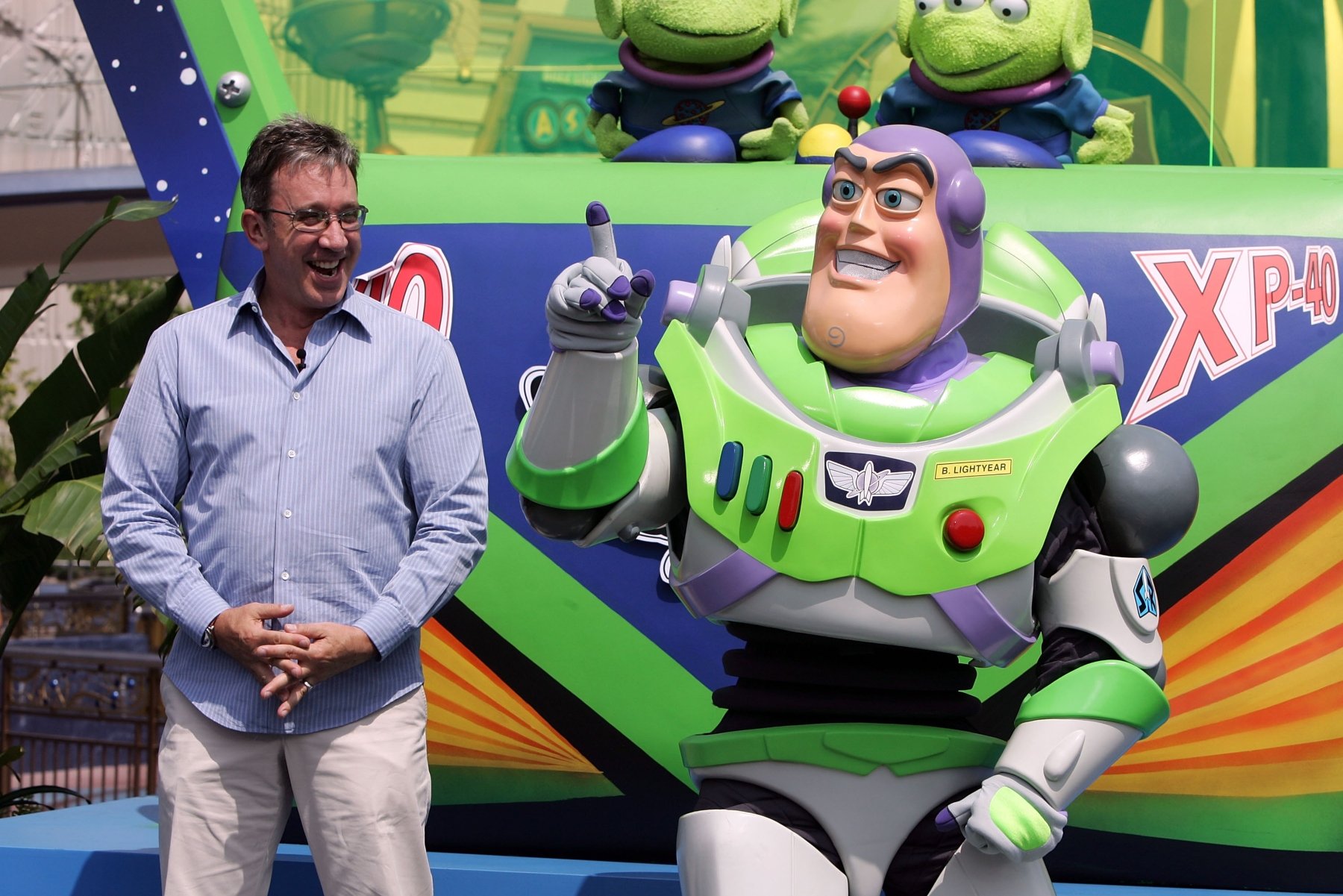 Tim Allen said he's always down to be Buzz Lightyear
Toy Story 4 came out in 2019 and split the gang up at the end, setting Woody and Buzz Lightyear on two different paths. These films never fail to make kid and adult viewers shed tears, and the moment left people wondering if they'll all ever find their way to each other again.
Tim Allen spoke with Parade in March 2021, and he touched on the upcoming Lightyear film and a potential Toy Story 5. He'd love to suit up for another animated adventure.
"Tom Hanks and I talk about it all the time. They don't need us in makeup for this. No matter how old we get, we can always do it," he said. "They're suggesting they're going to show a movie of a character called Buzz Lightyear that Toy Story's based on. I'm not sure exactly what they mean by that. So, they'll be doing a live-action film of some sort. The actual four Toy Story movies were only supposed to be two. Three was the magic one. Four, definitely, was a magic one. I found the end of that to be so sad, where 'To infinity and beyond' was split between Woody and Buzz."
'Lightyear' drops in 2022
More than 25 years after the first Toy Story movie came out, fans are excited about what's next for the franchise. There's even a wish list for the stories to expand as their own cinematic universe. How about a Woody series? Or a Bo Peep spinoff? If it happens, Lightyear is a wonderful start.
The film hinges on the real-life space ranger who goes on galactic missions and meets aliens from different planets. It's truly an origin story, and Disney moviegoers are eager to see what Captain America's Evans does with the role. Set to David Bowie's "Starman," the trailer shows Buzz's path to becoming a Starman himself. It will be released in June 2022. Because it's not about Buzz Lightyear the toy, Allen likely won't be making an appearance.
Chris Evans thanks Pixar for 'Lightyear'
For his part, Evans is beyond thrilled to appear in a Pixar film and shouted them out in a tweet. He acknowledged the artists' storytelling abilities and his love for animated films.
In a separate Twitter message, Evans described what it felt like to share the movie with the world. "I'm covered in goosebumps. And will be every time I watch this trailer. Or hear a Bowie song. Or have any thought whatsoever between now and July cause nothing has ever made me feel more joy and gratitude than knowing I'm a part of this and it's basically always on my mind."
Though filmmakers intended Toy Story 4 to provide closure, they admitted there's still space for them plant more seeds in this universe. With that in mind, don't rule out seeing Tim Allen in a future installment.
RELATED: Tom Hanks Would Often Get Chest Pains After 6-Hour-Long 'Toy Story' Recording Sessions