Caelynn Miller-Keyes and Dean Unglert Celebrate the Anniversary of Their Breakup on 'Bachelor in Paradise'
Caelynn Miller-Keyes and Dean Unglert started their relationship on Bachelor in Paradise in 2019. While the couple is still going strong today, Unglert briefly broke up with Miller-Keyes on her birthday on the reality show before ultimately returning to win her back. On June 15, Unglert and Miller-Keyes celebrated the anniversary of their breakup and Miller-Keyes' birthday.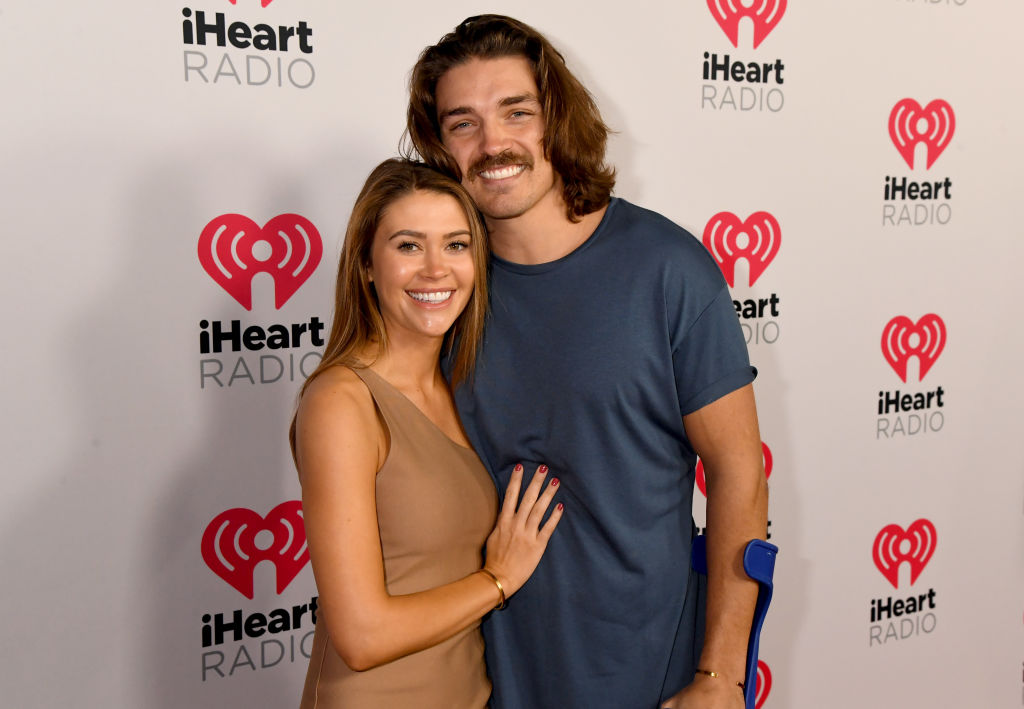 Dean Unglert broke up with Caelynn Miller-Keyes on 'Bachelor in Paradise'
Season 6 of Bachelor in Paradise filmed in 2019, and Miller-Keyes and Unglert started a relationship quickly into the show. However, on Miller-Keyes' birthday, Unglert decided to end their relationship.
"I feel awful about it," he said.
"Why are you doing this?" Miller-Keyes asked.
"Because I think it's probably for the best," Unglert replied. "I think I should go home. I didn't want to do this, but I just think that it's the right thing to do… Our lifestyles are not going to be compatible coming out of this. And I don't want to give you something that isn't going to make you happy… I just think that you deserve someone better than me, to be perfectly honest."
Dean Unglert returned to 'Bachelor in Paradise' to win Caelynn Miller-Keyes back
A few weeks after Unglert left Bachelor in Paradise, he returned to the show to try and reconcile with Miller-Keyes.
"I always just kind of tried to keep you at like an arm's length I think for my own self-preservation," Unglert said. "I made a decision that I thought was best for you but it wasn't really fair for me to make that decision."
"I just like, want a partner in life," Miller-Keyes said.
"Me too," Unglert said. "And I know I think it just took me longer to realize that."
Unglert then asked Miller-Keyes if she would leave the show to be in a relationship with him, and she agreed.
The two celebrated the anniversary of their breakup
On June 15, Unglert and Miller-Keyes poked fun at their Bachelor in Paradise breakup while celebrating Miller-Keyes' birthday.
"Happy one year anniversary of the day you dumped me," Miller-Keyes wrote in an Instagram post.
"this time last year, some jerk was breaking up with her on a beach in mexico. hopefully this birthday goes a little smoother for @caelynnmillerkeyes," Unglert captioned his post on Instagram.
The two keep their relationship as private as possible
Since leaving Bachelor in Paradise, Miller-Keyes and Unglert have traveled the world together and adopted a rescue dog named Pappy. While they share some relationship updates on social media, the two also try to keep parts of their relationship private. At the end of 2019, Unglert posted a blog post and explained why he does not post about his relationship with Miller-Keyes as much as some would expect.
"I receive a little bit of flack online for not sharing more about my relationship either here on deaniebabies.com or on Instagram, but that is intentional. in 2020 I plan on continuing on the same way. What we have been doing has been working and our relationship only grows stronger every single day. I think by keeping it more private, it allows us to cherish and hold it more dearly to ourselves," he wrote in the blog post.