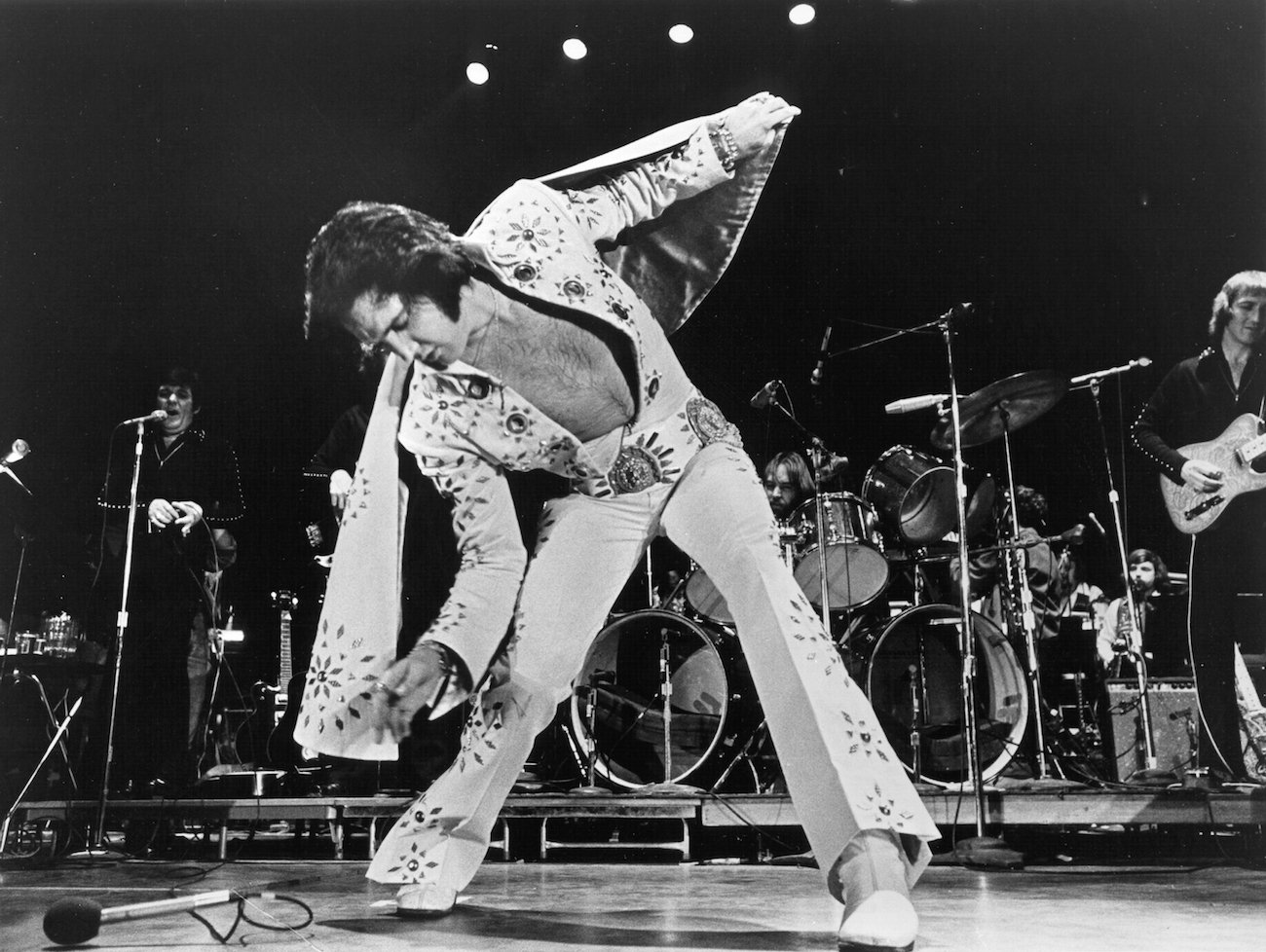 Calling All Elvis Impersonators! Elvis Presley's Jumpsuit and Cape Has Sold at Auction
Elvis Presley's iconic Eyelet Jumpsuit and Cape from his 1972 Madison Square Garden performances has sold for $1,012,500.
Elvis Presley had many iconic looks. He had one of the most famous pompadours worldwide and often wore a black leather jacket and a crisp shirt in his early career. Into his later career, during the early 1970s, he took to wearing iconic white jumpsuits and capes. Now, any time you see an Elvis impersonator, they're probably wearing one. Recently, Elvis's iconic outfit sold at auction for an impressive amount of money. But his jumpsuit and cape isn't the only thing that sold.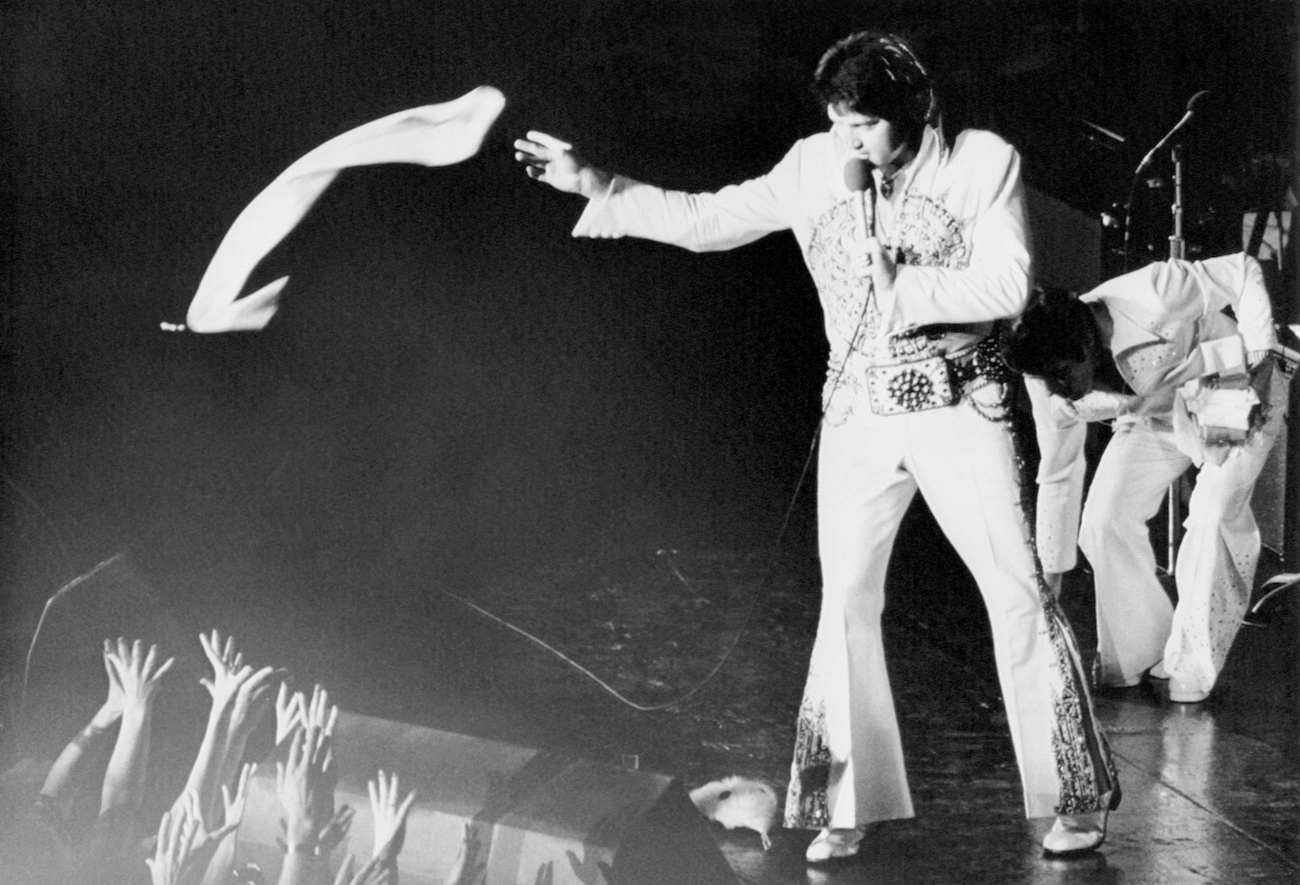 Priscilla Presley was involved in the auction
Priscilla Presley, the King of Rock 'n' Roll's wife from 1967 to 1973, decided to work with Kruse GWS Auctions, auctioning off some of her ex-husband's priceless memorabilia. On Sept. 4, the auctioneers began taking live bids for a private lunch with Priscilla as well as pieces from Elvis's wardrobe, including the eyelet jumpsuit he wore during his performances at New York's Madison Square Garden in 1972.
"I thought, 'Why not be a part of it?'" Priscilla tells People. "I used to have a different opinion about these estate sales, but then as I got older I realized that you have to pass these things down to someone who'll really appreciate them."
Kruse GWS founder Brigitte Kruse says Priscilla's involvement is priceless. "She's just such a wealth of experience and knowledge. You don't study and learn about Elvis without learning about Priscilla as well. Their names are synonymous." Some of the auction proceeds will go to the Dream Foundation, which "supports terminally ill adults and their families."
Elvis Presley's eyelet jumpsuit and more went to auction
Elvis had many white eyelet jumpsuits and capes during his later career, but the one he wore at the Madison Square Garden shows is special. The King sold out four nights at the venue, becoming the first person to do so.
This particular jumpsuit and cape were designed by Bill Belew in 1972 and were in a private collection for more than 30 years. According to People, the opening bid for the jumpsuit was $350,000, while the cape started at $50,000. Other Elvis items were also up for grabs, including a Bible given to him by a fan and the helmet he wore in the film Viva Las Vegas. There was also one strange item, a collection of his hair saved by the singer's barber.
Kruse GWS Auctions specializes in celebrities, and a bunch of non-Elvis memorabilia was also sold at the auction, including "Les Paul's personal guitar case, which carried the first Les Paul guitar in 1952, a red scarf and red crystal bottle owned by Jimi Hendrix, Marilyn Monroe's 1950's black sleeveless 'Wiggle' dress, and the maroon dress that Elizabeth Taylor wore in National Velvet."
Elvis Presley's eyelet jumpsuit sold for more than a million dollars
Elvis's jumpsuit and cape sold for $1,012,500 at auction. Deadline reports that Kruse GWS Auctions says it's a world record price. The other items sold at the auction also had impressive final bids.
Elvis Presley's Jar of Hair "with extensive documentation" sold for $72,500. The racing helmet from Viva Las Vegas sold for $23,750. The Elvis Presley tuxedo tailcoat from the film Frankie & Johnny sold for $75,000. Elvis's personal and stage-worn boots sold for $28,750. His '68 Comeback Special Sheet Music sold for $15,000, his Schick electric razor sold for $3,000, and an Elvis Presley Custom Eagle Belt made by Mike McGregor sold for $25,000.
Interestingly, the jar of Elvis's hair was one of the top sellers. But fans seem to love those strange types of items from their idols.
"We are thrilled to have hosted such an exciting auction this weekend where fans and collectors from around the globe bid on extraordinary memorabilia from the life and career of Elvis Presley," Kruse said in a statement. "The outstanding sale of his iconic 1972 Madison Square Garden eyelet jumpsuit and cape represents not only a world record price, but is a true testament to the legendary reverence and love people still feel for him."
Elvis's Madison Square Garden shows featured on the album Elvis: As Recorded at Madison Square Garden, certified triple platinum in 1999. It's one of the best-selling live albums of the 1970s. So someone went home with a piece of history.