Cam Newton Just Got Candid About Being a Stepdad
Cam Newton has gotten candid about fatherhood and why being a present father to all of his children is extremely important to him. Now he's speaking out about how he feels as a stepdad.
NFL star Cam Newton is known for his power and agility on the football field. The New England Patriots quarterback played for the Carolina Panthers from 2010 to 2019, even leading the team to the Super Bowl back in 2015. He also has his own production company Iconic Saga Productions, and series like his BET.com show, Sip N' Smoke.
Still, as iconic as Newton is when it comes to dominating the sport he loves, his life off the court has become just as notorious. Known for his elaborate get-ups and attire, Newton's fashion choices have been raising eyebrows for years. He's been known to throw on a multicultured suit and a massive hat.
Just like his fashions, Newton's home life has also been up for discussion. Now, the proud father is getting candid about his children and what being a stepdad means to him.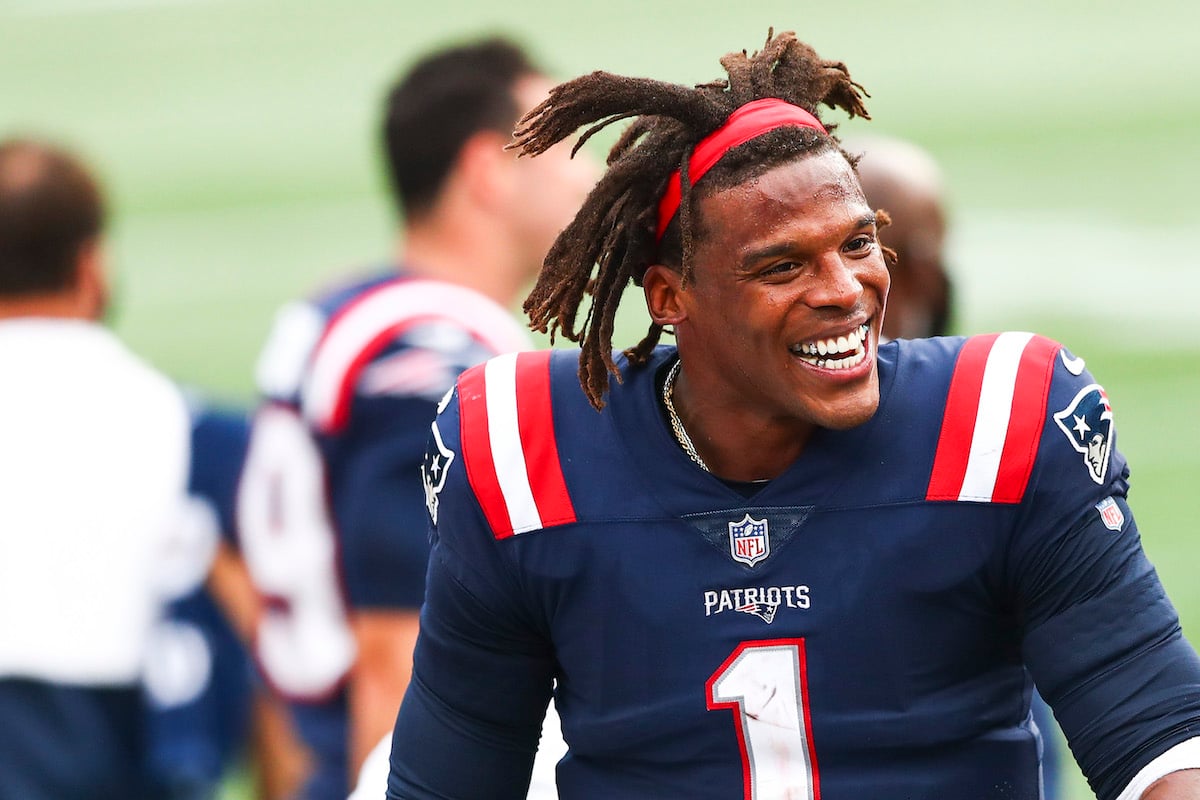 How many children does Cam Newton have?
On Father's Day 2020, Newton shared that he was a proud father of seven. The 31-year-old, listed all of his children's names, Jaden, Shakira, Chosen, Sovereign-Dior, Camidas, Ceaser, and Cashmere. In his Instagram post, Newton shared,
I'M A PROUD FATHER OF 7 << A DADDY isn't defined as the man who makes the child (NOT in all instances), but rather a MAN who extends his hands and time to help with the child's raising and his heart to LOVE the child through anything!! Blood doesn't always make you [a] DADDY. Being a DAD comes from the heart… ANYBODY CAN MAKE A BABY BUT IT TAKES A REAL MAN TO RAISE A CHILD!! Kudos to ALL THE REAL MEN worldwide!! HAPPY FATHER'S DAY TO US!! JADEN•SHAKIRA•CHOSEN•
SOVEREIGN-DIOR•CAMIDAS•CAESAR•CASHMERE•
Newton shares four children with his former girlfriend, Kia Proctor. He is also a father to Procter's oldest daughter, Shakira, who was born before the couple got together.
Newton's youngest child is Caesar, whom he shared with La Reina Shaw, an Instagram model and the Queen of the Universe pageant's former Miss Azerbaijan. He also included Shaw's 14-year-old son Jaden in his Father's Day post.
RELATED: Cam Newton's Diet Is Being Blamed for His Poor Play
Related post url: 
Cam Newton shared how he likes to spend time with his children
Though Newton is obviously extremely busy, he has always been adamant about making sure he spends quality time with his children. During an episode of Sip N' Smoke, he explained that he loves having his kids come with him to work.
"For them to kind of witness me working, that's nice. They always hear, 'Dad, he's gone for a couple of days. What is he doing?'" he said via ESSENCE. "You have to really allow them to see that when daddy's not here. This is what he's doing."
Being with his children is the most important thing for Newton. He explained that he loves taking them to school. "I just want them to know love," he shared. "I just want them to know that feeling because I had it. I grew up in a three-parent household — my mom, my dad, and my grandma — and they showed me that on a regular basis and that's just what I want to provide to my children."
Cam Newton just got candid about being a stepdad
When it comes to his stepchildren, Newton also explains that he doesn't see any difference between them. "I just always allow them to know that I'm here. I never want no type of disconnect," he told Steve Harvey on Sip N' Smoke "Being biological and having the heart of someone, there's no difference."