Camilla Parker Bowles Once Left Christmas Early Reportedly Over Tension With Prince William and Prince Harry
Amid rumors of a royal feud insiders just revealed that Camilla Parker Bowles once left Christmas early, reportedly over tension with Prince Harry and Prince William.
Camilla Parker Bowles' relationship with Prince William and Prince Harry is nothing short of complicated. The brothers have always supported their stepmother in public, but royal experts say things are much different behind closed doors. With the holiday season in full swing, Camilla reportedly leaves Christmas at Sandringham as early as possible to avoid awkward moments with the royals.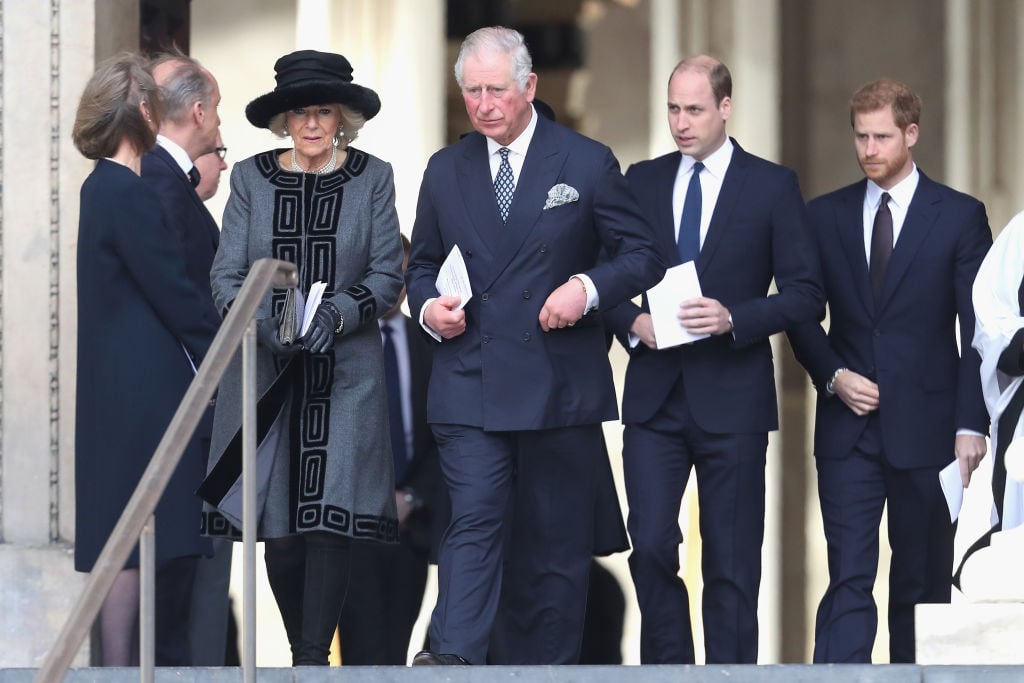 Inside Camilla Parker Bowles' royal life
Camilla and Prince Charles have a fairly complicated history themselves. The two exchanged vows in 2005, a little under 10 years after he finalized his divorce from William and Harry's late mother, Princess Diana.
Given how their affair ruined Charles' first marriage, Camilla has not always been accepted by the rest of the royal family. When it comes to William and Harry, the brothers have always been kind towards Camilla, but they have also kept their distance.
"Dealing with the family she married into hasn't always been plain sailing. Though to all outward appearances she has the support and friendship of Prince William and Prince Harry, privately there is a distance," royal author Christopher Wilson explained.
William and Harry's position towards Camilla is completely understandable. After all, there was a time when the Duchess of Cornwall was viewed as the biggest villain in the palace. But the brothers are not the only ones who disliked Camilla Parker Bowles.
According to Good Housekeeping, Wilson added that Queen Elizabeth once declared that she should never be alone with Camilla. Her Majesty reportedly blamed her — not Charles — for the affair. She has since eased up on her attitude towards her daughter-in-law but there is still an awkwardness there.
The Duchess of Cornwall leaves Christmas early
Camilla Parker Bowles has been a part of the royal family now for well over a decade, yet family gatherings are still not her favorite time of the year. Unfortunately for her, the royals travel to Sandringham every year to celebrate the holidays with Queen Elizabeth and Prince Philip.
Wilson claims that Camilla is not a fan of spending Christmas at Sandringham and has left the festivities early in previous years. It is unclear how often Camilla ducks out early, but we can image that she has done it more than once.
"[Camilla Parker Bowles is] not overly enthusiastic with en masse gatherings of the Royal Family and tends, for example, to leave the Sandringham house-party at Christmas at the earliest opportunity," he noted.
Considering Camilla's history with the royal family, it makes sense that she would want to leave Christmas early before things get too awkward to handle.
While the Duchess of Cornwall has not confirmed these reports, she is set to leave Christmas early this year — but her departure is reportedly for an entirely different reason.
What is Camilla doing for Christmas?
In a recent interview, Camilla's son, Tom Parker Bowles, revealed that she will be leaving the royals early on Christmas Day so that she can spend the holiday with her side of the family.
Camilla will stay with the royals as they attend their annual church service on Christmas Day, but she is expected to bow out shortly after Queen Elizabeth's speech. Camilla's son went on to reveal that his mother is very close to his family and often spends the holidays with them in London.
Last year, Camilla Parker Bowles did not attend the Christmas Day service with the rest of the royal family. Her early departure meant that Charles had to spend the day alone with his two children and their respective wives, Kate Middleton and Meghan Markle.
The royals later revealed that Camilla was still recovering from a bad cold and was unable to attend the service.
Is Camilla Parker Bowles on better terms with William and Harry now?
The good news for Camilla is that she has had plenty of time to build a trusting relationship with William and Harry. Although things got off to a poor start, Camilla started to turn things around in the early 2000s.
Camilla worked hard to establish a relationship with the brothers. When she finally tied the knot with Charles in 2005, her relationship with William and Harry was actually in a good place.
"She's a wonderful woman, and she's made our father very, very happy, which is the most important thing. William and I love her to bits," Harry shared after the wedding.
It has been over 14 years since Charles and Camilla's wedding, and her relationship with his sons has only gotten better over the years. Camilla has also developed a close bond with William's wife, Kate, though it is unclear if she is close to Harry's wife, Meghan.
This year, Harry and Meghan will not be attending Christmas at Sandringham. The Duke and Duchess of Sussex are spending the holidays with her mother, Doria Ragland, in America.
Camilla Parker Bowles has toned down her royal engagements in order to be by Prince Charles' side more as he prepares to one day be King.